Here is the Canuckle answer today for #196 word, released on November 26th, 2022 and some hints to help you solve it.
UPDATE: Click here for the hints and the answer to Canuckle 197!
Canuckle is the Canadian version of Wordle where all the words are Canadian-themed. The rules of the game are the same where players need to guess the five-letter word with no clues.
Once a guess has been made, the tiles will change colour to let you know if the letters you have guessed are in the answer and if you have placed them correctly in the word.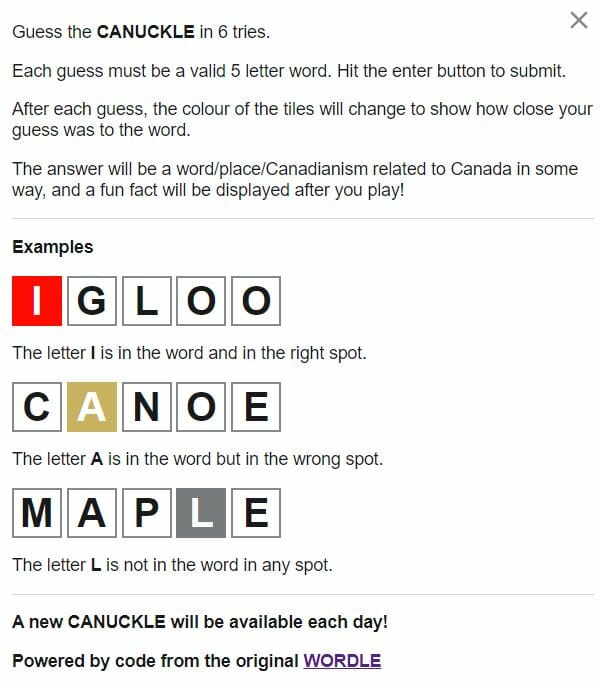 The colours are slightly different, with just the bright red replacing the green to show you have the right letter in the correct place. Both of the other colours are the same, yellow and grey, letting you know if the letter is in the word or not.
There is also a fun fact that is given to you when you guess the answer and you can see the fun facts being expanded on, on their Twitter account, @CanuckleGame. We will be covering the answers, letting you know the fun facts at the end of the puzzle as well as giving you hints first to help you guess the word yourself!
Canuckle 196 Hints Today – November 26, 2022
As the word can be quite difficult, we have some hints for Canuckle 196 to help you to solve it, which are:
Hint 1: Contains the letter N.
Hint 2: It starts with the letter B.
Hint 3: There is only one vowel in the word today.
Hint 4: (Of a fire) produce flames and heat while consuming a material such as coal or wood.
What is the Canuckle 196 Answer Today? (November 26th, 2022)
The answer for Canuckle 196 is:
BURNT!
Canuckle Fun Fact Today – (11/26/22)
Dr. Wilder Graves Penfield was one of Canada's foremost neurosurgeons. He had a desire to understand the cause of brain illnesses, and made groundbreaking advances in the treatment of seizure disorders. Penfield established the Montreal Neurological institute (the Neuro) in 1934, and along with his colleagues, developed the Montreal procedure for patients with severe epilepsy. The first patient to undergo the Montreal procedure reported smelling burnt toast, and this helped doctors to identify and destroy the nerve cells causing the seizures. Penfield's experiments with stimulating different parts of the brain helped us learn to map its different sensory areas.
Click here for the hints and the answer to Canuckle 197!