Here is the Canuckle answer today for #227 word, released on December 27th, 2022 and some hints to help you solve it.
UPDATE: Click here for the hints and the answers to Canuckle 228!
Canuckle is the Canadian version of Wordle where all the words are Canadian-themed. The rules of the game are the same where players need to guess the five-letter word with no clues.
Once a guess has been made, the tiles will change colour to let you know if the letters you have guessed are in the answer and if you have placed them correctly in the word.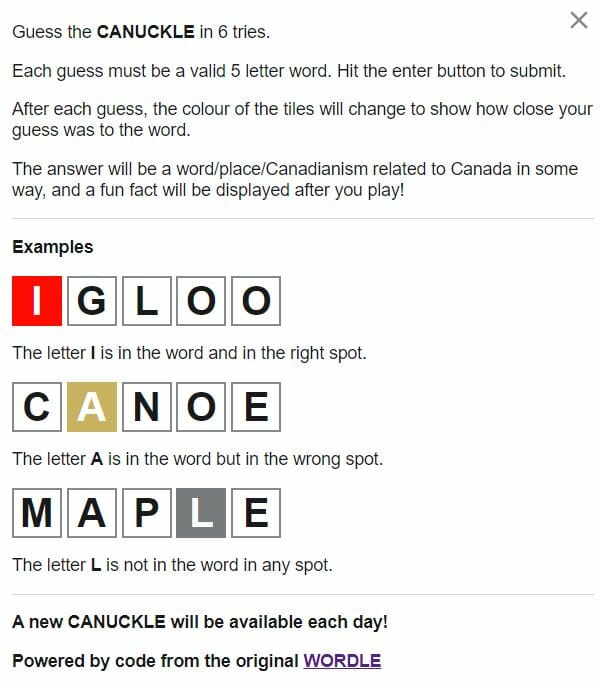 The colours are slightly different, with just the bright red replacing the green to show you have the right letter in the correct place. Both of the other colours are the same, yellow and grey, letting you know if the letter is in the word or not.
There is also a fun fact that is given to you when you guess the answer and you can see the fun facts being expanded on, on their Twitter account, @CanuckleGame. We will be covering the answers, letting you know the fun facts at the end of the puzzle as well as giving you hints first to help you guess the word yourself!
Canuckle 227 Hints Today – December 27, 2022
As the word can be quite difficult, we have some hints for Canuckle 227 to help you to solve it, which are:
Hint 1: Contains the letter N.
Hint 2: It starts with the letter S.
Hint 3: There are two vowels in the word today.
Hint 4: A system for the detection of objects under water by emitting sound pulses and detecting or measuring their return after being reflected.
What is the Canuckle 227 Answer Today? (December 27th, 2022)
The answer for Canuckle 227 is:
SONAR!
Canuckle Fun Fact Today – (12/27/22)
As part of the British effort to combat German U-boats in 1917, Canadian physicist Robert William Boyle combined transducers made with quartz with amplifiers developed by French researchers to create the world's first high-frequency echolocation device: SONAR. Originally an acronym for SOund Navigation And Ranging, sonar is a technique that uses sound to navigate, communicate with or detect objects on or under the surface of the water. Boyle's work on sonar was built upon the work of another Canadian-born inventor, Reginald Fessenden, who is best known for his pioneering work developing radio technology.
Click here for the hints and the answers to Canuckle 228!