Here is the answer for the Crosswordle 41 words for today, released on March 1st 2022.
UPDATE: CLICK HERE FOR THE ANSWER TO CROSSWORDLE 42!
Crosswordle is a word puzzle game that is much like Wordle, although instead of guessing the five letter answer, you need to figure out the words before the answer. There is a grid that is given to you where you will see the answer at the bottom, but you will notice that there are some green and yellow squares on the rest of the gird and the rest are all grey. The same rules apply in Wordle as they do in Crosswordle where the green tiles means you have the right letter in the right place for the answer. The letter is therefore known to you and you need to make sure you work around this.
Yellow means the letter appears in the answer, but it's in the wrong place, so you will need to look at the placement and decide which letter in the answer will be best suited to that square. It is also important to note that the letters that are in green or yellow will need to be the same known letters in the row above, so if you guessed an A, B and C in the green or yellow box in the third word for example and you had two yellow boxes in the row above, you will need to use two of these letters. Grey squares mean that these letters do not appear in the final word, but you also need to make sure they are not repeated in the words above or below.
Due to the nature of the game, there are multiple answers you can have. Once you have completed the puzzle, you can see all the other solutions to the puzzle.
What is the Crosswordle 41 Answer Today? (March 1st, 2022)
There is a new Crosswordle puzzle released daily and we will have the answers for these to help you. Here is the solution we have for Crosswordle 41.
1st Word – SEMEN
2nd Word – PRIMY
3rd Word – CLAIM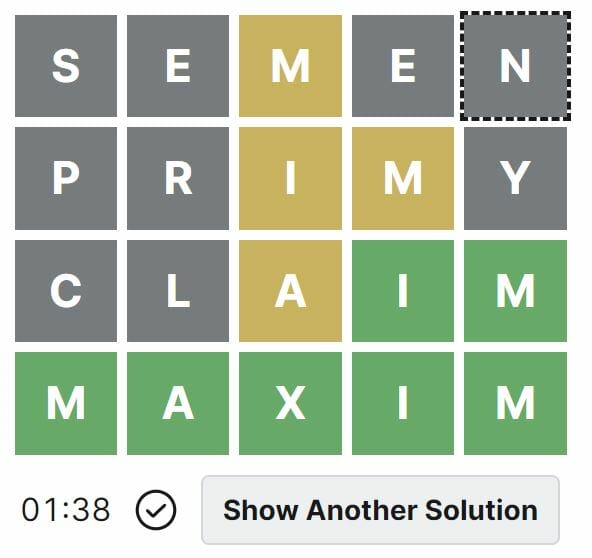 Here is another solution to the Crosswordle today:
1st Word – JUMBO
2nd Word – SWIMS
3rd Word – CLAIM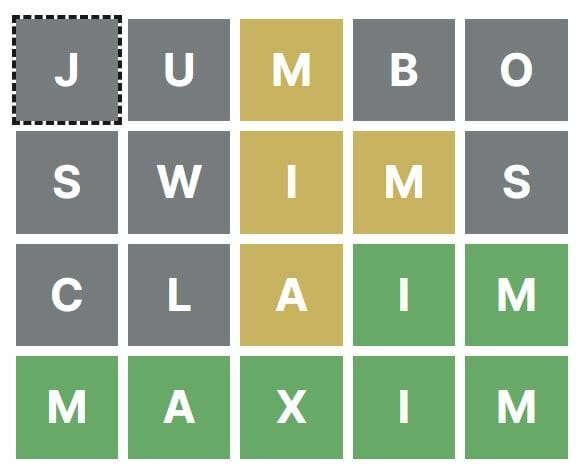 Looking at all of the solutions for this puzzle, it looks like you had to use CLAIM as the third word in the puzzle, so if you struggled in getting that word, you wouldn't have solved the puzzle today.
Today's 'Crosswordle' Word Puzzle Answer #42: March 2nd 2022