Here is the answer and some hints for the Dordle words for #32 today, released on February 25th 2022.
UPDATE: CLICK HERE FOR THE HINTS AND ANSWERS TO DORDLE 33!
Dordle is a harder version of Wordle where players need to guess two five-letter words in seven guesses or less. The guesses you make count towards both words, so you will need to be selective with the words you choose to make sure you uncover as many letters in both words as soon as possible. The tiles will change colour to let you know if the letter appears in the word and if you have it in the correct position.
Dordle Words Hints Today
Here are the hints we have to help you complete Dordle #32.
Hint 1: The letter N is the common letter between both Dordle words today.
Hint 2: There are two vowels in both words today.
Hint 3: The first word begins with an S and the second on begins with a W.
Hint 4: The first word means to move stealthily and the second word is when you've injured yourself usually with a cut.
What is the Dordle 32 Answer Today? (February 25th, 2022)
Here is how I solved the Dordle 32 answers today. To start off, I guesses the word 'DREAM' and this placed both the E and A in the correct place for the first word and showed there was a D in the second word. As no vowels were showing up right in the second word, I decided to use a word that has both an O and U in it, so I went for 'SHOUT'. This showed me there was an O and U in the word, but they weren't in the correct place. As I knew there was also a D in the word, I thought it probably ended in 'OUND' so I guessed the word 'POUND'. It definitely ended in 'OUND' but it wasn't 'POUND' or 'FOUND' (which was my fourth guess), but the next guess I made was the answer to the second word of Dordle 32 which is…
WOUND!
I then looked at the letters I knew for the first word and I knew it started with an S and I knew where the E and A were placed and that there was an N in the word. I decided I would guess a word that had N as the second letter first to see where it was placed so I just needed to guess the last letter of the word. The next word I guessed was the answer to the first word in Dordle 32 which is..
SNEAK!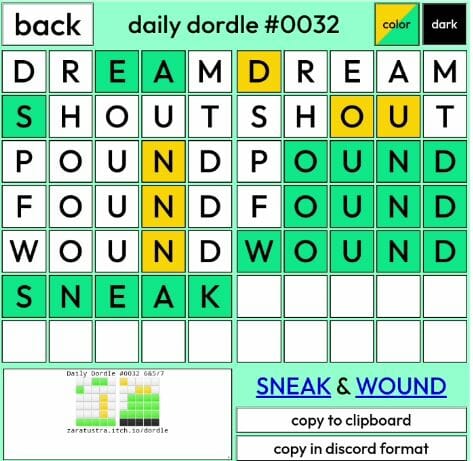 Well done if you guessed both words for Dordle 32 correctly today. We will be back tomorrow with the answers to the new puzzle, so make sure you come back if you need help!
Today's 'Dordle' Words of the Day Answer #33: February 26th 2022