Here is the answer and some hints for the Dordle words for #57 today, released on March 22nd, 2022.
UPDATE: Click here for the hints and answers to Dordle 58!
Dordle is a slightly harder version of Wordle as all the rules and mechanics of the game are the same but in Dordle, players are required to guess two five-letter words simultaneously in seven guesses or less. The number of guesses available for solving the words is what makes this so hard as it's only one more guess than Wordle.
Many changes have been made to the game since its release such as the line in the middle of the words so the distinction is clear as well as keeping the guesses on the board so players can compare with friends and family.
Dordle Words Hints Today
There may be puzzles that are a little harder to solve so here are some hints we have to help you solve the Dordle #57 words today.
Hint 1: There is one common letter in the two Dordle words today which is the letter F.
Hint 2: There is one vowel in both Dordle 57 words today.
Hint 3: The first Dordle word begins with a P and the other begin with the letter G.
Hint 4: The first word is a strip of gathered or pleated material sewn on to a garment or larger piece of material as a decorative edging or ornament and the second word is the shortened version of a type of bacteria that causes sore throat with white patches
What is the Dordle 57 Answer Today? (March 22nd, 2022)
Here is how I managed to solve the Dordle 57 words today. I started with the word 'AUDIO' which wasn't the best guess for the Dordle words today as it only showed me there is an I in the first word. I then decided to guess the word 'BLERT', which showed me there is an L and R in the first word and the letters E, R, and T in the second word.
Looking at the first word, I thought that the I would be in the third position and the R could be the second letter. As I knew there is an L in the word, I decided to make a guess, which was the answer for the first Dordle 57 word…
FRILL!
For the second word, I know three letters in the word and I again made a guess that would place all the known letters in a different order and managed to guess the answer to the second Dordle 57 word, which is…
STREP!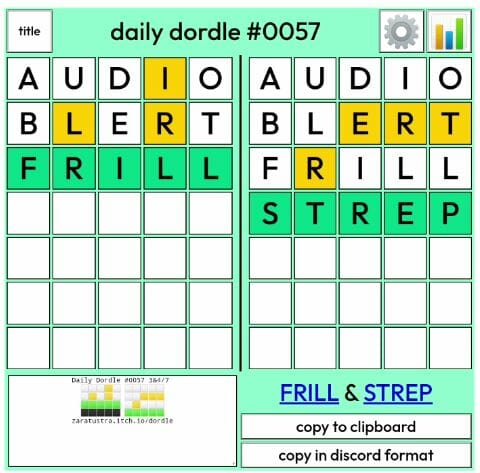 Well done if you managed to guess the answers correctly! Click here for the hints and answers to Dordle 58!