Here is the answer to the Foodle 92 word for today, released on April 2nd, 2022.
UPDATE: Click here for the answer to Foodle 93!
Another Wordle copycat game we've recently found is called Foodle, which requires you to guess the food-related word of the day. The rules of the game are the same as Wordle where you have six guesses to solve the word of the day and it is a five-letter word you need to guess.
Once you have made a guess, the tiles will change colour to either green, yellow, or grey. This lets you know which letters appear in the word from the guess you made and which have been placed correctly, which will help you to solve the word.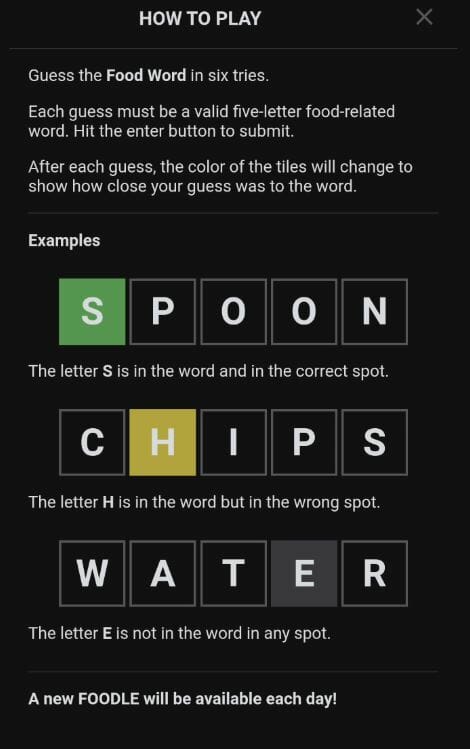 There are some changes that would benefit the game. At the moment, when you go off the browser and go back into it, the board resets, which means you can guess again if you didn't guess it correctly the first time and you cannot compare with friends and family if you want to check to see how you arrived at the answer.
There are also no stats for the game for players to check what win streak they are on, how many times they have played, and so on. It would be great to see these changes to the game to make the game more enticing.
Foodle 92 Hints Today – April 2nd, 2022
Here are some clues we have for Foodle 92 to help you to get the answer today.
Hint 1: Contains the letter H.
Hint 2: It starts with the letter W.
Hint 3: There are two vowels in the word today.
Hint 4: The grain of this is ground to make flour for bread, pasta, pastry, etc.
What is the Foodle 92 Answer Today? (April 2nd, 2022)
There is a new Foodle word that is released every day at midnight in your timezone. The answer to Foodle 92 released on April 2nd, 2022 is…
WHEAT!
You can see what words I used to guess the answer today in the image below:
Well done if you managed to guess it correctly today. Click here for the answer to Foodle 93!