Here are some hints and the answer for Worldle 89 today, released on April 20th, 2022.
UPDATE: Click here for the hints and the answers to Worldle 90!
Worldle is another game that has been inspired by Wordle, but this game requires you to guess the country or territory for the day. The default mode of the game shows you the outline of the country and you have six guesses in which to solve the answer. Once you have made a guess and it is not the correct answer, you will then be told in which direction the answer is and how far away it is from the guessed country.
If you want more of a challenge, you can try one of two other modes, both of which can be found in the game's settings and will affect the next puzzle. The first is to completely remove the image of the country, leaving you to guess at random. Your educated guesses will still show you how far you are from the actual country and which direction you must travel to get the answer.
The other option rotates the country's image, so it could be upside down or on its side on the map, but you won't know which way it appears. This will confuse you and make the country harder to solve.
Worldle Geography Game 89 Hints Today – April 20, 2022
We like to give our readers hints as to what the country might be before we give you the answer to help you if you're stuck.
Here is what the country/territory looks like for the Worldle 89 puzzle today: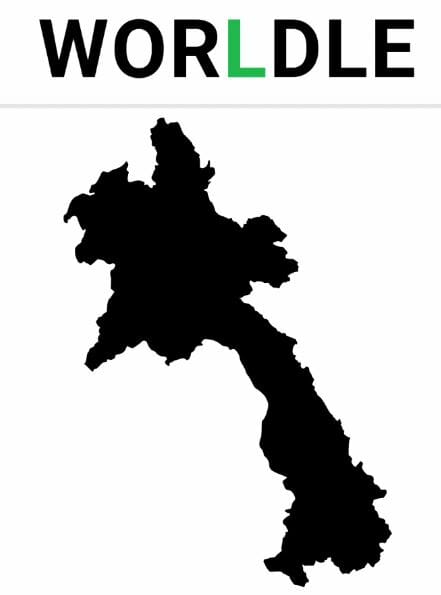 Here are the clues we have for the Worldle today (April 20th, 2022).
Hint 1: This country is located in Asia.
Hint 2: There are four letters in the name.
Hint 3: It is called the "Land of a Million Elephants."
Hint 4: The first letter of this country is L.
What is the Worldle 89 Country Answer Today? (April 20th, 2022)
The answer to the Worldle 89 country today is…
LAOS!

FUN FACT: The Laos flag consists of three horizontal stripes – red, dark blue, and red. A white circle is in the centre of the blue stripe. The red stripes represent the blood shed by the people of Laos during the struggle for freedom and independence from the French. The blue stripe represents prosperity. The white circle represents justice and the unity of the Lao people. It also symbolises a full moon against the Mekong River. The current flag was adopted in 1975 and is one of the few communist-style flags not featuring a star.
Well done if you managed to guess the country today! Click here for the hints and the answers to Worldle 90!