Here is the answer and some hints for the Octordle words for #49 today, released on March 14th, 2022.
UPDATE: CLICK HERE FOR THE HINTS AND ANSWERS TO OCTORDLE 50!
Octordle is probably the hardest variation of Wordle at the moment as players need to guess eight five-letter words at a time instead of just one. There are only a maximum of thirteen guesses to solve all eight words, which is difficult to do but not impossible! The rules are the same as Wordle where you can only guess words in the American English language.

Once you have made a guess, the tiles will change colour, letting you know if the letters you have guessed are in the word and if you have placed them in the right position in the words. We will be helping you with some hints for all the words as well as the answers at the bottom.
Octordle Words Hints Today
Here are the clues we have for all the eight words for Octordle 49 today.
Hint 1: There is a Y in word 8 only.
Hint 2: There is a T in words 4, 6, 7, and 8.
Hint 3: There is a P in words 2, 5, and 8.
Hint 4: There is a C in words 1 and 3.
Hint 5: There is an X in word 7 only.
Hint 6: Here are the starting letters of each word:
Word 1: W
Word 2: P
Word 3: C
Word 4: H
Word 5: S
Word 6: E
Word 7: E
Word 8: P
Hint 7: Here is a little description or clue for all of the words:
Word 1: To make a slight involuntary grimace.
Word 2: An abrupt or violent removal of a group of people.
Word 3: A strap that holds a saddle on a horse.
Word 4: An act of raising or lifting something.
Word 5: A blackish fluid secreted by a cuttlefish.
Word 6: A planned public or social occasion.
Word 7: To praise enthusiastically.
Word 8: Being religious.
What is the Octordle 49 Answer Today? (March 14th, 2022)
Here are all of the answers for Octordle 49 released today on March 14th, 2022:
Word 1: WINCE
Word 2: PURGE
Word 3: CINCH
Word 4: HOIST
Word 5: SEPIA
Word 6: EVENT
Word 7: EXTOL
Word 8: PIETY
You can see how I got the words in the images below: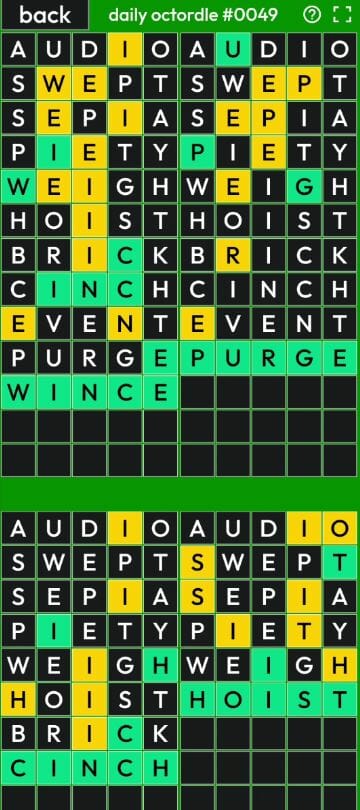 Well done if you managed to guess all eight words correctly!
Today's 'Octordle' Word of the Day Answer #50: March 15th, 2022