Here is the answer and some hints for the Octordle words for #53 today, released on March 18th, 2022.
UPDATE: Click here for the hints and answers to Octordle 54!
Octordle is a very tricky game that requires players to guess eight five-letter words simultaneously and you only have thirteen guesses in which to do it! The game works the same way as Wordle where there are no clues to help you to guess the words, but once you have guessed a word, the tiles will change colour.
The colours will let you know if you have guessed the right letters and if you have them in the correct position. There is no right or wrong way of playing the game, but we would recommend trying to guess words that use the majority of the letters of the alphabet in as few guesses as possible to help you to know which letters appear in each word.
This will make it easier to rearrange the letters to get the answer to the words. As this puzzle is tricky, we do have some hints to help you if you are struggling, all of which can be seen below.
Octordle Words Hints Today
Here are the clues we have for all the eight words for Octordle 53 today.
Hint 1: There is a D in word 1 only.
Hint 2: There is a Y in word 4 only.
Hint 3: There is a V in word 5 only.
Hint 4: There is a double letter in word 4.
Hint 5: There is an M in word 1 only.
Hint 6: Here are the starting letters of each word:
Word 1: H
Word 2: R
Word 3: C
Word 4: T
Word 5: L
Word 6: S
Word 7: O
Word 8: S
Hint 7: Here is a little description or clue for all of the words:
Word 1: Hot or warm rain.
Word 2: A sudden feeling of cold, often accompanied by sweating and a rise in temperature.
Word 3: An ugly old woman.
Word 4: A type of sweet that is similar to toffee.
Word 5: A lord or king.
Word 6: When you enjoy the taste of what you are consuming.
Word 7: The external.
Word 8: When food is has gone hard and dry.
What is the Octordle 53 Answer Today? (March 18th, 2022)
Here are all of the answers for Octordle 53 released today on March 18th, 2022:
Word 1: HUMID
Word 2: RIGOR
Word 3: CRONE
Word 4: TAFFY
Word 5: LIEGE
Word 6: SAVOR
Word 7: OUTER
Word 8: STALE
You can see how I got the words in the images below: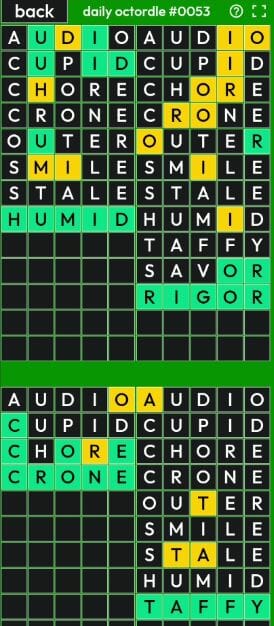 Well done if you managed to guess all eight words correctly today! Click here for the hints and answers to Octordle 54!