Here is the answer and some hints for the Octordle words for #58 today, released on March 23rd, 2022.
UPDATE: Click here for the hints and answers to Octordle 59!
Octordle is a very tricky game that requires players to guess eight five-letter words simultaneously and you only have thirteen guesses in which to do it! The game works the same way as Wordle where there are no clues to help you to guess the words, but once you have guessed a word, the tiles will change colour.
The colours will let you know if you have guessed the right letters and if you have them in the correct position. There is no right or wrong way of playing the game, but we would recommend trying to guess words that use the majority of the letters of the alphabet in as few guesses as possible to help you to know which letters appear in each word.
This will make it easier to rearrange the letters to get the answer to the words. As this puzzle is tricky, we do have some hints to help you if you are struggling, all of which can be seen below.
Octordle Words Hints Today
Here are the clues we have for all the eight words for Octordle 58 today.
Hint 1: There is an M in words 1 and 7.
Hint 2: There is a G in word 6 only.
Hint 3: There is an N in word 6 only.
Hint 4: There is a T in words 1 and 6.
Hint 5: There is a double letter in word 8.
Hint 6: Here are the starting letters of each word:
Word 1: C
Word 2: C
Word 3: S
Word 4: P
Word 5: W
Word 6: S
Word 7: Q
Word 8: B
Hint 7: Here is a little description or clue for all of the words:
Word 1: This is a small, icy object that orbits the sun and has a long "tail" of gas.
Word 2: Opposite of expensive.
Word 3: An angry or bad-tempered expression.
Word 4: Lacking intensity of color; colourless or whitish.
Word 5: To avoid payment.
Word 6: A wasp or bee can do this to you.
Word 7: An uneasy feeling of doubt, worry, or fear,.
Word 8: A short high-pitched sound.
What is the Octordle 58 Answer Today? (March 23rd, 2022)
Here are all of the answers for Octordle 58 released today on March 23rd, 2022:
Word 1: COMET
Word 2: CHEAP
Word 3: SCOWL
Word 4: PALER
Word 5: WELCH
Word 6: STING
Word 7: QUALM
Word 8: BLEEP
You can see how I got the words in the images below: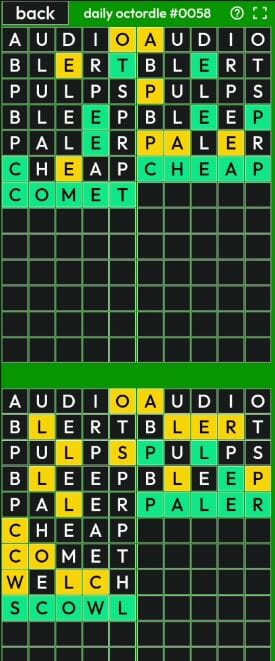 Well done if you managed to guess all eight word correctly today! Click here for the hints and answers to Octordle 59!