Having a tough time figuring out Quordle 26? Here's some hints and the answers to the February 20th, 2022 daily word puzzle.
Quordle is a daily word puzzle game that was released at the end of January after the creator saw the popularity of Wordle. The rules are pretty much the same, but players have nine guesses instead of the six you get from other games, but there's a good reason.
Instead of guessing just one five letter word, players are tasked with guessing four fiver-letter words. What makes it harder is the fact that these words aren't related to one another, and some of them are the strangest words we've seen.
We have Quordle 27 now available to guess, which was released on February 20th, 2022. Here's some tips on getting better at the game along with hints and the answer to today's word puzzle.
UPDATE: Quordle 28 Feb 21 answer solution HERE
Quordle Puzzle Hints Today
You're probably here because you're on the last couple of guesses and know you're not going to guess all four five-letter words with the guesses you have left. Fear not, we have some hints to help you figure out the Quordle 27 answer, and if you're still struggling, we have the answers to ensure you successfully complete today's puzzle.
Hint 1: Word 1 begins with an A, word 2 with a Q.
Hint 2: Word 3 starts with a G and 4 both with a S.
Hint 3: All words have an I in them.
Hint 4: Word 1 – Bitter.
Hint 5: Word 2 – Silence.
Hint 6: Word 3 – Departure.
Hint 7: Word 4 – Brown Ink.
What's the Quordle 27 Answer today? Feb 20 2022
Whether you need the answers before you fail, or you've already failed and want to know the answer to Quordle 27 released on Feb 20th, 2022, we've got you covered with all four fiver-letter word answers below: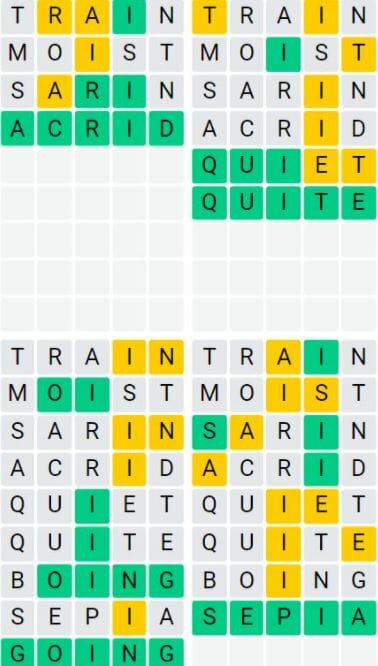 Remember, always use a good starting word like audio or adieu and don't use words with duplicate letters in them for your first couple of guesses. If all else fails, we'll be here for you every day with hints and answers.