Need help with Quordle 34? We have the answer for all four five-letter words along with hints in case you still want to try figure out the February 27th, 2022 puzzle yourself.
UPDATE: CLICK HERE FOR THE HINTS AND ANSWERS TO QUORDLE 35!
There are more than twenty games that have tried using Wordle's hype to launch their own successful game. Some have gained traction for a few days before falling offer and others have a large daily player base.
Nerdle is a mathematics twist on the game, which has one of the most unique out of all the other games that have gained popularity. Quordle is another one. With over 500,000 daily players, it's the top three most popular daily games outside of Wordle.
Not only is the game harder with players needing to guess four five-letter words instead of one, there's also a practice mode that'll allow players to go through as many games as they want. However, none of them will count towards your streak unless it's the daily words.
It's proved to difficult figuring out all four five-letter words. The fact that the words aren't related in any way doesn't help along with no hints being provided. However, each day, we've provided our own hints along with the answers to the daily Quordle if you're desperate to not lose your winning streak.
Quordle Puzzle Hints Today
The fail rate for Quordle is far higher than Wordle. Most players will start off with Wordle and move over to each alternative. However, Quordle is a huge step up. For that reason, we provide hints to help players out.
When it comes to our hints, word 1 is the top left word, word 2 to right, word 3 bottom left, and finally, word 4 is bottom right. With that out of the way, here's our hints for Quordle 34:
Hint 1: Word 1 begins with a P, word 2 with a T.
Hint 2: Word 3 starts with an S and 4 with a C.
Hint 3:  Word 1 ends in a E, 2 with a T, 3 with an F, and 4 with an R.
Hint 4: Word 1 –  Copy and …..
Hint 5: Word 2 – Latin word for head.
Hint 6: Word 3 – Light rowing boat,
Hint 7: Word 4 – Group of singers, especially one that takes part in Church Services.
What's the Feb 27 2022 Quordle 34 Answer today?
Still stuggling? Here's the Quordle 34 answers released on Feb 27th, 2022: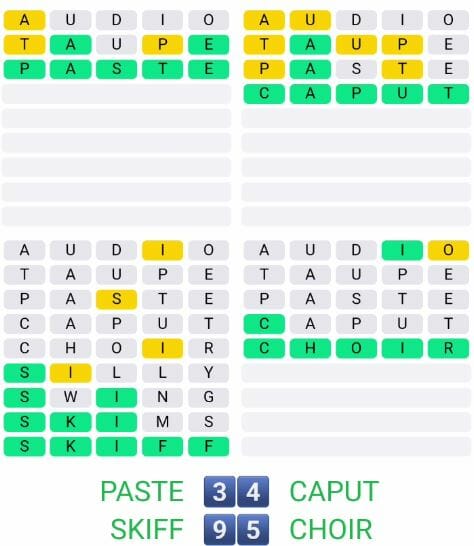 Today's Quordle Puzzle 35 Answer – February 28 2022 4 Daily Words Solution