Here are the answers and some hints for the Sedecordle words for #147 today, released on July 10, 2022.
UPDATE: Click here for the hints and the answers to Sedecordle 148!
Sedecordle is a fairly new game that is based on the same concept as Wordle, Dordle, Quordle, and Octordle. In this game, instead of having to guess one, two, four, or eight-word, players instead have to guess 16 words at once! You do get 21 guesses in which to solve all of the words though.
The rules of the game are the same where the words can be anything from the American English language and there are no initial clues. Once you have made a guess, this will count as a guess for all sixteen words and the tiles will change colour.
The colours it can change to are grey, yellow or green, which lets you know if you have guessed a correct letter and if it is placed correctly in the word.

As this game can be quite difficult, we have given you some hints and the answers below to help you to solve them.
Sedecordle 147 Words Hints Today (July 10, 2022)
Here are the clues we have for all the sixteen words of Sedecordle 147 today.
Hint 1: Here are the starting letters of each word:
Word 1: B
Word 2: R
Word 3: M
Word 4: L
Word 5: H
Word 6: O
Word 7: T
Word 8: T
Word 9: C
Word 10: D
Word 11: T
Word 12: T
Word 13: F
Word 14: B
Word 15: R
Word 16: S
Hint 2: Here is a little description or clue for all of the words:
Word 1: a tin or enamel cooking pot with a lid and a wire handle, for use when camping.
Word 2: the transmission and reception of electromagnetic waves of radio frequency, especially those carrying sound messages.
Word 3: a type of fine-quality coffee.
Word 4: (in some Christian beliefs) the supposed abode of the souls of unbaptized infants, and of the just who died before Christ's coming.
Word 5: a large plant-eating domesticated mammal with solid hoofs and a flowing mane and tail, used for riding, racing, and to carry and pull loads.
Word 6: a colourless unstable toxic gas with a pungent odour and powerful oxidizing properties, formed from oxygen by electrical discharges or ultraviolet light. It differs from normal oxygen (O2) in having three atoms in its molecule (O3).
Word 7: a formal examination of evidence by a judge, typically before a jury, in order to decide guilt in a case of criminal or civil proceedings.
Word 8: in accordance with fact or reality.
Word 9: the thick white or pale yellow fatty liquid which rises to the top when milk is left to stand and which can be eaten as an accompaniment to desserts or used as a cooking ingredient.
Word 10: a right or due.
Word 11: a strong ringing sound such as that made by the plucked string of a musical instrument or a released bowstring.
Word 12: two times; on two occasions.
Word 13: (especially of an animal) in a wild state, especially after escape from captivity or domestication.
Word 14: (of a friend) very close or intimate.
Word 15: hold royal office; rule as monarch.
Word 16: (of a person) utter a loud cry, typically as an expression of a strong emotion.
What is the Sedecordle 147 Answer Today? (July 10th, 2022)
Here are all of the answers for Sedecordle 147 released today on July 10th, 2022:
Word 1: BILLY
Word 2: RADIO
Word 3: MOCHA
Word 4: LIMBO
Word 5: HORSE
Word 6: OZONE
Word 7: TRIAL
Word 8: TRUER
Word 9: CREAM
Word 10: DROIT
Word 11: TWANG
Word 12: TWICE
Word 13: FERAL
Word 14: BOSOM
Word 15: REIGN
Word 16: SHOUT
As the grid for this game is huge, we only have the screenshot of all the answers when we had solved the puzzle, which you can see below: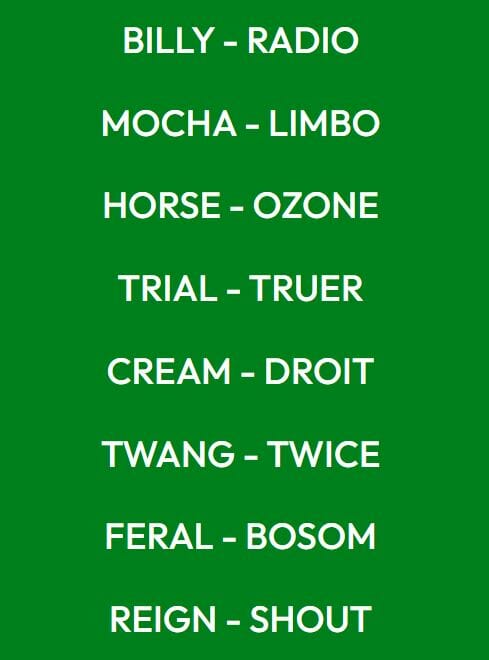 Well done if you managed to guess some or all of the words correctly! Let us know if you managed to solve the Sedecordle words today in the comments section below. Click here for the hints and the answers to Sedecordle 148!