Here are the answers and some hints for the Sedecordle words for #155 today, released on July 18, 2022.
UPDATE: Click here for the hints and the answers to Sedecordle 156!
Sedecordle is a fairly new game that is based on the same concept as Wordle, Dordle, Quordle, and Octordle. In this game, instead of having to guess one, two, four, or eight-word, players instead have to guess 16 words at once! You do get 21 guesses in which to solve all of the words though.
The rules of the game are the same where the words can be anything from the American English language and there are no initial clues. Once you have made a guess, this will count as a guess for all sixteen words and the tiles will change colour.
The colours it can change to are grey, yellow or green, which lets you know if you have guessed a correct letter and if it is placed correctly in the word.

As this game can be quite difficult, we have given you some hints and the answers below to help you to solve them.
Sedecordle 155 Words Hints Today (July 18, 2022)
Here are the clues we have for all the sixteen words of Sedecordle 155 today.
Hint 1: Here are the starting letters of each word:
Word 1: B
Word 2: V
Word 3: A
Word 4: S
Word 5: W
Word 6: D
Word 7: S
Word 8: R
Word 9: C
Word 10: L
Word 11: S
Word 12: A
Word 13: W
Word 14: S
Word 15: K
Word 16: B
What is the Sedecordle 155 Answer Today? (July 18th, 2022)
Here are all of the answers for Sedecordle 155 released today on July 18th, 2022:
Word 1: BITTY
Word 2: VIRAL
Word 3: ARRAY
Word 4: SPACE
Word 5: WITCH
Word 6: DUMPY
Word 7: START
Word 8: ROACH
Word 9: CROWD
Word 10: LUMPY
Word 11: STAVE
Word 12: ALLOY
Word 13: WALTZ
Word 14: SHUNT
Word 15: KNIFE
Word 16: BERTH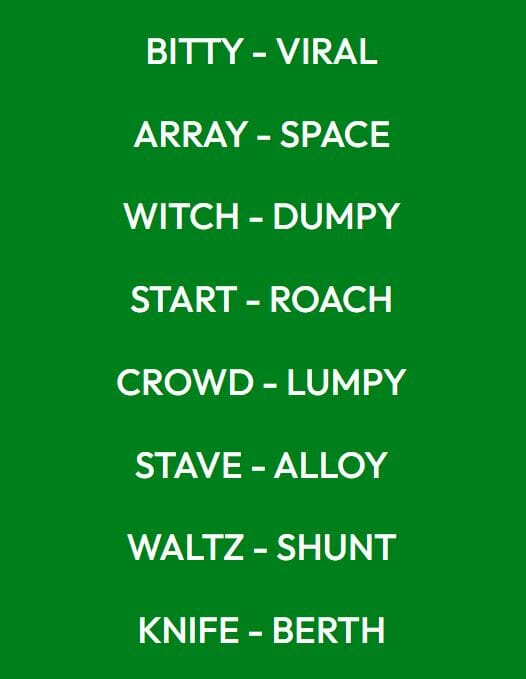 As the grid for this game is huge, we only have the screenshot of all the answers when we had solved the puzzle, which you can see below:
Well done if you managed to guess some or all of the words correctly! Let us know if you managed to solve the Sedecordle words today in the comments section below. Click here for the hints and the answers to Sedecordle 156!