Here is the Wordle answer Word of the day for number 227, released on February 1, 2022.
UPDATE: Wordle 228 IS OUT NOW! CLICK HERE FOR THE HINTS AND ANSWER!
If you haven't heard about Wordle yet, where have you been hiding? This word game has such a simple concept but some words can be quite challenging! The aim of the game is to guess the five letter word in six guesses, the catch is you have no idea what this word could be! It seems daunting when you haven't played the game before, but the trick is to get a good solid first guess and then you have a good foundation for moving forward.
Many players have suggested to a vowel heavy word as your first guess, such as 'AUDIO' or 'URAEI' which are easy to work around, but there are some days where there is only one vowel in the word, which could mean you have wasted a guess. Some players prefer to use the word 'LATER' as the starting word as the letters in the word consists of two vowels and three consonants. You can try either way or just choose a word at random and go from there.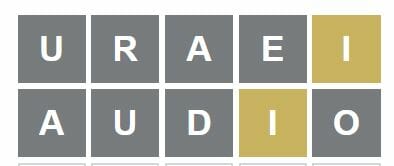 Once you have made the first guess, the tiles will turn green, yellow or grey, which shows you which letters in your guess appears in the word and if the position is correct. Green means you have the correct letter and position in the word, yellow means the letter appears in the word but it's currently in the wrong position and grey means it does not appear in the word at all.
What you want to do is refrain from using the grey letter tiles in any subsequent words if possible, but you also need to be aware that there may also be a double letter from the letters you have guessed.
Wordle 227 has released today on February 1, 2022. Here's the hints and answers for the day.
Wordle Hints Today
A new Wordle is released every night at midnight in your time zone and we will always be here to help you out if you need it! We like to give our readers hints if they are struggling with the word but don't want the answer straight away so here are the hints we have for Wordle 227 released today.
Hint 1: Contains the letter S
Hint 2: It starts with the letter T
Hint 3: There are two vowels in this word
Hint 4: The vowels are positioned in the third and five place.
What is the Wordle 227 Answer Today? (February 1st, 2022)
The word today for Wordle 227 is..
THOSE!
Well done if you guessed today's word right!
Like riddles? Try our quiz below!
[wp_quiz_pro id="88049″]
Today's 'Wordle' Word of the Day Answer #228: February 2nd 2022