Here is the new Wordle word for today, number 215 released on 20th January 2022.
UPDATE: 216 IS OUT NOW CLICK HERE FOR THE ANSWER
There is a new word released every day in Wordle and the new word is available every night at midnight (GMT). Wordle is a simple yet challenging game as the word can literally be any five letter word in the English language and you only have six tries in which you guess it. It is important to note that it's American English as there are some spelling that are slightly different and have tripped some people up in the past!

Wordle has grown in popularity since its launch with many celebrities taking part in playing the game and tweeting their results. Jimmy Fallon also tweeted the following for Dolly Parton's birthday, which had some players actually trying this to see if it was the word yesterday (it wasn't, but at least the O was in the right place!)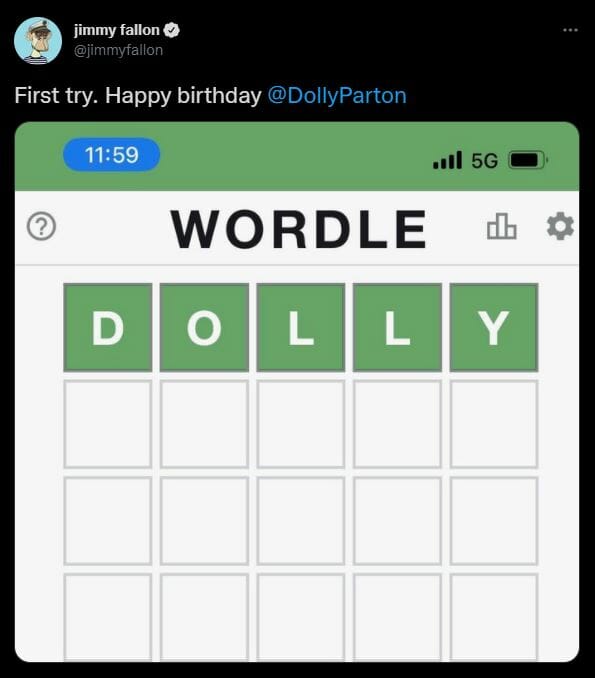 The first prediction is key to building the foundation for the word of the day, and many players have found the best way to start the game is by using a word that contains a lot of vowels. An example word you could use is 'AUDIO' as there is only one consonant in the word, however it does not include the letter E. 'URAIE' is another word that you can use to cover the vowels, which also contains an E.
What is the Wordle Answer 215 today? (January 20, 2022)
In case you missed it, yesterdays word was POINT, but what is the Wordle today? Well we like to offer hints to players who may want some help, but not the answer right away so here come the hints for today's word.
Hint 1: Contains the letter T
Hint 2: It starts with the letter R
Hint 3: The word is a noun
Hint 4: It's a machine
Answer:
It's ROBOT !
Take this Riddles and Logic Quiz below and let's see how many you get right!
[wp_quiz_pro id="88049″]

Wordle Answer 216 Today – January 21st 2022 Daily Word Solution & Hints