A new Apex Legends Gaiden Event will be launching in the game soon in the game, which will also bring the release of Bangalore's Prestige Skin.
There are a few events that take place in Apex Legends which usually bring some limited-time cosmetics, rewards and limited-time modes. Apex Legends had the Awakening Collection Event recently where Valkyrie's Heirloom was officially launched.
Players who have Heirloom Shards can now use these to get the Valkyrie Heirloom from the Mythic section in the store, but in the event, players were required to purchase all items collection items to get the Heirloom for free.
There is a brand new event coming to Apex Legends that has been officially announced by Respawn called the Gaiden Event, which will include a limited time mode that has been seen in the past as well as the release of Bangalore's Prestige Skin. You can read all about this event below.
Apex Legends Gaiden Event Patch Notes
The Apex Legends Gaiden Event will commence from July 19th and will last until August 2nd, which makes this a two week event. This event will feature around the return of the Armed and Dangerous Limited Time Mode.
This is a mode that has been released in the past, but if you don't already know what it is, players can only find Snipers and Shotguns in this mode. This event will take place on the World's Edge, Olympus and Storm Point maps.
There are also two challenge tracks, with one being released for each week and you can earn rewards once you have completed the challenges. The description for the top of this challenge track is:
"Believe it mate – Armed & Dangerous is back! The time with magical gals, ninjas, and those big robot fellas. In this ring, you can only get ya mitts on certain weapons so arm yaself to the teeth with sniper rifles, shotguns, and their attachments.
Bring ya best to the 'field and rack up points to gain Epic skins, Game-bloody-on, Legends!"
The rewards you can earn are as follows:
July 19th to July 26th
Fuse's Down Thunder Epic Skin
Bionic Buddy Gun Charm
Epic 3030 "Cloudburst" Skin
July 26th to August 2nd
OK Holospray
1 Gaiden Event Pack
1 Apex Pack
There are 40 event-limited cosmetics, including new Legendary skins for Revenant, Mirage, Octane and Wattson with complementary skins for the Flatline, Wingman, EVA-8 and Charge Rifle. There will also be special offers in the store tab during the event.
Apex Legends Bangalore Prestige Skin – Apex Commander
There is also a Prestige Skin you can get for Bangalore if you purchase all the 40 event themed cosmetics or you can purchase it with Heirloom Shards in the Mythic section of the shop once the event has ended.
The Prestige Skins have three different levels or tiers which are unlocked once you have completed set challenges. Once you have completed the challenges for that tier, you can equip that version when you have the Skin equipped.
Bangalore's Prestige Skin is called Apex Commander and you can see what the third tier of the Skin looks like in the image below: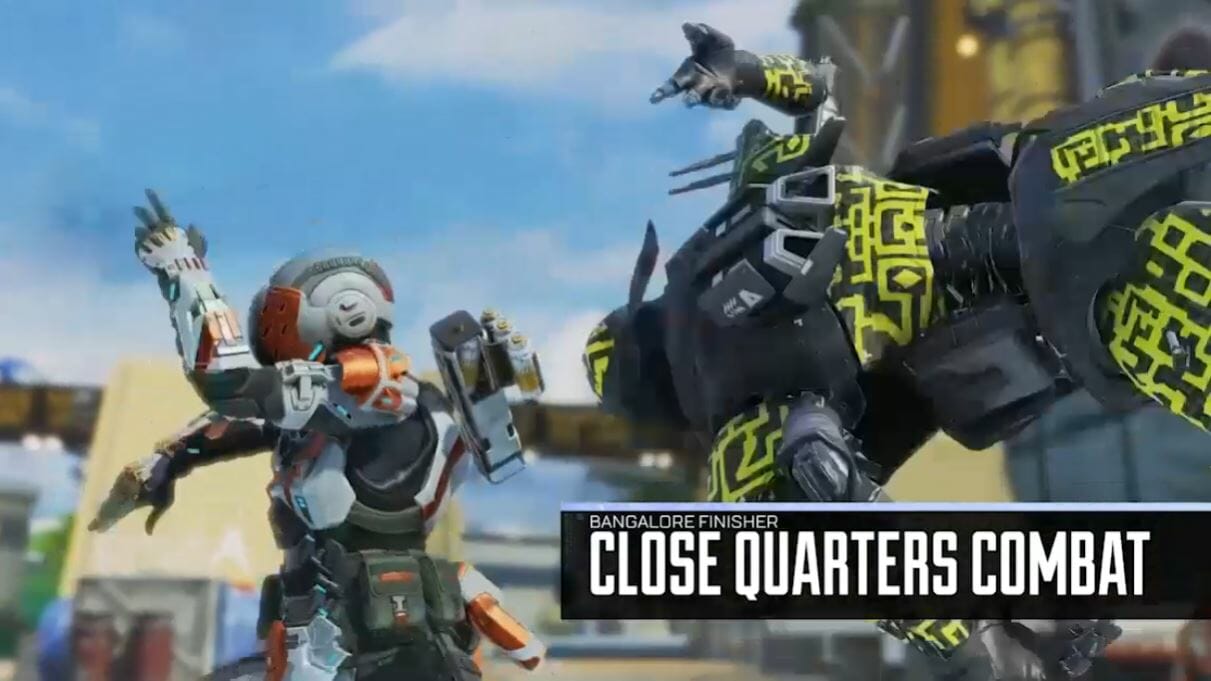 You can of course purchase packs from the event and here is what Respawn have stated about these packs:
Gaiden Event Packs are available for a limited time during the Gaiden Event, but the items will be available in the standard Apex Pack pool of items after the event ends.
Gaiden Event Packs guarantee you one non-duplicate Gaiden Event item.
The new event will introduce 40 new cosmetic items around the Gaiden theme.
Gaiden items can be crafted with crafting metals. After two seasons, crafting metal costs of Gaiden Items may be reduced.
To preview/view what the new items are, players can go to the thematic event tab in-game.