The trailer for Season 12 Apex Legends Defiance is out now! Here's what we know.
As we already know, Mad Maggie is the new legend to be entering the Apex Games and there were many rumours as to what her abilites would be. We already know she has history with Fuse as they were childhood friends who grew up fighting for Salvo. When Fuse abandoned her to enter the Apex Games, Maggie felt betrayed and blew Fuse's arm up and even hijacked the ship Fuse came to the Games on and destroyed Kings Canyon.
Apex Legends Trailer – Defiance
In the trailer for the Season 12 of Apex Legends – Defiance, we see just how mad Mad Maggie is as she bites off the skin from the soldier who says, "They're going to eat you alive Salvo scum," and kicks him off the ship. She also gets thrown off the ship after and we see how the legends react to her entering the Games and a sneak peak into what Mad Maggie's abilities are. First take a look at the Defiance trailer below:
The description reads, "Mad Maggie might not be the hero the Legends want on their squad, but she might just be the villain they need."
Mad Maggie Tactical Ability
In the trailer we see Maggie shoot some type of star on a box, which appears to make a small explosion with sparks disorientating Horizon and Crypto who were both chasing after her. It's unclear at this time if the tactical object goes off when an enemy goes into / passed it, like Caustics traps, or if it detonates on impact.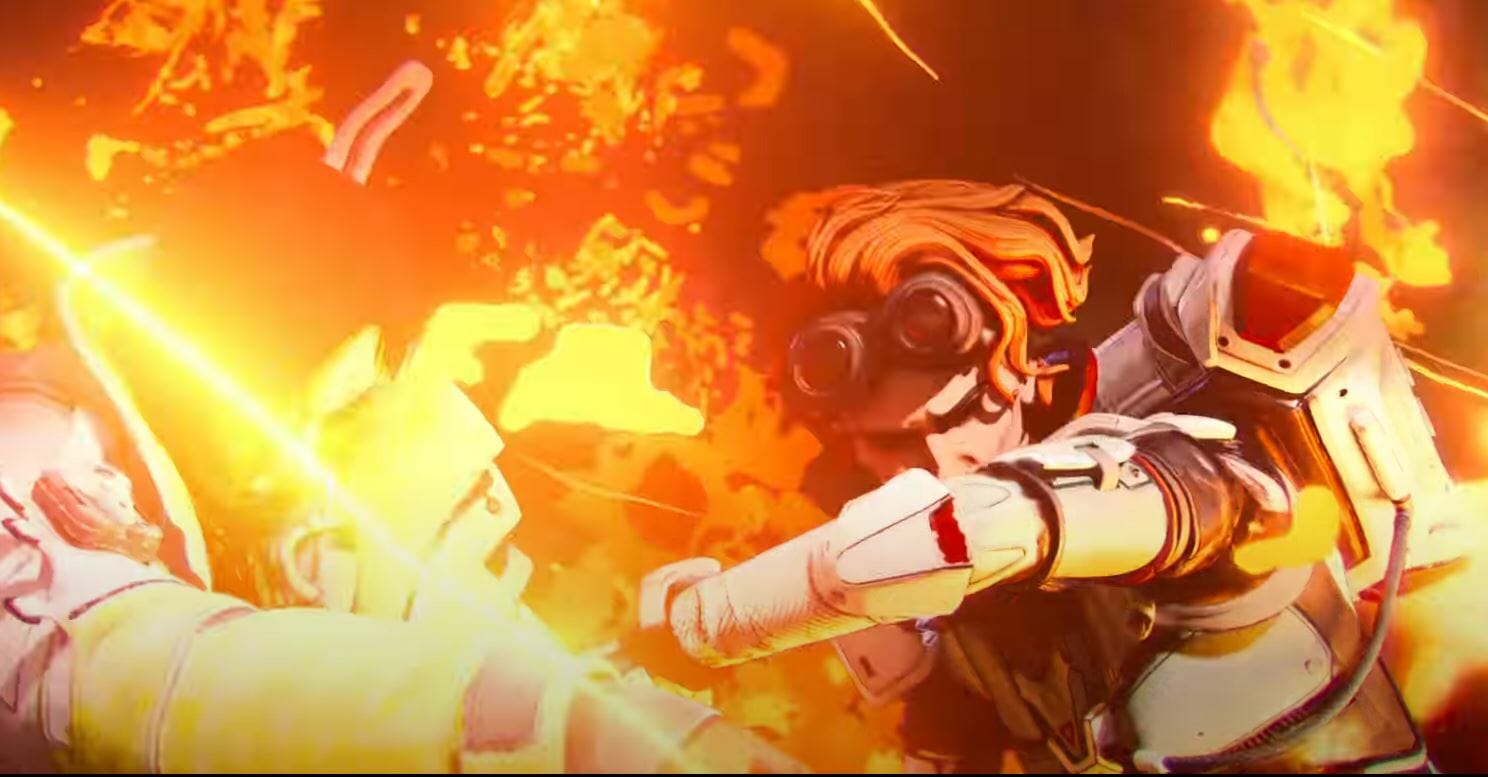 Mad Maggie Ultimate Ability
After this, Maggie then falls through a gap in the Olympus map, where she comes face to face with Duardo Silva, the man who sentenced her to the Games in the first place and she tries to attack him, but of course fails. We then see an explosion which forces the Olympus map to crash down. A building also appears to make a portal which takes Maggie to her teammates, Lifeline and Octane. Of course Lifeline is not happy about having Maggie on their squad due to Maggie blowing up Kings Canyon.
Later in the trailer, you see Fuse use his ultimate on Maggie, but instead of it dealing any damage (from what we can see), a big metal ball comes out from the fire and knocks Fuse over. Could this be her ultimate?
Mad Maggie Passive Ability
Now the Passive ability isn't specifically shown so this is all speculation, however we think Maggie could potentially have one of these two passives:
She could be immune to fire – As previously mentioned, when we saw Fuse use his Ultimate on Maggie, it didn't seem like it did any damage and she looked like she emerged from the flames untouched. We can also see a reddish aura around 2.06 in the video, which looks like it could be what she looks like with her passive active.

Apex Legends Mad Maggie Passive Ability

Some sort of Shotgun passive, similar to Rampart with LMGs – There were leaks to suggest this and we do see Maggie using shotguns in the trailer.
We still have the gameplay trailer yet to be released, so we should be getting more information about Maggie's abilities in that video. It will be interesting to see the new quips with Maggie and other Legends, and it looks like Octane and Maggie might have a lot in common.