We have a new SMG in Warzone today, the Welgun. Here's the best loadout class setup for the new weapon.
We have the first major Warzone update in 2022. The new update is the mid season update, which introduces Vanguard Plunder, the Welgun SMG weapon, and a host of bug fixes.
The biggest issue with Warzone has been the number of game breaking bugs that were introduced with the arrival of the Pacific Caldera map. Since Raven Software employees were on a break, they couldn't really fix most of the glitches.
They did fix the tier 100 awoken invisible skin glitch, but there were a handful of other skins that also had this issue. Obviously, players look to abuse any bug or glitch that they can to gain an advantage, and this was the case with the invisible skins.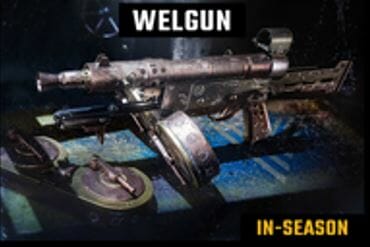 Thankfully, all the crashing and error issues with Warzone seem to have been addressed in the mid season update. There have been nerfs and buffs to the Vanguard weapons.
With the introduction of the new Welgun Vanguard weapon, players are looking to find the best Welgun Warzone loadout, and we have the perfect loadout setup for the Welgun.
Best Welgun SMG Loadout Attachments in Warzone
Although the latest patch for Warzone was only released a few hours ago, players have already been testing out what attachments work best to make the Welgun weapon a top tier sub machine gun.
Thanks to the ever reliable Warzone loadout king, JGOD, we have the best Welgun loadout for Warzone:
Muzzle: Recoil Booster
Barrel: 120mm Gawain Short
Optic: Slate Reflector
Stock: Gawain Skeletal
Underbarrel: m1941 Hand Stop
Magazine: 9mm 64 Round Mags
Ammunition: Incendiary
Rear Grip: Taped Grip
Perk 1: Frenzy
Perk 2: Quick
As with the MP40, players are turning to the Recoil Booster with the Welgun SMG in order to increase the fire rate. The 120mm Gawain Short will increase the fire rate further with penalties to Accuracy, Damage, Sprint to Fire time, and Horizontal Recoil. We then have the optic, which will always come down to personal preference.
As this is a SMG, we'd obviously recommend the Slate Reflector. The m1941 Hand Stop will help with the recoil control and accuracy whilst the Incendiary ammunition will deal a small amount of fire damage over time after the bullet hits. Hollow Point is also a viable option here.
If you struggle with recoil, use the polymer grip. If not, use the taped grip. For the perk one slot, Gung-Ho would be good for hipfire builds, but we'd recommend frenzy. For Perk 2, use quick for quicker sprint speed.
To finish things off, use the Gawain Skeletal for the stock and the 9mm 64 round mags. The .45 48 round mags would also work well if you have good accuracy and can control recoil.
New Meta?
With the MP40 getting a nerf in the new update, and with the release of the Welgun, it appears as though there's a new Warzone meta. The Welgun appears to perform better with a faster TTK. However, you need to factor in how comfortable you are with the gun, and for that reason, some players will still be using the MP40