Players are being booted from the Sea of Thieves servers, here's the current server status.
Last month, Rare released the road map for Sea of Thieves for 2022 with the announcement of four new seasons. Season six will launch in March, and the final season of the year, season nine, will launch in December.
Season five is now in its final few weeks, but there's a new update today includes world changes, gameplay improvements, cosmetic changes, and a number of bugs being addressed. It's a downloadable update, which as been pushed live and should be available to download.
However, players have been complaining there was no warning before they were kicked from the server, and players are now wondering what the server status is for Sea of Thieves on February 10th, 2022. Here's the latest update.
Are the Sea of Thieves Servers Down Feb 10 2022
The Sea of Thieves servers are down as of 11 AM GMT. There was no prior warning, but the official Sea of Thieves Twitter account stated that the servers are now offline for some "necessary tinkering".
They'll make an announcement on Twitter when the servers are back online and also warned that there's an update that you'll need to order to get back online and carry on with your adventures.
Here's the tweet: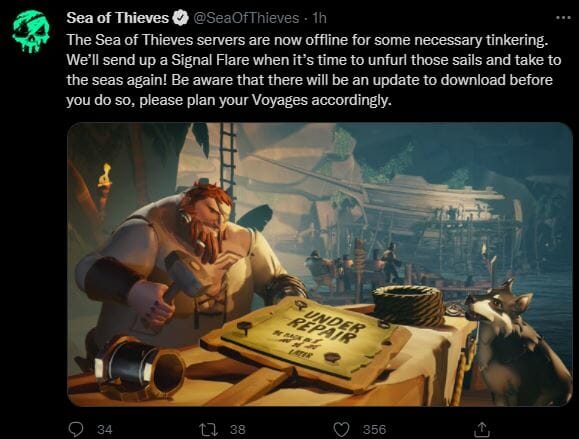 We'll update this post when the servers are back online. We'll also be posting the full patch notes for today's update, which we'll link below when they're available.
Update: patch notes can be found HERE