Here is the answer and some hints for the Taylordle 71 word for today, released on April 9, 2022.
UPDATE: Click here for the hints and the answer to Taylordle 72!
Taylordle is a new take on the popular word game Wordle. Taylordle is a game where you need to guess a word that is related to a very famous female singer and if you hadn't already guessed who from the name of the game, it's Taylor Swift! The rules of the game are the same as Wordle whereby players must guess the word with no initial clues.
Once you have made a guess, the tiles will change colour, which lets you know if you have guessed a letter that appears in the answer and if you have placed it in the correct position. The colours are also the same as Wordle, except they are a lot brighter. Here is what the colours mean:
Grey – The letter does not appear in the word at all so you should avoid using it in subsequent guesses if at all possible.
Yellow – You guessed a letter that does appear in the word, but not in the position you have it in now.
Green – You correctly guessed and positioned the letter. Well done!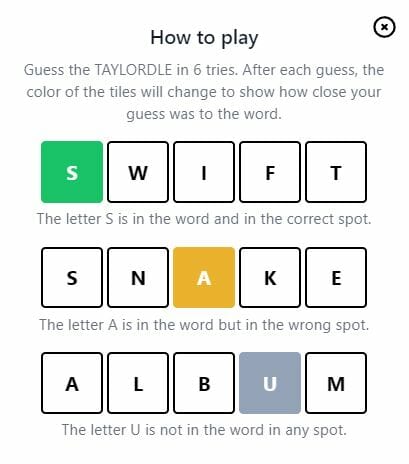 With the launch of the game, there were only five-letter words that players could guess, but there has been an update recently where the developers of the game have decided to ass 4 to 8 letter words as well, which means there are many more words that can be added to the list, making the game last a lot longer.
This game has been made by the Holy Swift Podcast, which is a song-by-song Taylor Swift Podcast available on Apple Podcasts and Spotify.
Taylordle Hints Today – April 9, 2022
As the word can be quite difficult, we have some hints for Taylordle 71 to help you to solve it, which are:
Hint 1: Contains the letter R.
Hint 2: It starts with the letter G.
Hint 3: There are three vowels in the word.
Hint 4: A musical instrument.
What is the Taylordle 71 Answer Today? (April 9th, 2022)
The answer to Taylordle 71 is…
GUITAR!
FUN FACT: Taylor Swift was around 12 years old when she first started to learn how to play the guitar by local musician Ronnie Cremer.
Well done if you managed to guess the answer to the Taylordle puzzle today! Click here for the hints and the answer to Taylordle 72!