Here is the answer for the Crosswordle 40 words for today, released on February 28th 2022.
UPDATE: CLICK HERE FOR THE ANSWER TO CROSSWORDLE 41!
Crosswordle is a fairly new game that is based on the viral word game, Wordle. Instead of guessing the one letter word though, players need to work backwards and choose words that will fit into the grid, according to the colours in the grid. There are different grids you will be given, with some having four rows and others having five or six for the day. It is best to work from the bottom up as you know the answer and usually there is a green square in the row above.
To recap on what the colours mean, the green shows the letter is correct and in the right place whereas the yellow squares show the letter appears in the word, but not in the correct place. The letters you know will need to be in the row above, so you will need to pick the letters in the yellow squares carefully. A new Crosswordle is released every single day at midnight and due to the nature of the game, there are multiple solutions you can have. We will giving you the answer for every game, so make sure you check back daily if you need some help.
What is the Crosswordle 40 Answer Today? (February 28th, 2022)
The correct word for the Crosswordle 40 puzzle is 'RALPH' and in the row above, you will see that there is a green square at the end, meaning the next word has to end in a H and there are two yellow squares in the middle. The grey squares mean you can't pick letters that are in the word 'RALPH'. Here are the answers I got for Crosswordle 40:
1st Word – HEDGY
2nd Word – SHRUB
3rd Word – ORACH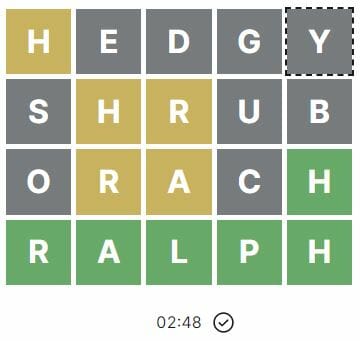 When you have completed the Crosswordle for the day, you are also given the option to see other solutions and here are some other words you could have used:
1st Word – HUNKY
2nd Word – THROW
3rd Word – CRASH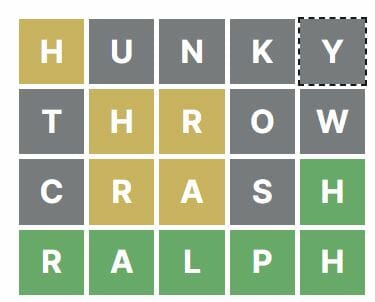 Well dOne if you guessed the Crosswordle puzzle correct today and make sure you come back tomorrow for the answers to the new puzzle!
Today's 'Crosswordle' Word Puzzle Answer #41: March 1st 2022