Here is the answer and some hints for the Dordle words for #0024 today, released on February 17th 2022.
UPDATE: CLICK HERE FOR THE HINTS AND TIPS FOR DORDLE 25!
Everyone by now must of heard of the viral game Wordle, even if they haven't played it they know what it's about but have you heard of a game called Dordle? This is a fairly new game which is inspired by Wordle but instead of guessing one five letter word, you need to guess two. There are a maximum of seven guesses for this game instead of six for Wordle, so there is some room for error, but of course the sooner you guess one of the words, the better!
The creator of Dordle is constantly making changes to improve and has just updated us with the following:
word list has been completely rebuilt. original list had a few too many words no one should be forced to look at, so some words will no longer be answers. to compensate, a few words have been found so the answer list is actually 250 words longer now.
word list is compressed down from 80kB to 25kB. sorry itch.io love you didn't expect this to be doing numbers
ultimate decoloured mode added. it would be difficult, if not impossible, to remove any more colors. good luck making that work, Quordle
you will no longer have to wonder if something is a word or what it means; they now all link to humanity's most trusted source, wiktionary.
Dordle Words Hints Today
Hint 1: There is only the letter G that is common in both Dordle words today.
Hint 2: The first word has one vowel in it whereas the second word has two.
Hint 3: The first word begins with a F and the second on begins with an G.
Hint 4: The first word means to throw something forcefully and the second word has a couple of meanings with one being to brush past something lightly and another is used for cattle eating grass on a field.
What is the Dordle 24 Answer Today? (February 17th, 2022)
For Dordle 24, I started off with the word 'CREAM' which didn't hit any letters for word one but was a great guess for the second word as I had placed the R in the correct place and there is also an E and an A in the word, just not in the same order I had them in. I then decided to focus on the second word and made a guess which was the answer for the Dordle 24 word 2 which is..
GRAZE!
This also showed that there was a G in the first word, but not in the correct place. The only vowels that I hadn't tried were I, O and U so I decided to do for the word 'DOUGH' as it has an O and U in it and the G would be put in another position. This guess showed that there was a U in the word and it was placed correctly, but the G was still in the wrong place. From the placement of the U, it didn't seem like there would be an I in the word so I thought of words that had a U and a G in it and figured it must end in 'UNG' so I guessed 'SLUNG'. This was a great guess as it placed the last four letters in the correct place and so I only had to change the first letter to get the first word for Dordle 24 which is..
FLUNG!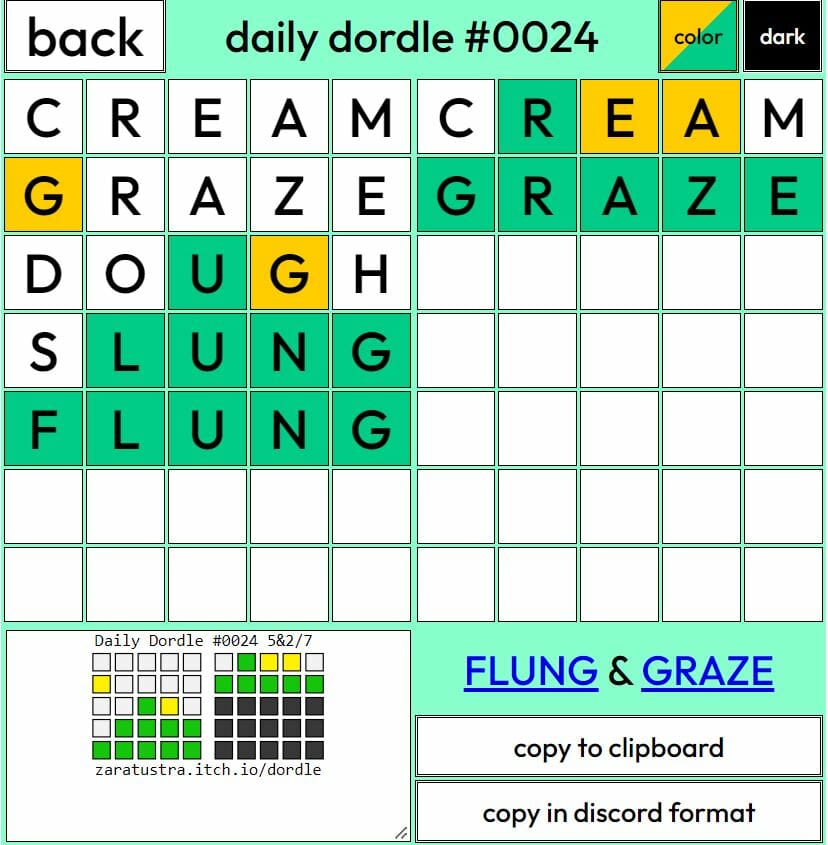 Well done if you guessed both of the Dordle words correctly! Remember we will be covering the hints and answers to all the Dordle puzzles, so make sure you come back daily if you need any help!
Today's 'Dordle' Word of the Day Answer #25: February 18th 2022