Here is the answer and some hints for the Dordle words for #38 today, released on March 3rd 2022.
UPDATE: CLICK HERE FOR THE HINTS AND ANSWERS FOR DORDLE 39!
Dordle is a harder version of Wordle as instead of guessing one five-letter word, you need to guess two simultaneously and in Wordle you get six guesses to guess the one word but in Dordle, you only have seven guesses to solve both! That means that you need to be very selective with the words you choose to make sure you reveal more letters for both words.
Dordle Words Hints Today
Here are the hints we have to help you complete Dordle #38 today.
Hint 1: There are no common letters in the Dordle words today.
Hint 2: There are two vowels in both words.
Hint 3: The first word begins with a P and the second on begins with an I.
Hint 4: The first word is a group of people who have a common interest and the second word is a design, pattern, or piece of material inlaid in something.
What is the Dordle 38 Answer Today? (March 3rd, 2022)
Here is how I got the answer to the Dordle 38 words today. First I guessed the word 'URINE' and this placed the E in the correct position in the first word and showed me there was an I and N in the second word, although not in the positions I had placed them in. I then decided to guess the word 'BOAST' so that I could see if any other vowels were in the words. This luckily placed the O and the S in the correct position and showed me there was an A in the second word. I then focussed on the first word and managed to guess the first word for Dordle 38 which is…
POSSE!
Now I could just focus on the second word and I didn't look properly as I guessed the word 'ALIGN' and I had already placed the I in the third position so knew it couldn't be this word but at least it showed me there was an N in the word. I then managed to guess the second word for Dordle 38 which is…
INLAY!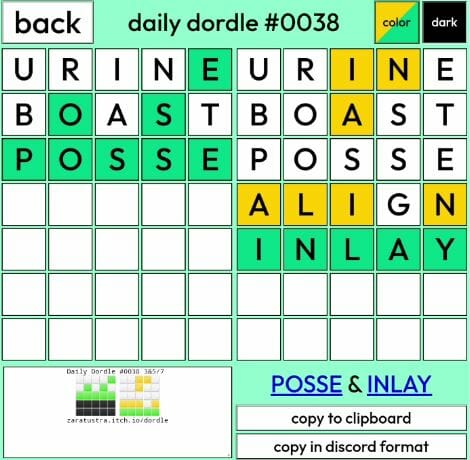 Well done if you guessed both words correctly!
Today's 'Dordle' Words of the Day Answer #39: March 4th 2022