Here is the answer and some hints for the Dordle words for #43 today, released on March 8th 2022.
UPDATE: CLICK HERE FOR THE HINTS AND ANSWERS TO DORDLE 44!
Dordle is a great word game that is harder than Wordle, the game that started it all, as instead of guessing one five-letter word, players are required to guess two, at the same time! There are only seven guesses in which you have to guess both words which means you have to choose your words carefully.
There is a new feature that has recently been added to the game where you can see your win streak and you will also notice there is a solid line and more of a gap between the two words, which has made the words more distinctively a part, which is something the player base has been asking for.
Dordle Words Hints Today
Here are the hints we have to help you complete Dordle #43 today.
Hint 1: There are three common letters between the Dordle words today which are P. A and E.
Hint 2: There are two vowels in the words today, which are the same in both.
Hint 3: Both of the words today begin with a P.
Hint 4: The first word means a distinct period or stage in a series of events and the second word is what you load the printer with.
What is the Dordle 43 Answer Today? (March 8th, 2022)
Here is how I got the answers to the Dordle 43 puzzle today. For my starter word, I chose the word 'AUDIO'. This showed me there was an A in both words, but none of the words started with an A. I then decided to guess the word 'PRANK' as my second guess, and this placed the P in the correct position for both words and the A in the first word. It also showed me there was an R in the second word. I decided to focus on the first word and guessed the word 'PLACE', which placed the E in the right place, which means I only had to figure out what the other two letters in the word are, which I managed to do on my next guess to reveal the answer to the first word in Dordle 43, which is…
PHASE!
Looking at the second word, I know there the word starts with a P and there is an A, E and R in it somewhere, so I guessed the word 'PARER'. This placed all the letters in the correct place, apart from the R, which meant I only have one letter to guess to complete the word. The answer to the second word of Dordle 43 is..
PAPER!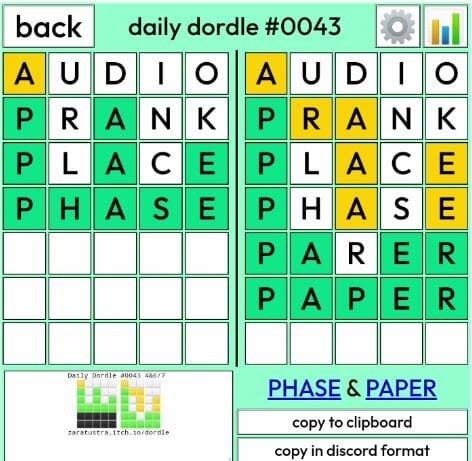 Well done if you managed to guess both these words correctly!
Today's 'Dordle' Words of the Day Answer #44: March 9th 2022