Here are some hints and the answer for the Worldle 52 today, released on March 14th, 2022.
UPDATE: CLICK HERE FOR THE HINTS AND ANSWER TO WORLDLE 53!
Worldle is a fairly new game with the aim being to guess the country or territory. Players are given the outline of the country where they will then have six guesses to figure it out. Once you have made a guess, it will let you know how far the guessed country is from the answer and in which direction you need to travel.
If you know the shape of the countries well, there is an option in the settings where you can hide the country image so you guess a random country to start and it will tell you how far the Worldle country of the day is located. There is another option where the shape is randomly rotated so you may not be familiar with it if it's upside down! These options will of course take into effect on the next day as you will have already seen the image.
Worldle 52 Hints Today – March 14th, 2022
We like to give our readers some clues as to what the country could be before giving you the answer if you're struggling.
Here is what the country looks like for the Worldle 52 puzzle today: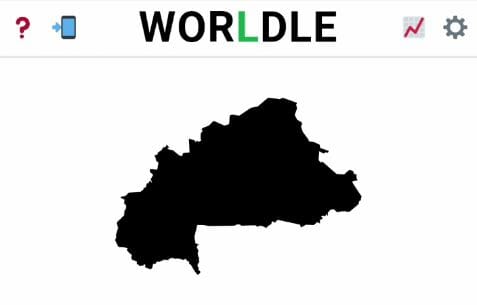 Here are the clues we have for today (March 14th, 2022).
Hint 1: It is in western Africa.
Hint 2: There are two words to this country.
Hint 3: It starts with the letter B F.
Hint 4: There are seven letters in the first word and four in the second.
Hint 5: It hosts the largest craft market in Africa.
What is the Worldle 52 Answer Today? (March 14th, 2022)
The answer to the Worldle 52 country today is…
BURKINA FASO!
Well done if you managed to guess that correctly!
Today's Geography 'Worldle' Country Answer #53: Map Game March 15th 2022