Here is the answer and some hints for the Octordle words for #27 today, released on February 20th 2022.
UPDATE: CLICK HERE FOR THE ANSWERS AND HINTS TO OCTORDLE 28
Octordle is a fairly new game that has been released and this game was inspired by Wordle, Dordle and Quordle. Wordle is a viral game where players need to guess the five-letter word in six guesses or less with the only clues being in the guesses themselves. The tiles the letters are in change colour to show you if they are in the letters appear in the word or not and if you have positioned them correctly. This helps you to solve the word of the day by eliminating certain words based on the letters that don't appear in the word based on the guesses you have made.
Dordle is a game where you need to guess two words side by side where the guesses you make count towards both words and you have seven guesses in which you figure out the words of the day. In Quordle, you need to guess four five-letter words at the same time in nine guesses or less. It seems four words were not enough for some as Octordle is a game where you need to guess eight five-letter words at a time in thirteen guesses or less.
Octordle Words Hints Today
We like to give our readers some hints as to what the Octordle words are before giving the answer, so here are the hints we have for the Octordle 27 words.
Hint 1: There is an E in words 1, 2, 4, 6 and 7.
Hint 2: There is a A in words 1, 2, 3, and 4.
Hint 3: There is an O in word 3 only.
Hint 4: There is an I in words 3, 6, 7 and 8.
Hint 5: There is a U in word 4 only.
Hint 6: Here are the starting letters of each word:
Word 1: S
Word 2: W
Word 3: T
Word 4: S
Word 5: R
Word 6: S
Word 7: T
Word 8: S
Hint 7: Here is a little description of all of the words:
Word 1: To make a promise. Can also be used for an offensive word.
Word 2: A clear liquid.
Word 3: A subject.
Word 4: A semi-liquid or liquid served with food to add more flavour.
Word 5: Being excited or having a rude. aggressive manner.
Word 6: A creature in Greek Mythology.
Word 7: A group of people based on different communities.
Word 8: Something happening quickly.
What is the Octordle 27 Answer Today? (February 20th, 2022)
Now here are all of the eight answers for Octordle 27:
Word 1: SWEAR
Word 2: WATER
Word 3: TOPIC
Word 4: SAUCE
Word 5: RANDY
Word 6: SIREN
Word 7: TRIBE
Word 8: SWIFT
You can see how I came to the answers today in the screen shots below: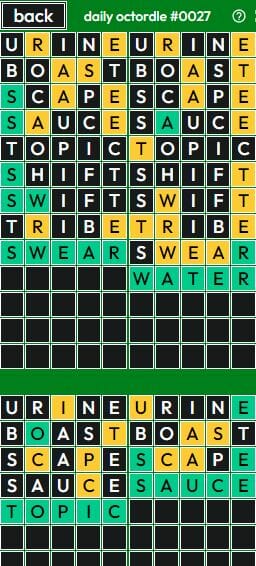 Well done if you guessed them all correctly! This game is a lot harder than Wordle that's for sure!
Today's 'Octordle' Word of the Day Answer #28: February 21st 2022