Here is the answer and some hints for the Octordle words for #47 today, released on March 12th, 2022.
UPDATE: CLICK HERE FOR THE HINTS AND ANSWERS TO THE OCTORDLE 48 WORDS!
In Octordle, players need to guess eight five-letter words all at once, and to make it worse, you only have thirteen guesses in which you solve them! This game is quite hard, so if you are a beginner, we would recommend that you try to complete the daily Wordle, Dordle and Quordle puzzles first to get you warmed up.
There are some issues that you may have noticed with the game, with the main one being that the letters at the bottom change colour to let you know if it appears in the words. The issue is that it only shows up for the letters in the first four words, so you could have a letter that is partially green or yellow and you might mistake it for being in the word you are guessing, so make sure you keep that in mind.
Octordle Words Hints Today
Here are the clues we have for all the eight words for Octordle 47 today.
Hint 1: There is a Y in words 1, 2 and 4.
Hint 2: There is a Z in word 6 only.
Hint 3: There is a V in word 8 only.
Hint 4: There is an R in words 4, 6 and 7.
Hint 5: Words 2 and 3 both have a double letter (not the same).
Hint 6: Here are the starting letters of each word:
Word 1: T
Word 2: P
Word 3: C
Word 4: Y
Word 5: C
Word 6: R
Word 7: Q
Word 8: E
Hint 7: Here is a little description or clue for all of the words:
Word 1: To tie something.
Word 2: Another way of saying pig.
Word 3: A punctuation mark.
Word 4: When you have a feeling of really wanting something.
Word 5: Split or divided.
Word 6: Used for shaving
Word 7: To describe something strange or odd.
Word 8: To escape or avoid something.
What is the Octordle 47 Answer Today? (March 12th, 2022)
Here are all of the answers for Octordle 47 released today on March 12th, 2022:
Word 1: TYING
Word 2: PIGGY
Word 3: COMMA
Word 4: YEARN
Word 5: CLEFT
Word 6: RAZOR
Word 7: QUEER
Word 8: EVADE
You can see how I got the words in the images below: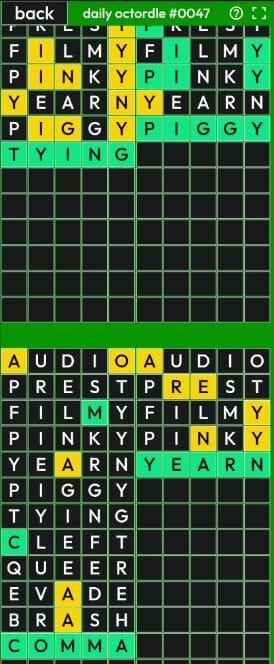 Well done if you managed to guess all eight words correctly!
CLICK HERE FOR THE HINTS AND ANSWERS TO THE OCTORDLE 48 WORDS!