Here is the answer and some hints for the Octordle words for #35 today, released on February 28th 2022.
UPDATE: CLICK HERE FOR THE HINTS AND ANSWERS TO OCTORDLE 36!
Octordle is a fairly new game and in it, you must guess eight five-letter words at one time. All the guesses you make will count towards every word and you have thirteen guesses in total so you will need to be very selective in the words you choose to guess to ensure it helps you will all words. There is a new puzzle released every day and we will be letting you know the answers for all of them in case you need the help.
Octordle Words Hints Today
We give our readers some hints for the letters in the Octordle puzzles before the answers so you can still try to figure out the answers from the hints. Here are the clues we have for Octordle 35 today.
Hint 1: There is a T in words 1 and 4.
Hint 2: There is an R in words 2 and 4.
Hint 3: There is an C in words 2, 4, 7 and 8.
Hint 4: There is an Y in word 6.
Hint 5: There is a Q in word 1.
Hint 6: Here are the starting letters of each word:
Word 1: Q
Word 2: C
Word 3: I
Word 4: C
Word 5: H
Word 6: K
Word 7: C
Word 8: S
Hint 7: Here is a little description of all of the words:
Word 1: Means said but only used only in first and third person singular before the subject.
Word 2: Causing pain to others and not feeling any remorse.
Word 3: Made up of ions.
Word 4: Making something by hand.
Word 5: Used to express doubt or dissatisfaction.
Word 6: A canoe used originally by the Inuit.
Word 7: To pick.
Word 8: A dress or top for women.
What is the Octordle 35 Answer Today? (February 28th, 2022)
Here are all of the eight answers for Octordle 35 today:
Word 1: QUOTH
Word 2: CRUEL
Word 3: IONIC
Word 4: CRAFT
Word 5: HUMPH
Word 6: KAYAK
Word 7: CHOSE
Word 8: SMOCK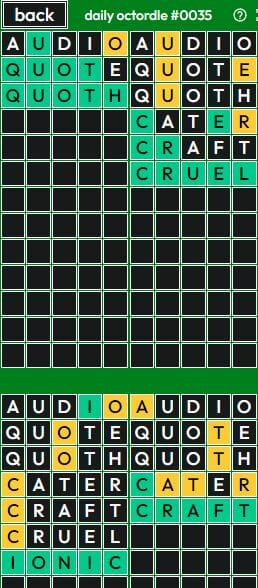 Well done if you guessed that correctly!
Today's 'Octordle' Word of the Day Answer #36: March 1st 2022