Here is the answer and some hints for the Octordle words for #38 today, released on March 3rd 2022.
UPDATE: CLICK HERE FOR THE ANSWER TO OCTORDLE 39!
Octordle is the hardest of the Wordle inspired games as this one requires you to solve not one, not two, not four but eight five-letter words simultaneously! There are only thirteen guesses you have in which to solve all the words and each guess is used for every word, which means you need to be careful in the guesses you make! It's best to get all the vowels out the way as soon as possible and try to use words that also use many consonants so you can reveal more letters in each word for the puzzle.
Octordle Words Hints Today
We give our readers some hints for the letters in the Octordle puzzles before the answers so you can still try to figure out the words yourself. Here are the clues we have for Octordle 38 today.
Hint 1: There is a C in words 1, 3, and 4.
Hint 2: There is a H in word 3, 4 and 5.
Hint 3: There is a B and S in word 7 only.
Hint 4: There is an M in word 1.
Hint 5: There is an L in words 2 and 8.
Hint 6: Here are the starting letters of each word:
Word 1: M
Word 2: L
Word 3: C
Word 4: C
Word 5: H
Word 6: P
Word 7: A
Word 8: L
Hint 7: Here is a little description or clue for all of the words:
Word 1: A holy city in Saudi Arabia.
Word 2: A narrow shelf.
Word 3: A repeated rhythmic phrase.
Word 4: A small ornament you put on bracelets.
Word 5: Ghosts in a specific place.
Word 6: UK currency or unit of measure.
Word 7: To treat with cruelty.
Word 8: Jump quickly.
What is the Octordle 38 Answer Today? (March 3rd, 2022)
Here are all of the eight words for Octordle 38 released today on March 3rd 2022:
Word 1: MECCA
Word 2: LEDGE
Word 3: CHANT
Word 4: CHARM
Word 5: HAUNT
Word 6: POUND
Word 7: ABUSE
Word 8: LEAPT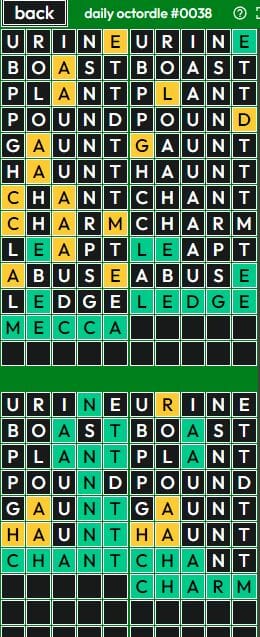 Well done if you managed to get all the eight Octordle words correctly! If not, don't worry as there's always tomorrow!
Today's 'Octordle' Word of the Day Answer #39: March 4th 2022