Here is the answer and some hints for the Octordle words for #44 today, released on March 9th 2022.
UPDATE: CLICK HERE FOR ALL THE HINTS AND ANSWERS FOR OCTORDLE 45!
Octordle is the extremely hard version of Wordle as you need to guess eight words in only thirteen guesses! If  you are new to the game, don't worry if you can't guess all of the words as it does take a while to get into the gist of it at the start and can be quite overwhelming. There is no right or wrong way of playing this game, but we would recommend trying to find out the vowels in the words as soon as possible as it can rule out a lot of potential words.
Once you know the vowels (which you should know after the first two guesses), you can focus on using words that have more consonants in them so you can eliminate a lot of letters that either aren't used in any of the words or reveal more for each. You will notice that the letters are split into four, where it can be a combination of green, yellow and grey in them, which shows you if these letters are in one of the words.
You do need to remember though that this only takes into account the first four words, so you may get a letter that is greyed out, which should mean it doesn't appear in any word, but you may see in the grid for the last four words that it is actually used, so keep this in mind when guessing as this has tripped me up a few times.
Octordle Words Hints Today
As always, we are here to help! Here are the clues we have for all the eight words for Octordle 44 today.
Hint 1: There is an R in words 2, 3 and 6.
Hint 2: There is a T in word 7 only.
Hint 3: There is an L in words 1, 2 and 5.
Hint 4: There is an V in word 3 only.
Hint 5: There is a Y in word 7 only.
Hint 6: Here are the starting letters of each word:
Word 1: P
Word 2: S
Word 3: B
Word 4: B
Word 5: C
Word 6: S
Word 7: P
Word 8: S
Hint 7: Here is a little description or clue for all of the words:
Word 1: Another word for student.
Word 2: An aggressive growl.
Word 3: This word is used to express approval.
Word 4: Shore by the sea.
Word 5: A young human.
Word 6: A system used to detect objects under water.
Word 7: Someone who is easily taken advantage of – being cheated or blamed for something.
Word 8: The rate something moves at.
What is the Octordle 44 Answer Today? (March 9th, 2022)
Here are all of the answers for Octordle 44 released today on March 9th 2022:
Word 1: PUPIL
Word 2: SNARL
Word 3: BRAVO
Word 4: BEACH
Word 5: CHILD
Word 6: SONAR
Word 7: PATSY
Word 8: SPEED
You can see how I got the words in the images below: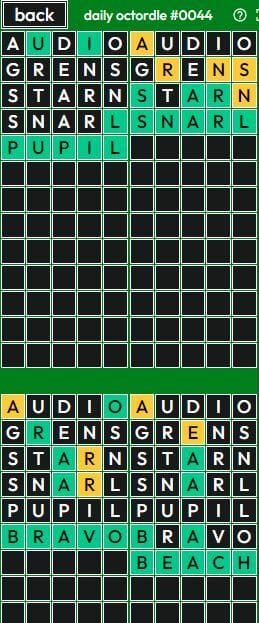 Well done if you managed to guess all of these words correctly!
Today's 'Octordle' Word of the Day Answer #45: March 10th 2022