Here's the answer and a few hints for the Quordle 21 daily words for today, February 14th, 2022.
UPDATE: CLICK HERE FOR THE HINTS AND ANSWERS TO QUORDLE 22!
Word games are a big hit right now after the success of Wordle. There are million so players trying to guess the new Wordle daily word each day. There are now a dozen of similar games that are releasing on what seems to be a daily basis.
We also have some unique games like Nerdle, which seem to be gaining quick traction. We also now have games that require players to guess more than one word. However, they usually allow players more than five tries.
Quordle is a new game that launched in January and according to one of the creators, the game went from being shared with a bunch of friends in Ohio to more than 60,000 players daily with over 160,000 players total.
It's similar to the original daily word game when it comes to guessing words. Get a correct letter in the right location and it'll show in green. The right letter in the wrong position will appear as yellow, and if the letter isn't in the word at all, it'll be grey. Here's an example from the site: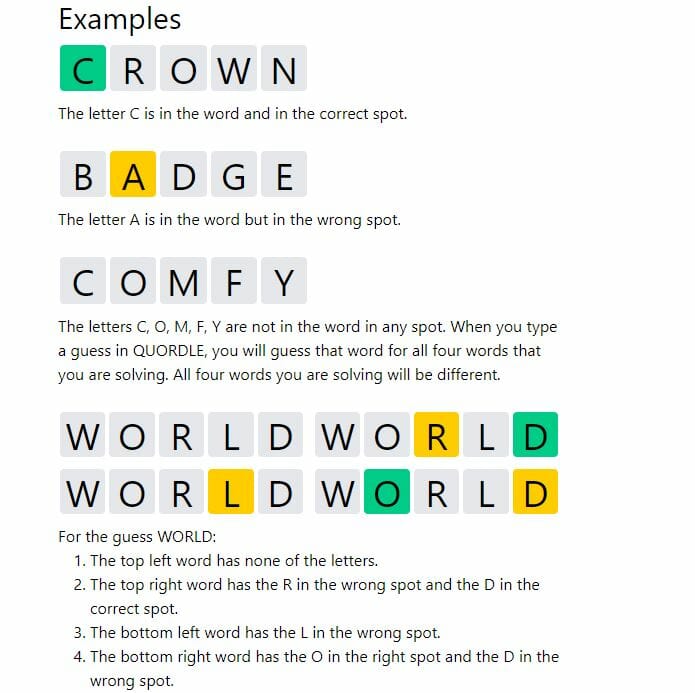 Obviously, you'll need to guess the four five letter words correctly and you'll have nine tries to get them all correct with a new daily word releasing each day. There's also a practice option located on the top of the site, which will allow players to get the hand of Quordle. Now that's out of the way, let's get to the Quordle four words of the day, 21, which has been released on February 14th, 2022.
Quordle Hints Today
Some players are probably looking for Quordle hints for the 21 daily word release on Feb 14, 2022. We've provided some hints below, but scroll down slowly, we have the answer for today under a new sub-heading. You've been warned!
Hint 1: Word 1, 3 and 4 all have the letter A.
Hint 2: Words 1 and 2 have the letter R.
Hint 3: Word 3 and 4 have the letter B.
Hint 4: Word 1 means an act of kindness beyond what is due or usual.
Hint 5: Word 2 means to be anxious or troubled about something
Hint 6: Word 3 means to wash your body with water.
Hint 7: Word 4 means to lack originality or to be boring.
What is the Quordle 21 Answer Today? (February 14th, 2022)
The answer for the Quordle 12 puzzle are..
Well done if you guessed all of them correctly! We will be covering all the answers for future Quordle puzzles so make sure you come back daily if you need some help!
Today's Quordle #22 Answer For Daily Words – February 15th 2022