Here are the answers and some hints for the Sedecordle words for #105 today, released on May 29, 2022.
UPDATE: Click here for the hints and the answers to Sedecordle 106!
Sedecordle is a fairly new game that is based on the same concept as Wordle, Dordle, Quordle, and Octordle. In this game, instead of having to guess one, two, four, or eight-word, players instead have to guess 16 words at once! You do get 21 guesses in which to solve all of the words though.
The rules of the game are the same where the words can be anything from the American English language and there are no initial clues. Once you have made a guess, this will count as a guess for all sixteen words and the tiles will change colour. The colours it can change to are grey, yellow or green, which lets you know if you have guessed a correct letter and if it is placed correctly in the word.

As this game can be quite difficult, we have given you some hints and the answers below to help you to solve them.
Sedecordle 105 Words Hints Today (May 29, 2022)
Here are the clues we have for all the sixteen words of Sedecordle 105 today.
Hint 1: Here are the starting letters of each word:
Word 1: R
Word 2: M
Word 3: S
Word 4: S
Word 5: P
Word 6: A
Word 7: D
Word 8: I
Word 9: L
Word 10: Q
Word 11: B
Word 12: S
Word 13: S
Word 14: C
Word 15: A
Word 16: T
Hint 2: Here is a little description or clue for all of the words:
Word 1: A puzzle in which words are represented by combinations of pictures and individual letters; for instance, apex might be represented by a picture of an ape followed by a letter X.
Word 2: Material (such as decaying leaves, bark, or compost) spread around or over a plant to enrich or insulate the soil.
Word 3: The vapour into which water is converted when heated, forming a white mist of minute water droplets in the air.
Word 4: Used in names of birds and other animals that are mainly blackish or brownish black.
Word 5: Strike with the fist.
Word 6: A style of Japanese film and television animation, typically aimed at adults as well as children.
Word 7: A thick, malleable mixture of flour and liquid, used for baking into bread or pastry.
Word 8: Having or showing no skill; clumsy.
Word 9: Any of various diseases or conditions marked by inflammation of the skin, especially lupus vulgaris or lupus erythematosus.
Word 10: The female ruler of an independent state, especially one who inherits the position by right of birth.
Word 11: Denoting a type of glassware made by forcing air through molten glass.
Word 12: Leave or go away from a place quickly.
Word 13: Firm and stable in shape; not liquid or fluid.
Word 14: A thick rope of wire or hemp used for construction, mooring ships, and towing vehicles.
Word 15: Make minor changes to (a text, piece of legislation, etc.) in order to make it fairer or more accurate, or to reflect changing circumstances.
Word 16: A loose garment, typically sleeveless and reaching to the knees, as worn in ancient Greece and Rome.
What is the Sedecordle 105 Answer Today? (May 29th, 2022)
Here are all of the answers for Sedecordle 105 released today on May 29th, 2022:
Word 1: REBUS
Word 2: MULCH
Word 3: STEAM
Word 4: SOOTY
Word 5: PUNCH
Word 6: ANIME
Word 7: DOUGH
Word 8: INEPT
Word 9: LUPUS
Word 10: QUEEN
Word 11: BLOWN
Word 12: SCRAM
Word 13: SOLID
Word 14: CABLE
Word 15: AMEND
Word 16: TUNIC
As the grid for this game is huge, we only have the screenshot of all the answers when we had solved the puzzle, which you can see below: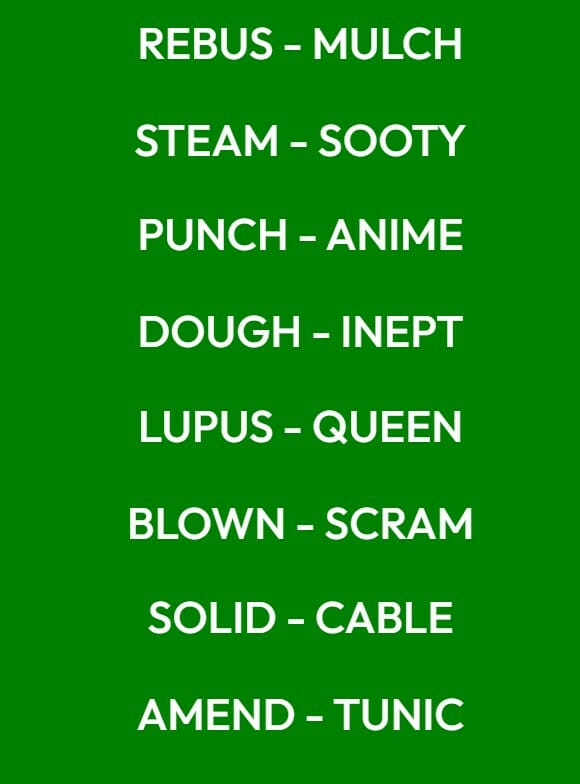 Well done if you managed to guess some or all of the words correctly! Click here for the hints and the answers to Sedecordle 106!