Here are the answers and some hints for the Sedecordle words for #111 today, released on June 4, 2022.
UPDATE: Click here for the hints and the answers to Sedecordle 112!
Sedecordle is a fairly new game that is based on the same concept as Wordle, Dordle, Quordle, and Octordle. In this game, instead of having to guess one, two, four, or eight-word, players instead have to guess 16 words at once! You do get 21 guesses in which to solve all of the words though.
The rules of the game are the same where the words can be anything from the American English language and there are no initial clues. Once you have made a guess, this will count as a guess for all sixteen words and the tiles will change colour. The colours it can change to are grey, yellow or green, which lets you know if you have guessed a correct letter and if it is placed correctly in the word.

As this game can be quite difficult, we have given you some hints and the answers below to help you to solve them.
Sedecordle 111 Words Hints Today (June 4, 2022)
Here are the clues we have for all the sixteen words of Sedecordle 111 today.
Hint 1: Here are the starting letters of each word:
Word 1: S
Word 2: L
Word 3: P
Word 4: R
Word 5: S
Word 6: B
Word 7: P
Word 8: H
Word 9: A
Word 10: M
Word 11: S
Word 12: L
Word 13: G
Word 14: B
Word 15: G
Word 16: S
Hint 2: Here is a little description or clue for all of the words:
Word 1: Protected from or not exposed to danger or risk; not likely to be harmed or lost.
Word 2: A person or thing that loses or has lost something, especially a game or contest.
Word 3: Make a small hole in (something) with a sharp point; pierce slightly.
Word 4: Make or become less tense or anxious.
Word 5: Having or showing a lack of common sense or judgement; absurd and foolish.
Word 6: A bowl for washing, typically attached to a wall and having taps connected to a water supply; a washbasin.
Word 7: A minute area of illumination on a display screen, one of many from which an image is composed.
Word 8: A doglike African mammal with forelimbs that are longer than the hindlimbs and an erect mane. Hyenas are noted as scavengers but most are also effective hunters.
Word 9: A passage between rows of seats in a building such as a church or theatre, an aircraft, or train.
Word 10: A medical practitioner or student.
Word 11: Each of the small, thin horny or bony plates protecting the skin of fish and reptiles, typically overlapping one another.
Word 12: A large long-handled spoon with a cup-shaped bowl, used for serving soup or sauce.
Word 13: Make (a groove, hole, or indentation) with or as with a sharp tool or blade.
Word 14: Having an appearance or other qualities of a type traditionally seen as masculine.
Word 15: Brush and clean the coat of (a horse, dog, or other animal).
Word 16: (Of a slope, flight of stairs, or angle) rising or falling sharply; almost perpendicular.
What is the Sedecordle 111 Answer Today? (June 4th, 2022)
Here are all of the answers for Sedecordle 111 released today on June 4th, 2022:
Word 1: SAFER
Word 2: LOSER
Word 3: PRICK
Word 4: RELAX
Word 5: SILLY
Word 6: BASIN
Word 7: PIXEL
Word 8: HYENA
Word 9: AISLE
Word 10: MEDIC
Word 11: SCALE
Word 12: LADLE
Word 13: GOUGE
Word 14: BUTCH
Word 15: GROOM
Word 16: STEEP
As the grid for this game is huge, we only have the screenshot of all the answers when we had solved the puzzle, which you can see below: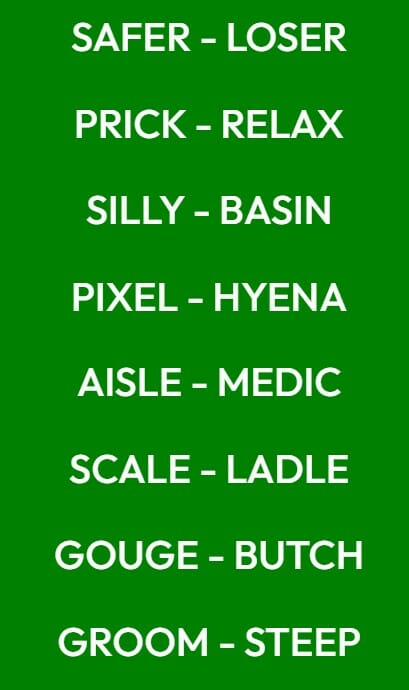 Well done if you managed to guess some or all of the words correctly! Click here for the hints and the answers to Sedecordle 112!