Here are the answers and some hints for the Sedecordle words for #130 today, released on June 23, 2022.
UPDATE: Click here for the hints and the answers to Sedecordle 131!
Sedecordle is a fairly new game that is based on the same concept as Wordle, Dordle, Quordle, and Octordle. In this game, instead of having to guess one, two, four, or eight-word, players instead have to guess 16 words at once! You do get 21 guesses in which to solve all of the words though.
The rules of the game are the same where the words can be anything from the American English language and there are no initial clues. Once you have made a guess, this will count as a guess for all sixteen words and the tiles will change colour. The colours it can change to are grey, yellow or green, which lets you know if you have guessed a correct letter and if it is placed correctly in the word.

As this game can be quite difficult, we have given you some hints and the answers below to help you to solve them.
Sedecordle 130 Words Hints Today (June 23, 2022)
Here are the clues we have for all the sixteen words of Sedecordle 130 today.
Hint 1: Here are the starting letters of each word:
Word 1: S
Word 2: S
Word 3: A
Word 4: P
Word 5: F
Word 6: S
Word 7: S
Word 8: S
Word 9: L
Word 10: S
Word 11: R
Word 12: F
Word 13: L
Word 14: S
Word 15: K
Word 16: C
Hint 2: Here is a little description or clue for all of the words:
Word 1: a sudden involuntary muscular contraction or convulsive movement.
Word 2: say something in order to convey information or to express a feeling.
Word 3: a feeling of deep anxiety or dread,
Word 4: relating to a pope or to the papacy.
Word 5: the sweet and fleshy product of a tree or other plant that contains seed and can be eaten as food.
Word 6: the devotion of time and attention to gaining knowledge of an academic subject, especially by means of books.
Word 7: the projecting nose and mouth of an animal, especially a mammal.
Word 8: measuring a small distance from end to end.
Word 9: a room providing a space out of which one or more other rooms or corridors lead, typically one near the entrance of a public building.
Word 10: an assembly of the clergy and sometimes also the laity in a diocese or other division of a particular Church.
Word 11: a way or course taken in getting from a starting point to a destination.
Word 12: a wind instrument made from a tube with holes that are stopped by the fingers or keys, held vertically or horizontally so that the player's breath strikes a narrow edge.
Word 13: the active immature form of an insect, especially one that differs greatly from the adult and forms the stage between egg and pupa, e.g. a caterpillar or grub.
Word 14: a reddish-brown colour associated particularly with monochrome photographs of the 19th and early 20th centuries.
Word 15: recognized, familiar, or within the scope of knowledge.
Word 16: a powder made from roasted and ground cacao seeds.
What is the Sedecordle 130 Answer Today? (June 23rd, 2022)
Here are all of the answers for Sedecordle 130 released today on June 23rd, 2022:
Word 1: SPASM
Word 2: SPEAK
Word 3: ANGST
Word 4: PAPAL
Word 5: FRUIT
Word 6: STUDY
Word 7: SNOUT
Word 8: SHORT
Word 9: LOBBY
Word 10: SYNOD
Word 11: ROUTE
Word 12: FLUTE
Word 13: LARVA
Word 14: SEPIA
Word 15: KNOWN
Word 16: COCOA
As the grid for this game is huge, we only have the screenshot of all the answers when we had solved the puzzle, which you can see below: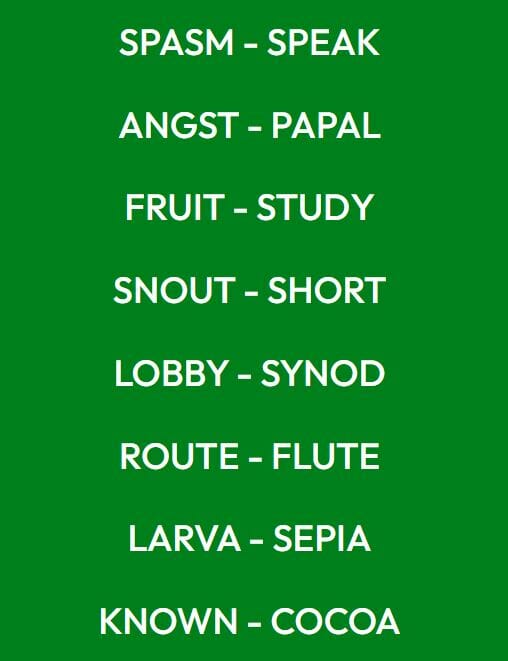 Well done if you managed to guess some or all of the words correctly! Click here for the hints and the answers to Sedecordle 131!