Here is the answer and some hints for the Wordle 263 word for today, released on March 9th 2022.
UDPATE: CLICK HERE FOR THE HINTS AND ANSWERS TO WORDLE 264!
There is a new word released in Wordle on a daily basis every midnight in your time zone and there is a win streak, so make sure you complete your Wordle of the day to ensure you keep your streak intact! The rules of the game are simple, guess the five letter word in six guesses or less to win the game and all the guesses you make much be legitimate words in the American English language or the guess won't register.
Once a guess has been made, the tiles will change colour to let you know if you have guessed the correct letters and if they have been placed in the correct position in the word or not. Make sure you pay attention to all the correctly guessed letters previously and try to ensure you do not use letters you already know aren't in the word where possible.
Wordle 263 Hints Today – March 9th 2022
Here are some hints we have for Wordle 263 to help you to complete the word for today.
Hint 1: Contains the letter T.
Hint 2: It starts with the letter M.
Hint 3: There is only one vowel in the word today.
Hint 4: The year is split up into twelve of these.
What is the Wordle 263 Answer Today? (March 9th, 2022)
I managed to guess the answer to Wordle 263 in four guesses today and again today I used a different starter word than I usually do to switch things up a bit! To start, I guesses the word 'CRATE' and this unfortunately did not show me any vowels that were in the word, but it did place the T in the correct place. For some reason, I thought there could possible be a double T in the word, so I went with the word 'MOTTY'. This was a random guess, but it luckily paid off as it placed both the M and O in the correct place, meaning I only had two more letters to guess in order to guess the word.
I thought that it was possible that there was a U in the word and so I decided to guess the word 'MOUTH' next. Unfortunately there were no U's in the word, but it did place the H in last place, which was fortunate! I then managed to guess the answer to Wordle 263 on my next guess, which is…
MONTH!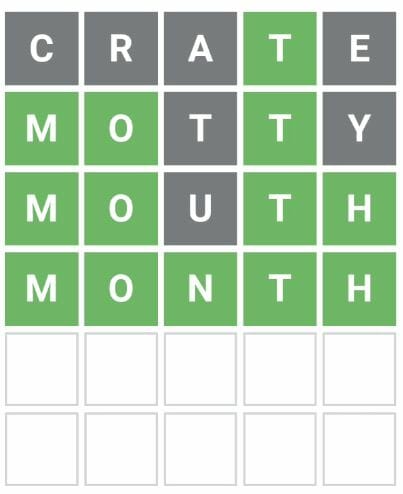 Well done if you managed to guess that correctly! Have you heard of Wordle 2? The aim of this game is to guess the six letter word and there are two released daily. Check out the answers for the words released today below:
Today's 'Wordle 2' Words of the Day Answers #99 and #100: March 9th 2022