Here's how to unlock the new Warzone Sykov Pistol along with the best loadout.
We're only a week away from Warzone season 3 and in a surprise update, the Sykov full-auto pistol was added to both Call of Duty: Warzone and Modern Warfare. We knew the pistol would be coming at some point as a glitch allowed players to use the Sykov pistol in a match of plunder.
The in-game description for the new Warzone pistol is "double-action/single-action sidearm". There are a number of powerful modifications for the new Sykov pistol including the full-auto feature along with the 80 round magazine.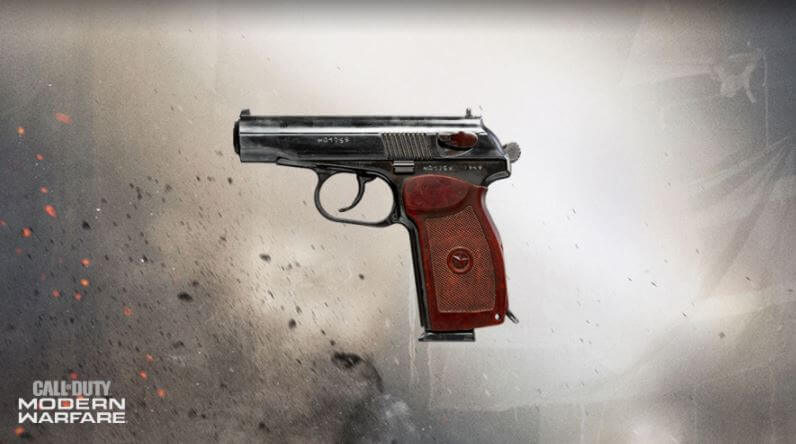 There are already complaints about how powerful the new Sykov Warzone pistol is, and here's how you can unlock it.
How to unlock the new pistol in Warzone (Warzone Sykov Pistol)
If you're wondering how you can unlock the new Sykov pistol in Warzone or Modern Warfare, it's actually easy to unlock. All you need to do is get 4 kills while using pistols in different matches. If you own Modern Warfare, it's quickest to jump into multiplayer in order to unlock the Sykov pistol.
In order to unlock the new pistol as quickly as possible, you'll want to jump into small maps such as Shipment or Shoot House and ensure you play in harcore mode as it'll allow you to one-tap players and get the required kills in different matches as quickly as possible.
If you don't have Modern Warfare, you can still unlock the Sykov Pistol in Warzone. Your best bet would be to use akimbo Diamattis or the dual Renettis. We'd also recommend jumping into a game of Plunder in a hot zone to quickly get the kills you need.
There are a number of players that have managed to complete the Sykov challenge by getting the four kills and leaving the game as soon as they do. However, other players have reported that their challenge progression doesn't count when they leave the match so we'd recommend that you finish the game you're currently playing. Either way, the challenge shouldn't take more than an hour to complete.
How to unlock Sykov Akimbo Pistols
Now that you've unlock the Sykov pistol, you'll want to ensure you have the best attachments to use in Warzone. As predicated, the akimbo Sykov pistols are overpowered. In order to unlock Akimbo for the Sykov pistol, you'll need to get 3 kills in 5 different matches using the Mo'Money perk. It's important to note you'll need to do this with the Sykov.
There's a bug with the description for the akimbo perk that states you need to complete the above challenge with the Renetti, but you need to use the perk with the Sykov pistol.
Again, this is easy to complete in Modern Warfare multiplayer by jumping into small maps on the hardcore game mode. Plunder is once again your fastest route to unlocking akimbo Sykov pistols if you don't have Modern Warfare multiplayer.
Best Sykov Warzone Loadout
Here's the best Sykov Pistol loadout for Warzone according to YouTuber JGOD:
Muzzle – Monolithic Suppressor
Barrel – Sorokin 140mm Auto
Laser – 5mW Laser
Ammunition – 80 Round Drums
Perk – Akimbo