There's a new Warzone update today, 1.52. Here are the patch notes for the January 26, 2022 patch.
Call of Duty: Warzone has been plagued by numerous bugs and glitches since December when the new Pacific Caldera map was released. Xbox and PlayStation players have had the worst experience with numerous crashing issues.
Some Xbox players are still getting the gold flake issue, which prevents players from playing the game. The only fix appears to be purchasing Xbox Live if you don't already have it, which is a strange fix considering you don't need Xbox Live to play Warzone.
Other issues including flying cars around the map, some skins being invisible to teammates and opponents at a certain distance, and several exploit/peek/shoot issues on the new Caldera Pacific map.
We have a new Warzone update today, 1.52, on January 26, 2022 and here are the patch notes for the update, which doesn't feature any content, but instead addresses some of the issues.
Warzone Patch Notes January 26 2022 1.52 Update
Unfortunately, a lot of the major issues such as freezing at the buy station still hasn't been fixed fully. However, Raven Software have stated that the January 26 2022 Warzone update 1.52 today reduces the amount of times players will freeze when accessing the buy station. Hopefully, the issue will be fully resolved in the next patch.
An instability issue on Xbox when players press the Xbox home button twice whilst in a game has been fixed along with an issue when typing non-ASCII characters.
Menu screen flicker issues have been fixed, fixing an exploit where players can come back with their original equipment and perks after being bought back from the buy station, and placeholder images appearing for store bundles have all been addressed.
A bug where players crash during matches has been addressed along with a bug where players fell into a bottomless pit when attempting to take a dip in the pool on the new map. Finally, an issue when the second loadout public event not happening in the core Battle Royale mode has been fixed.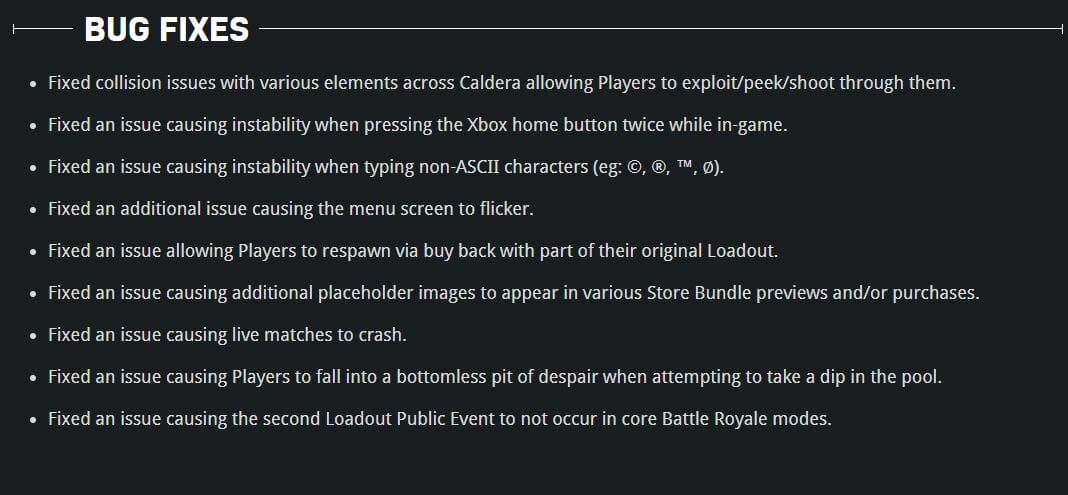 That's all for the Warzone patch notes for the January 26, 2022 update. Hopefully, we'll have more bugs fixed before the launch of season 2.