Epic Games update Fortnite on a weekly basis and in Season 6, Epic have been adding new cosmetics, including Skins (Outfits), Gliders, Pickaxes (Harvesting Tools) and Back Blings in every update, which are leaked by data-miners as soon as the update occurs. There were many cosmetics that were added in the v6.21 update, which we had previously shown with the names and rarities of each, but you can also view these cosmetics in 360 degrees, thanks to Skin-Tracker. You will be able to rotate these cosmetics and zoom in and out, so you can know what the cosmetics will look like and can decide if you would like to purchase them when they are available in the Fortnite Item Shop.
Skins (Outfits)
Ruckus (Rare)
Bring the bedlam

Mayhem (Epic)
Embrace the destruction

Instinct (Rare)
Victory comes naturally

Reflex (Rare)
Quick to react, first to retaliate

Flapjackie (Epic)
Loves pancakes almost as much as victory

Shogun (Legendary)
Suited for the ultimate showdown

Spooky Team Leader (Epic)
Find delight in fright

Yee-Haw! (Epic)
Giddy-up!

Growler (Epic)
This good boy is not afraid to bare his teeth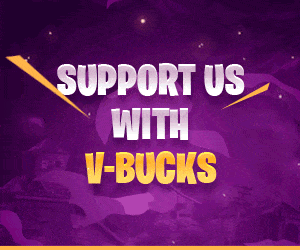 Gliders
Kabuto (Rare)
Sharp enough to cut through air

Poofy Parasail (Rare)
Puffed up and ready for landing

Pivot (Rare)
Primed to pivot with precision

Junkjet (Epic)
It might just get you where you're going

Pickaxes (Harvesting Tools)
Jawblade (Rare)
Clench victory between your teeth

Angular Axe (Uncommon)
Acutely obtuse

Splinterstrike (Rare)
Pointy whichever way you point it

Jackspammer (Uncommon)
Swing it over and over and over and over…

Back Blings
Goodie Gourd (Rare)
Yum!

Response Unit (Rare)
Send a message

Reaction Tank (Rare)
Pressurized

Bladed Wings (Legendary)
Wings with edge

Spike chamber (Rare)
Rusty and Trusty

Puncture Pack (Rare)
Crusty and musty

Nibbles (Epic)
Stuffed full of carrots

Woofs (Epic)
Already house-broken

Lil'Kev (Epic)
Loves to play in the lake

These cosmetics will all be available in the Shop in the upcoming weeks, providing Epic do not make any changes. The cost of the items will vary depending on the rarity and the different rarities of cosmetics are, Uncommon (Green), Rare (Blue), Epic (Purple) and Legendary (Gold).