A teaser image suggests a KAWS Fortnite skin could be released soon.
Epic Games have been securing different collaborations and partnerships since chapter one season 4. The first collaboration Epic Games had in the Fortnite world was the Avengers Infinity War collaboration.
That was followed up with the Endgame collaboration a year later. Since then, we've had so many collaborations that it's hard to keep count. Chapter 2 season 4 was the first season we had that was all collaboration related. The Marvel-themed season included all Marvel-related cosmetics as well as different Marvel locations added to the map.
This season, we have Darth Vader as the tier 100 Battle Pass skin, and the not-so-secret skin that players can unlock later on in the season is Indiana Jones. We've also had part two of the Naruto collaboration along with the Among Us cosmetics being available to purchase from the item shop on June 18th, 2022.
According to data-miners a collaboration with a popular artist was expected to be announced tomorrow. Data-miners also stated that a well-known Fortnite character will receive a new skin in the style of the artist.
It looks like we now know who the artist is thanks to an Instagram post. Here's what you need to know.
KAWS x Fortnite Peely Skin Collab
Brian Donnell, known professionally as Kaws, is a popular artist and designer. He posted an image on Instagram that confirms a Kaws x Fortnite collab will be coming soon.
Here's a look at the image that was posted: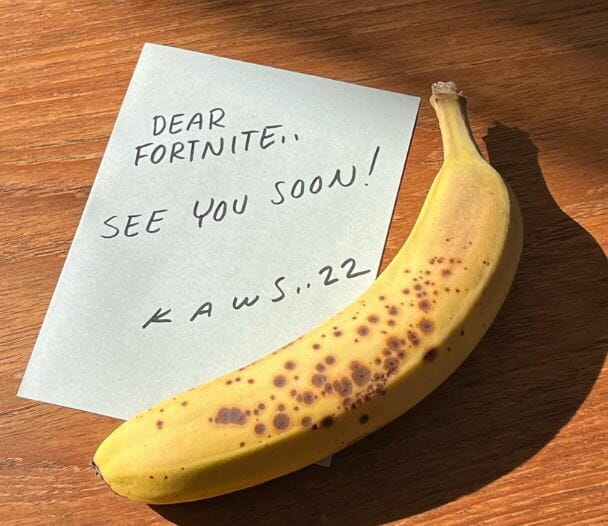 Based on the information posted by ShiinaBR, a well-known Fortnite character will be getting skin in the style of Kaws along with the banana featuring in the teaser seems to point toward a Kaws Fortnite Peely skin.
We should have the announcement of the Kaws Fortnite collab tomorrow, so we'll be sure to update this with the release date and any other information that's outlined in the announcement.