Here's a list of all the Epic Games store free games in December 2021 thanks to data-miners leaking what's coming in the future.
Epic Games have provided Fortnite players with a number of different ways to earn free cosmetics over the last couple of years. For this years Christmas Winterfest event, players can get a total of fourteen cosmetics including two skins/outfits.
PC players were provided with the free Blizzabelle skin which you can obtain by opening the Epic Games store launcher before January 6th, 2022 and navigating to the item shop and "purchasing" Blizzabelle for free.
Last year, Epic Games provided players with a free game each day. Some of the top picks from last year's free Epic Games free games event was Cities: Skylines, Metro 2033, and my time in Portia.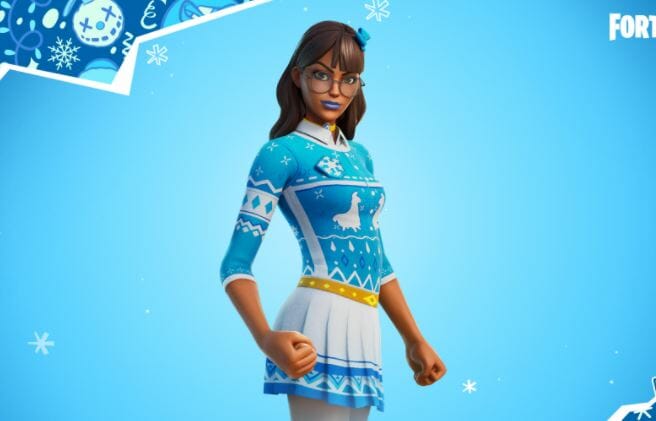 The first free Epic Games store game was available on December 17th and the final game was available on 31st December, a total of fourteen different games.
This year, we have more Epic games free games from the store in December 2021. Thankfully, we know what all the free Epic Games store games will be ahead of time for December 2021 thanks to several data-miners leaking the list ahead of time.
Epic Games Free Games Store List (December 2021)
Here are all of the Epic Games free games leaked list for December 2021. This list will include the games that have already been released in December 2021:
Update: It looks like the leaked Epic Games free games list for December 2021 was incorrect. We had the full list correctly leaked last year, but it appears as though there's no repeat of that this year. For those interested, this was the "leaked" list: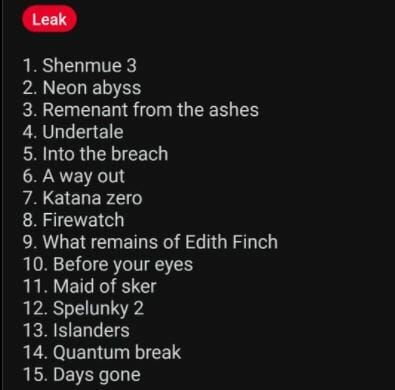 The reason why the list of games hasn't been leaked this year is because the leaker from Deals site stated he wants people to be "surprised" with the reveal of each free game. If anyone else leaks it, he'll likely confirm if it's correct.
We will be able to update the list with the mystery game before it's announced by Epic. It seems like Vampyr will release on December 23rd, Pathfinder: Kingmaker on the 24th, and Prey on December 25th, 2021.
December 16th – Shenmue III
December 17th – Justin Timberlake Rock Your Body add-on for FUSER
December 18th – Remnant: From the Ashes:
December 19th – The Vanishing of Ethan Carter
December 20th – Loop Hero
December 21st – Second Extinction 
December 22nd – Mutant Year Zero: Road to Eden
December 23rd – Vampyr
December 24th – Pathfinder: Kingmaker
December 25th – Prey
December 26th – Control
December 27th – Mages of Mystralia
December 28th – Moving Out
December 29th – Salt and Sanctuary
December 30th
We'll update this if there is a leaked list of free games. If not, we'll be updating the list with each game has soon as they've been announced.