Here are all of the cosmetics you can earn in Fortnite Chapter 2, Season 6 Battle Pass. These cosmetics include Skins, Pickaxes, Gliders, Emotes, Wraps, Loading Screens and more.
A new season in Fortnite means a brand new Battle Pass! The Battle Pass always cost 950 V-Bucks to purchase and progressing through the levels will earn you different cosmetics. You can see what the Chapter 2, Season 6 Battle Pass consists of below, so you can decide if you will be purchasing this pass. Remember, you will need to complete the Battle Pass this season in order to unlock all the rewards and there are more V-Bucks in the Battle Pass than the cost to purchase, making it a bargain.
We have included the names, rarities and description of all the items included in the Pass and you can see what some of them look like in the images shown. Let us know what you think of the Battle Pass items this season and whether or not you will be purchasing it in the comments section below.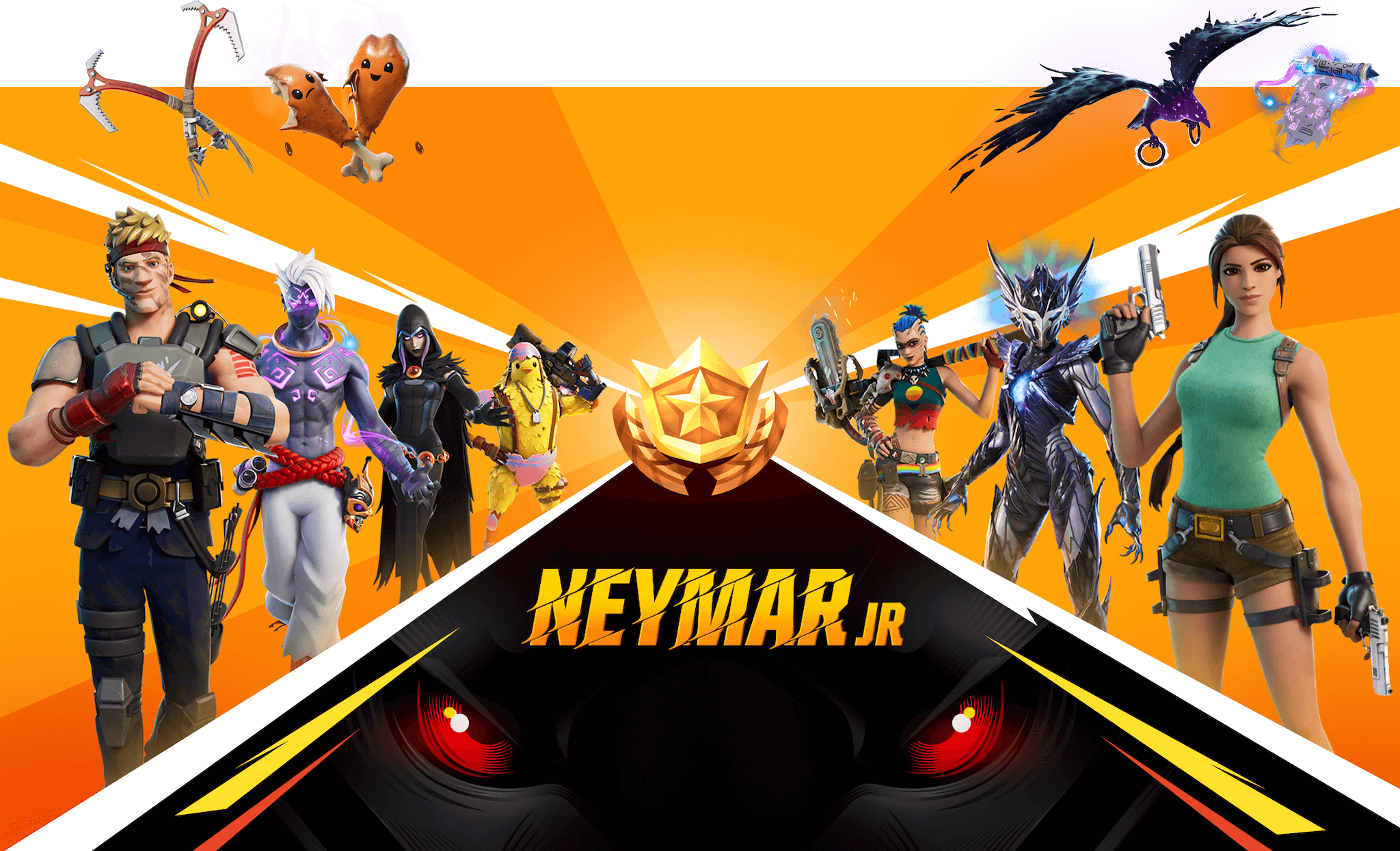 Fortnite Chapter 2 – Season 6 Battle Pass Items
Here are all of the cosmetics you will earn in the Chapter 2, Season 6 Battle Pass:
Level 1 – Agent Jones Skin (Epic) – Look sharp, we're saving reality.
Level 2 – Jonesy Banner (Uncommon)
Level 3 – They Call Me… Spray (Uncommon)
Level 4 – 100 V-Bucks (Legendary)
Level 5 – Ultimate Jones Loading Screen (Uncommon) – Created by Dave Johnson
Level 6 – Jonesin' Emoticon (Uncommon)
Level 7 – Clean Sweep Emote (Uncommon) – Tidy as you go [Traversal]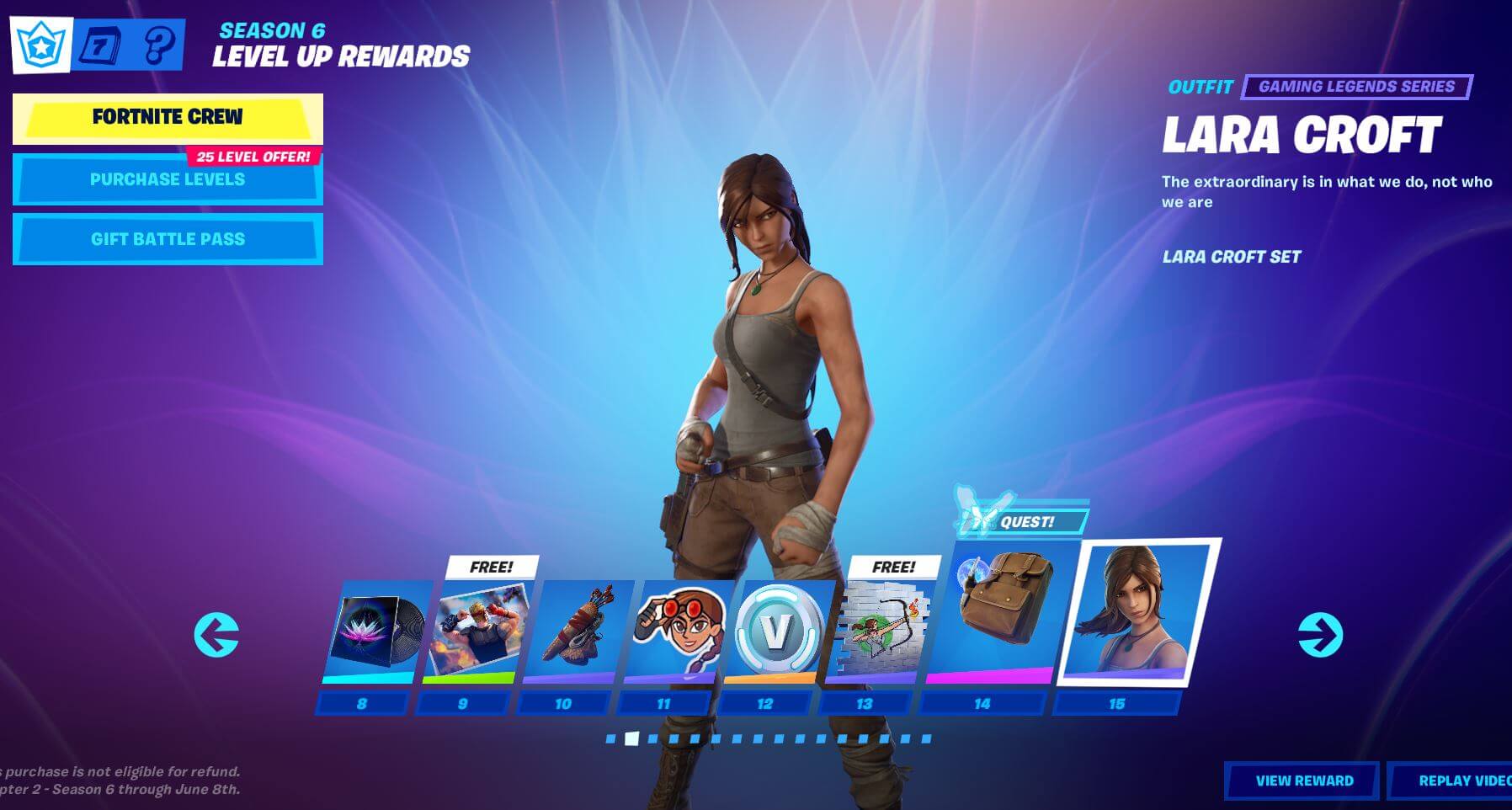 Level 8 – After Zero (Rare) – Press play and save all reality
Level 9 – Countdown to Zero Loading Screen (Uncommon) – The moment of truth…
Level 10 – Survivor's Pack Back Bling (Gaming Legend Series) – Just room for the essentials
Level 11 – Little Bird Emoticon (Gaming Legend Series)
Level 12 – 100 V-Bucks (Legendary)
Level 13 – Both Eyes Open Spray (Gaming Legend Series)
Level 14 – Jones' Field Pack Back Bling (Epic) – Make sure you pack a granola bar or something. Might be a bumpy ride
Level 15 – Lara Croft Skin (Gaming Legend Series) –  The extraordinary is in what we do, not who we are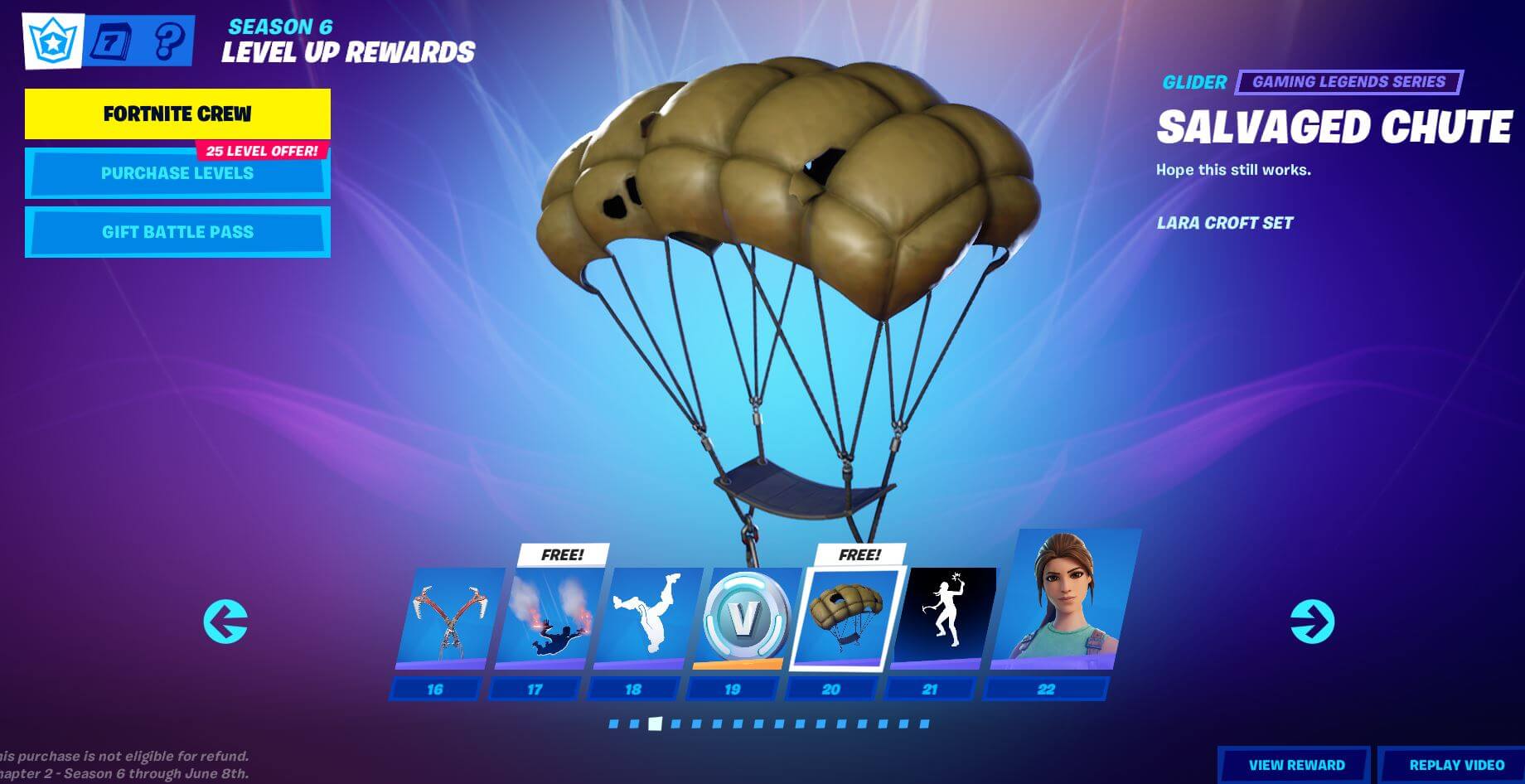 Level 16 – Pry Axe Pickaxe (Gaming Legend Series) – A multi-purpose tool for a multitude of purposes
Level 17 – Spelunker's Special Contrail (Gaming Legend Series) – Cast light on the shadows
Level 18 – Evasive Maneuvers Emote (Gaming Legend Series) – That gymnastics training is really paying off [Traversal]
Level 19 – 100 V-Bucks (Legendary)
Level 20 – Salvaged Chute Glider (Gaming Legend Series) – Hope this still works
Level 21 – Lara Banner (Gaming Legend Series)
Level 22 – Lara Croft Style (25th Anniversary) (Gaming Legend Series) – An extra style for Lara Croft
Level 23 – Jurassically Charged Wrap (Rare) – [Animated] [Reactive]
Level 24 – Primal Hunter Spray (Uncommon)
Level 25 – Skully Shout Emoticon (Uncommon)
Level 26 – Chainsaur Pickaxe (Rare) – Sometimes you need a dinosaur
Level 27 – 100 V-Bucks (Legendary)
Level 28 – Jones' Field Pack (Jump 15) Back Bling (Epic) – An extra style for Jones' Field Pack
Level 29 – Tarana Skin (Epic) – She sees visions of a long-gone world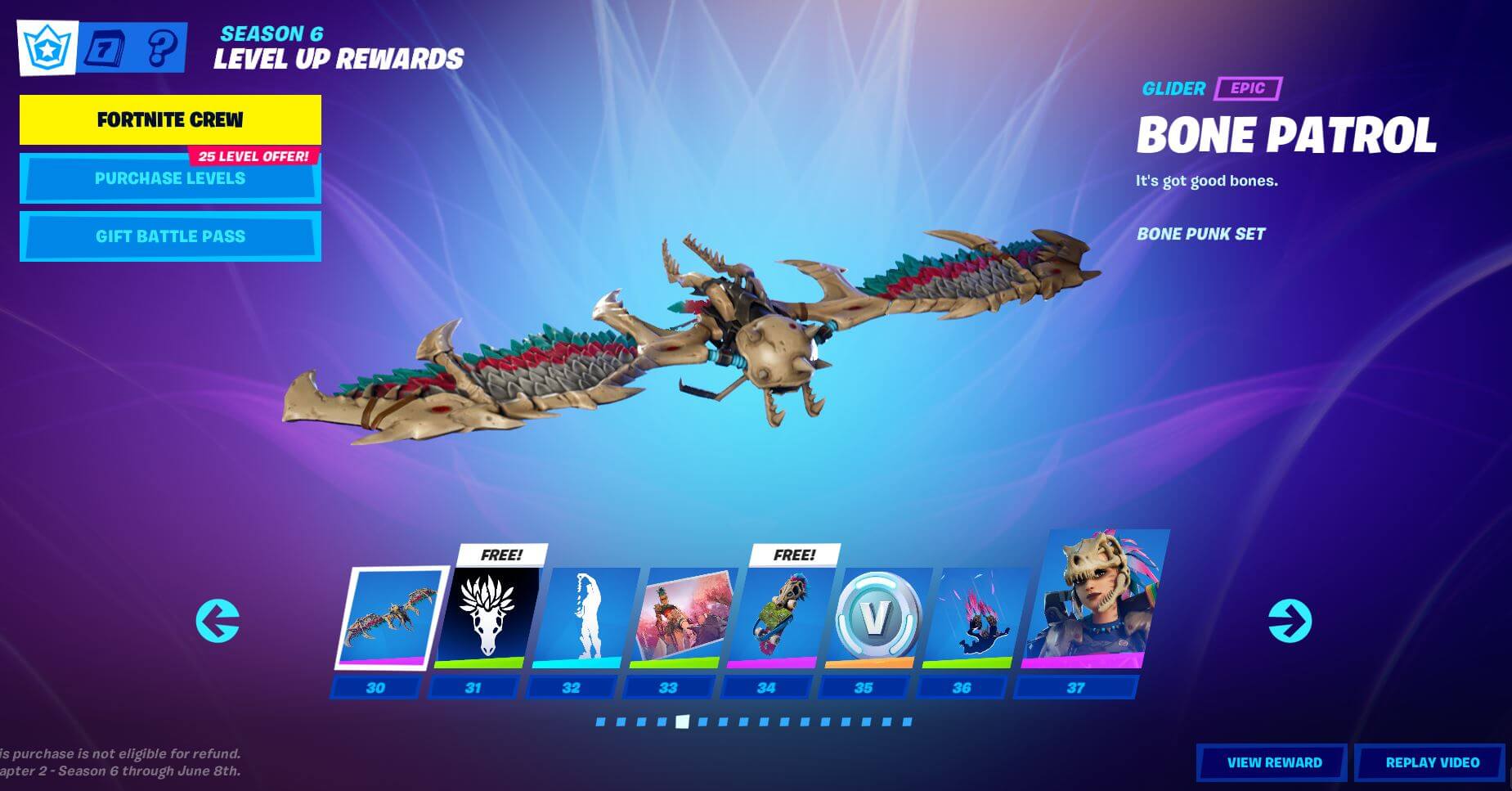 Level 30 – Bone Patrol Glider (Epic) – It's got good bones
Level 31 – Banner (Uncommon)
Level 32 – Cardistry Emote (Rare) – Watch the hands
Level 33 – Primal Takedown Loading Screen (Uncommon) – Created by Phil Noto
Level 34 – Dino Deck Back Bling (Epic) – Outta the car pits and into the skate park
Level 35 – 100 V-Bucks (Legendary)
Level 36 – Dino Feather Contrail (Uncommon) – Yeah. They've got feathers now
Level 37 – Tarana (X-Tinction Armor) (Epic) – An extra style option for Tarana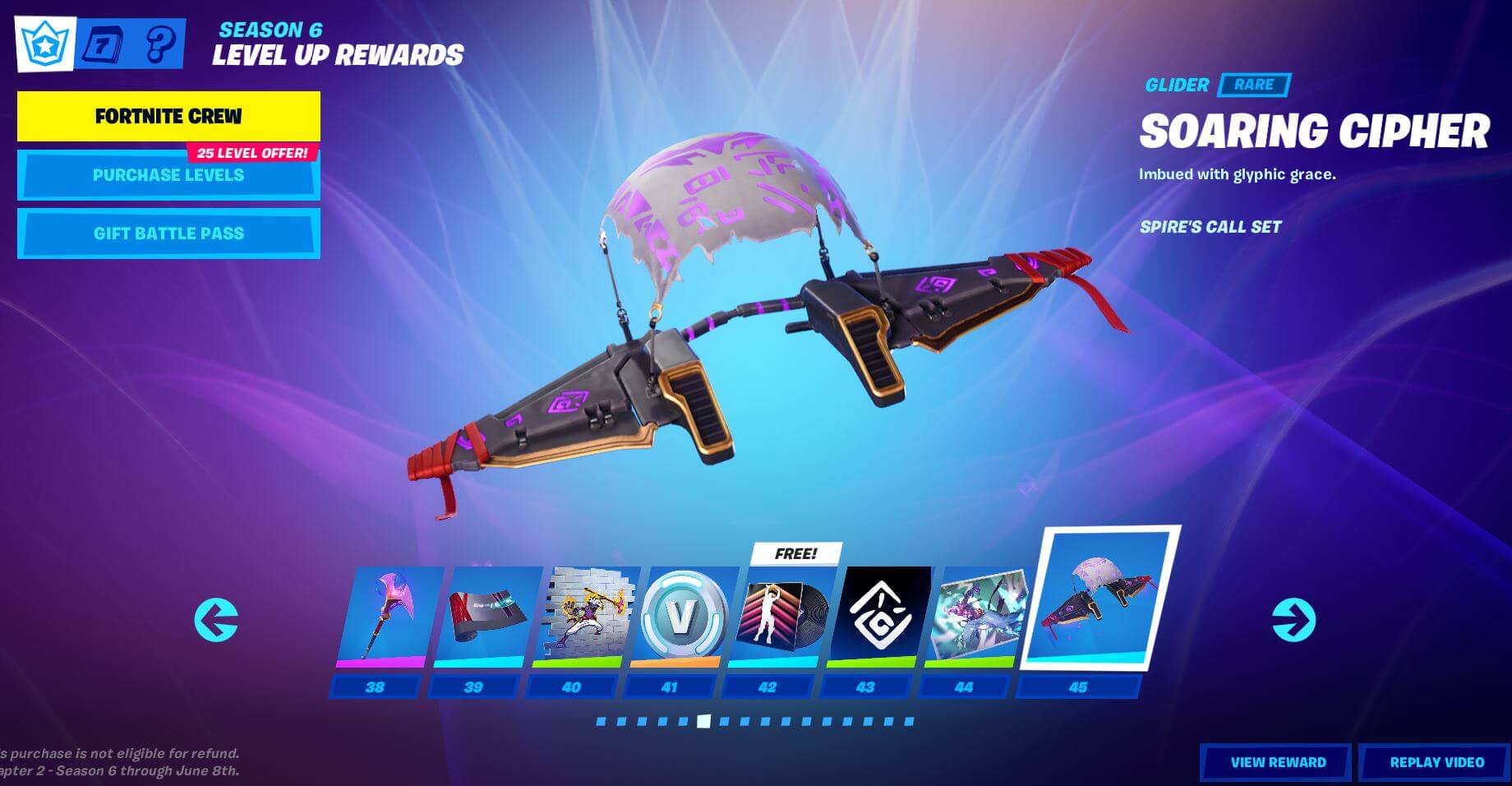 Level 38 – Crystal Axe of the Masters Pickaxe (Epic)  – The blade is carved from a single Zero Point crystal
Level 39 – Acolyte's Curse Wrap (Animated)
Level 40 – Glyph Masters Spray (Uncommon)
Level 41 – 100 V-Bucks (Legendary)
Level 42 – Raise Up Music (Rare) – Press play and raise the roof
Level 43 – Banner (Uncommon)
Level 44 – Glyph Raider Loading Screen (Uncommon) – Created by Kim Jacinto
Level 45 – Soaring Cipher Glider (Rare) – Imbued with glyphic grace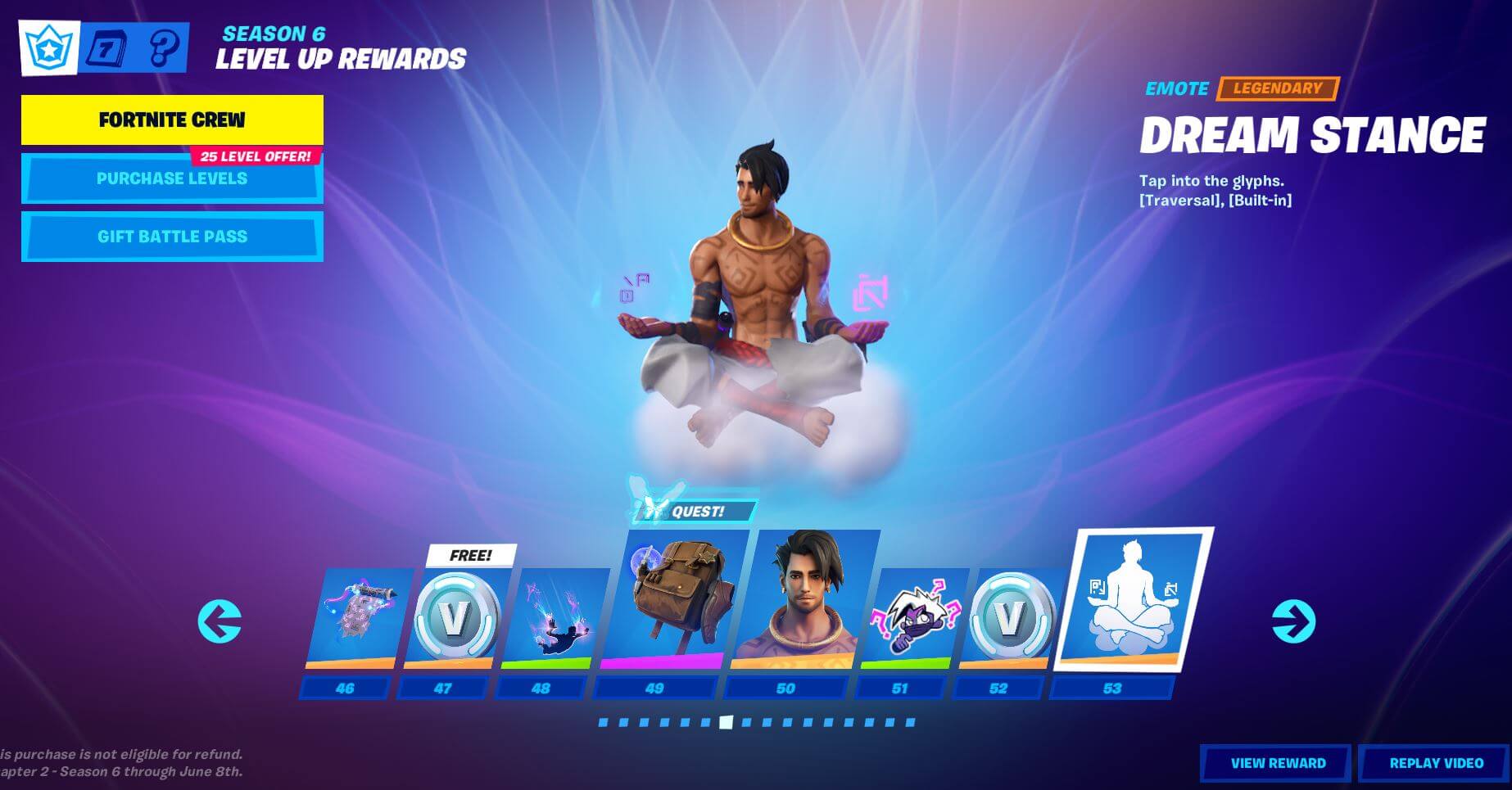 Level 46 – Endless Scroll Back Bling (Legendary) (Reactive) – Keep on scrolling
Level 47 – 100 V-Bucks (Legendary)
Level 48 – Chroma Flame Contrail (Uncommon) – Which glyphs are most aerodynamic…?
Level 49 – Jones' Field Pack (Jump 31) Back Bling (Epic) – An extra style for Jones' Field Pack
Level 50 – Raz Skin (Legendary) – On a mission to uncover the Spire's secrets
Level 51 – Quite Curious Emoticon (Animated)
Level 52 – 100 V-Bucks (Legendary)
Level 53 – Dream Stance (Legendary) – Tap into the glyphs [Traversal] [Built-in]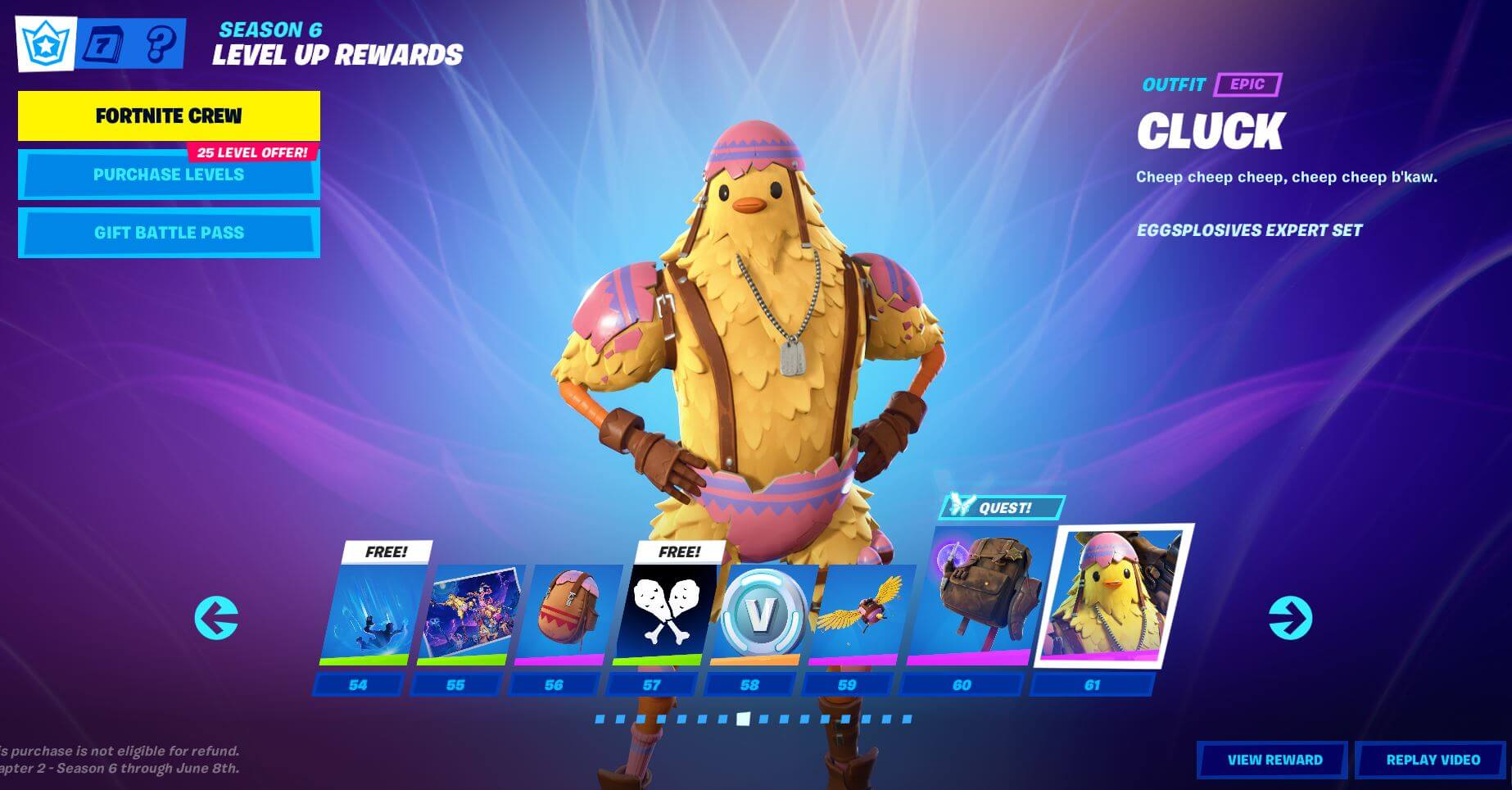 Level 54 – Wrap Wave Contrail (Uncommon) – Look out for the sound barrier
Level 55 – Wing of the Hill Loading Screen (Uncommon) – Created by Skottie Young
Level 56 – Hatch Pack Back Bling (Epic) – He got it from his mom
Level 57 – Chicken Banner (Uncommon)
Level 58 – 100 V-Bucks (Legendary)
Level 59 – Eggar Glider (Epic) – He's a little shy
Level 60 – Jones' Field Pack (Jump 42) Back Bling (Epic) – An extra style for Jones' Field Pack
Level 61 – Cluck Skin (Epic) – Cheep cheep cheep, cheep cheep b'kaw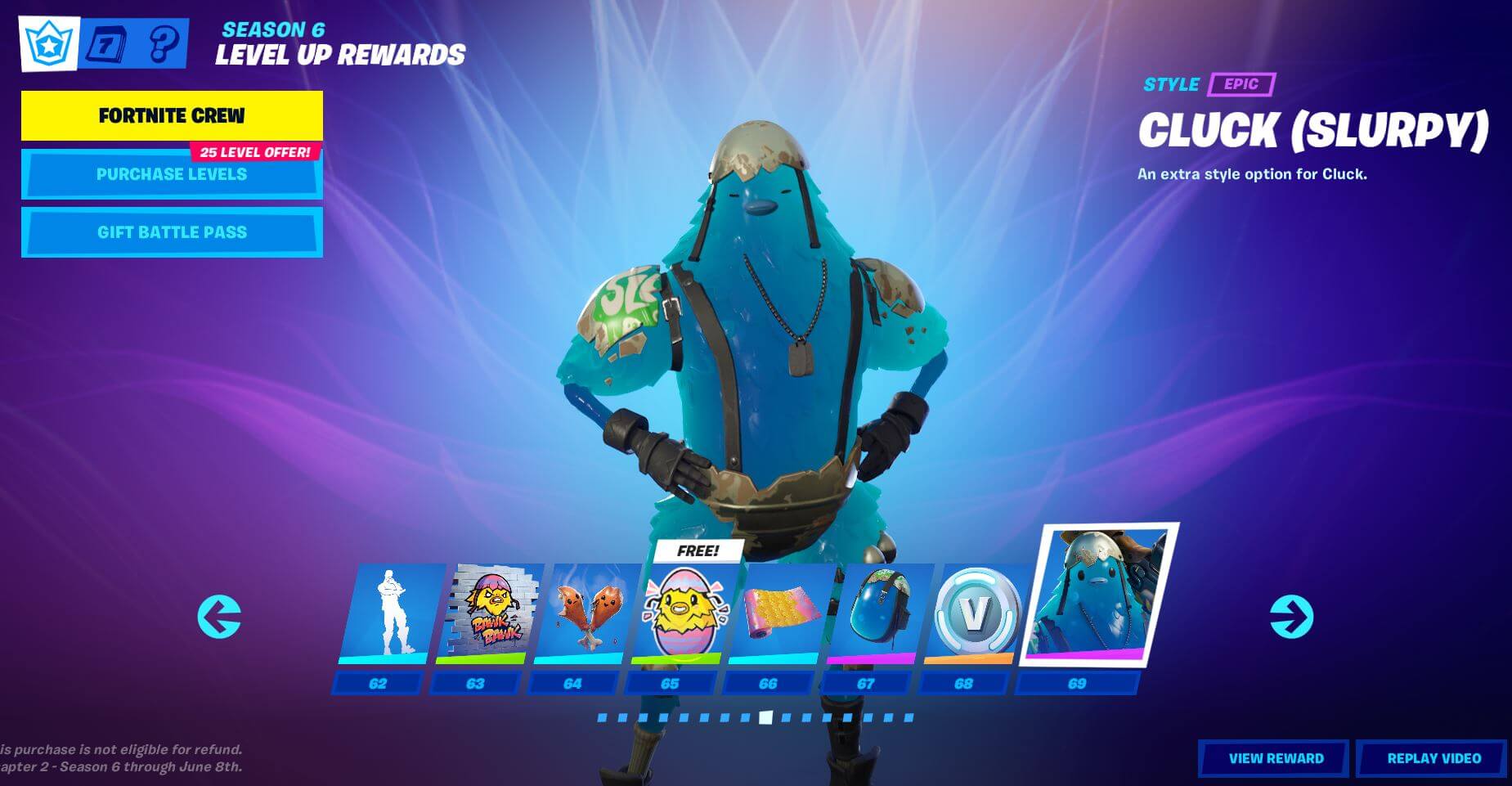 Level 62 – Boots 'N' Cats Emote (Rare) – Beat outside the box
Level 63 – Bawk Off Spray (Uncommon)
Level 64 – Drummies Pickaxes (Rare) – Don't forget the dippin' sauce
Level 65 – Eggy Emoticon (Uncommon) (Animated)
Level 66 – Clucking Mad Wrap (Rare) (Reactive)
Level 67 – Hatch Pack (Slurpy) Back Bling (Epic) – An extra style option for Hatch Pack
Level 68 – 100 V-Bucks (Legendary)
Level 69 – Cluck (Slurpy) Skin (Epic) – An extra style option for Cluck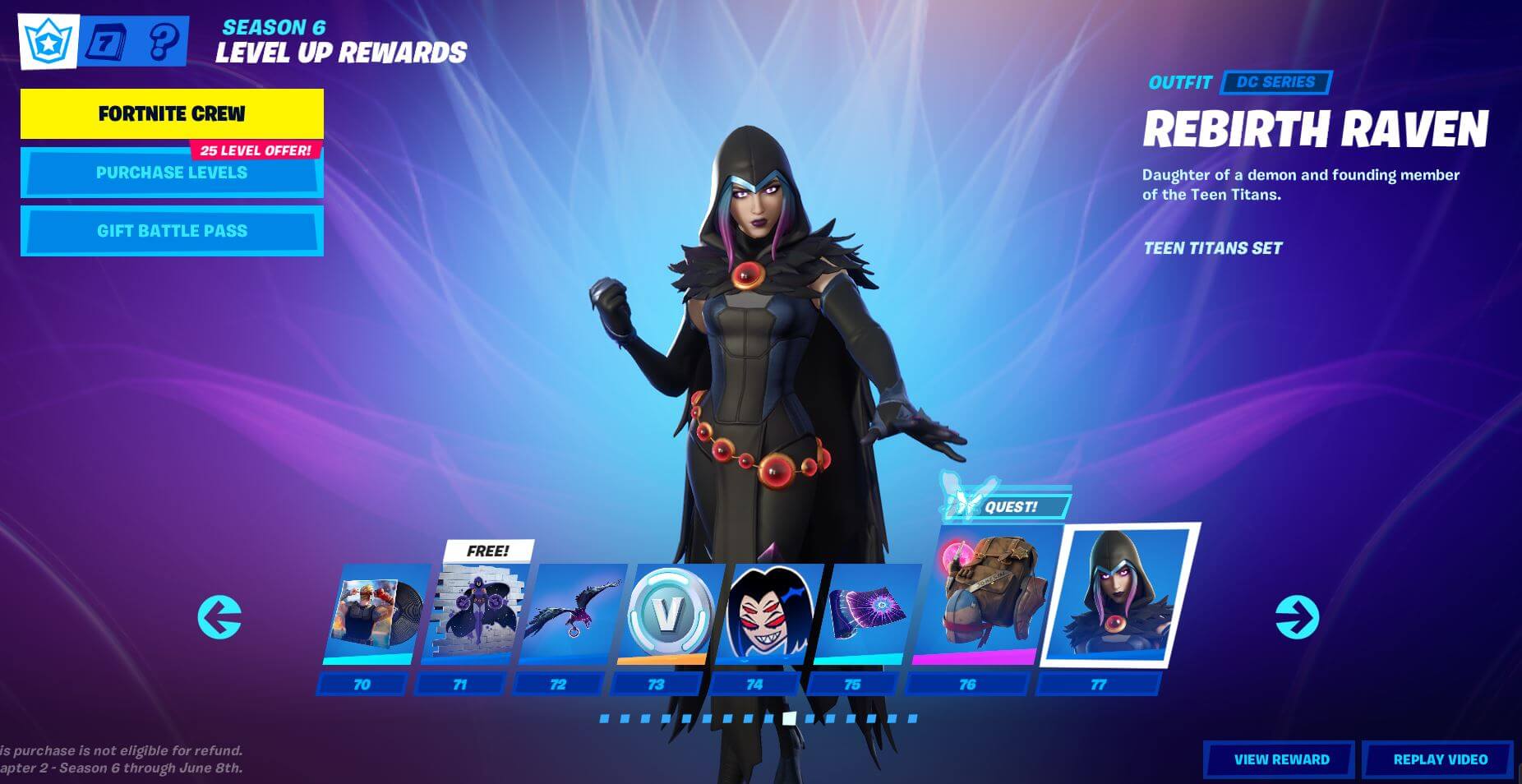 Level 70 – Wild Music (Rare) – Press play and get wild
Level 71 – Daughter of Trigon Spray (DC Series)
Level 72 – Soaring Soul-Self Glider (DC Series) – Catch a ride on the wings of Azarath
Level 73 – 100 V-Bucks (Legendary)
Level 74 – Power of Azarath Emoticon (DC Series) (Animated)
Level 75 – Zero Bloom Wrap (Rare) (Animated)
Level 76 – Jones' Filed Pack Back Bling (Jump 88) (Epic) – An extra style option for Jones' Field Pack
Level 77 – Rebirth Raven Skin (DC Series) – Daughter of a demon and founding member of the Teen Titans
Level 78 – Axe-Tral Form Pickaxe (DC Series) – Control your emotions – Don't let them control you
Level 79 – 100 V-Bucks (Legendary)
Level 80 – Raven's Wrath Loading Screen (DC Series) – Created by Jakun Rebelka
Level 81 –  Banner (DC Series)
Level 82 – Dimensional Gate Back Bling (DC Series) – Pocket portal to interdimensional power
Level 83 – Azarath Metrion Zinthros! Emote (DC Series) – Hone your power taught from the Monks of Azarath
Level 84 – 100 V-Bucks (Legendary)
Level 85 – Raven (Classic) Skin (DC Series) – An extra style option for Rebirth Raven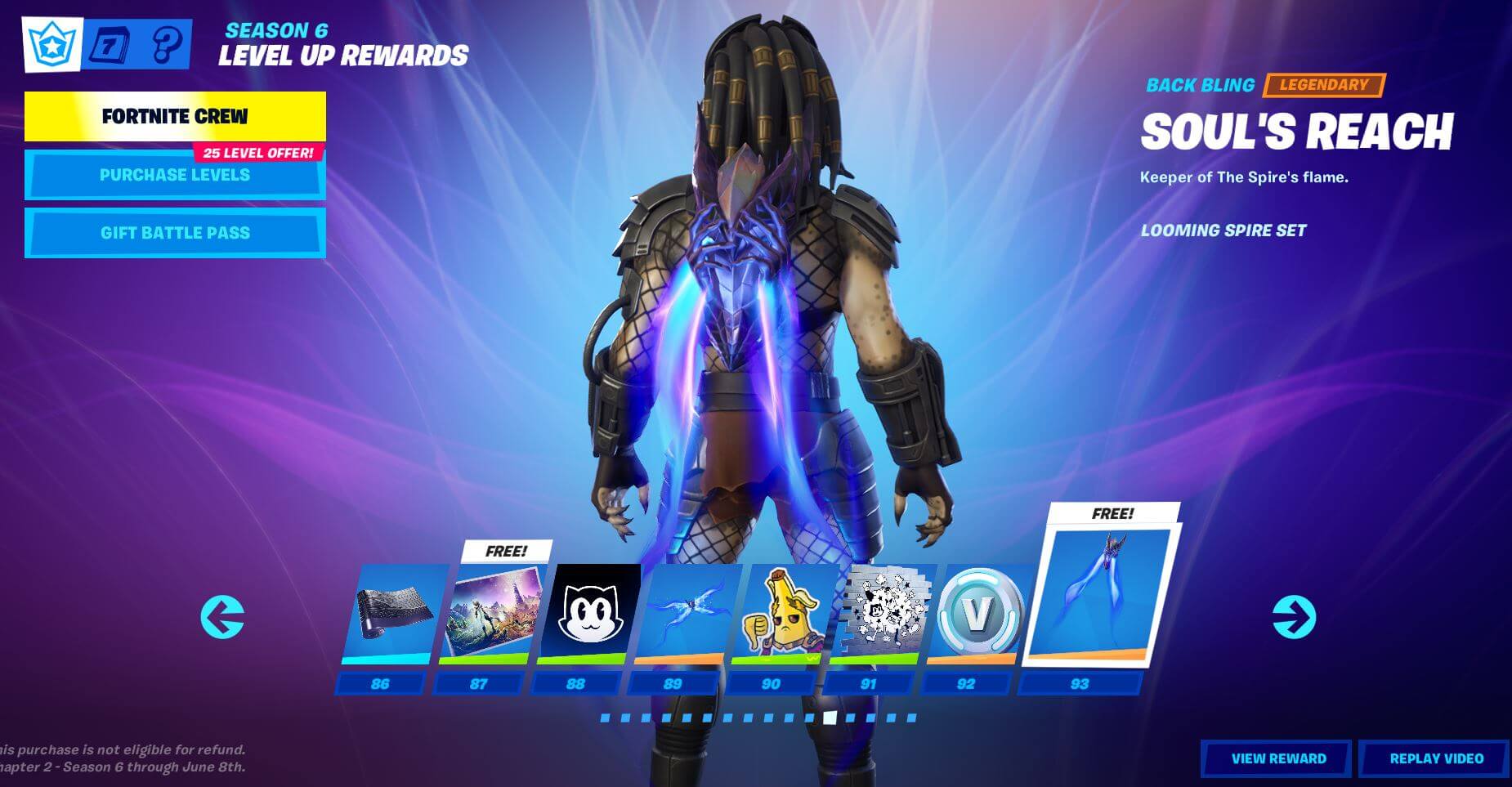 Level 86 – Spire's Reach Wrap (Rare) (Animated) (Reactive)
Level 87 – The Spire's Shadow Loading Screen (Uncommon) – Created by Dan Mumford
Level 88 – Kitten Banner (Uncommon)
Level 89 – Spire Fire Glider (Legendary) – The burning flame of a long ago sacrifice
Level 90 – Banonope Emoticon (Uncommon)
Level 91 – Kablammo! Spray (Uncommon)
Level 92 – 100 V-Bucks (Legendary)
Level 93 – Soul's Reach Back Bling (Legendary) – Keeper of The Spire's flame
Level 94 – Conduit Crasher Contrail (Uncommon) – Feel the energy
Level 95 – Spire Master Spray (Uncommon)
Level 96 – Spire Flame Pickaxe (Epic) – Aglow wiht mystical flame
Level 97 – Banner (Uncommon)
Level 98 – Spire Spirit Emoticon (Uncommon) (Animated)
Level 99 – 100 V-Bucks (Legendary)
Level 100 – Spire Assassin Skin (Legendary) – Guardian of a world beyoud reality
Level 100 – Tower Guard Built-In Emote (Legendary) – There's no turning back… [Built-In]