Here are all of the cosmetics you can earn in Fortnite Chapter 2, Season 7 Battle Pass. These cosmetics include Skins, Pickaxes, Gliders, Emotes, Wraps, Loading Screens and more.
Chapter 2, Season 7 of Fortnite is here, which means a brand new Battle Pass! The Battle Pass always cost 950 V-Bucks to purchase, however the pass has been changed this season as you can now earn Battle Stars and you can choose what you want to unlock first, which can be unlocked by earning a certain amount of stars. You can see all the rewards from the Battle Pass for Season 7 below, so you can decide if you will be purchasing this pass. Remember there are more V-Bucks in the Battle Pass than the cost to purchase, making it a bargain.
We have included the names, rarities and description of all the items included in the Pass and you can see what some of them look like in the images shown. Let us know what you think of the Battle Pass items this season and whether or not you will be purchasing it in the comments section below.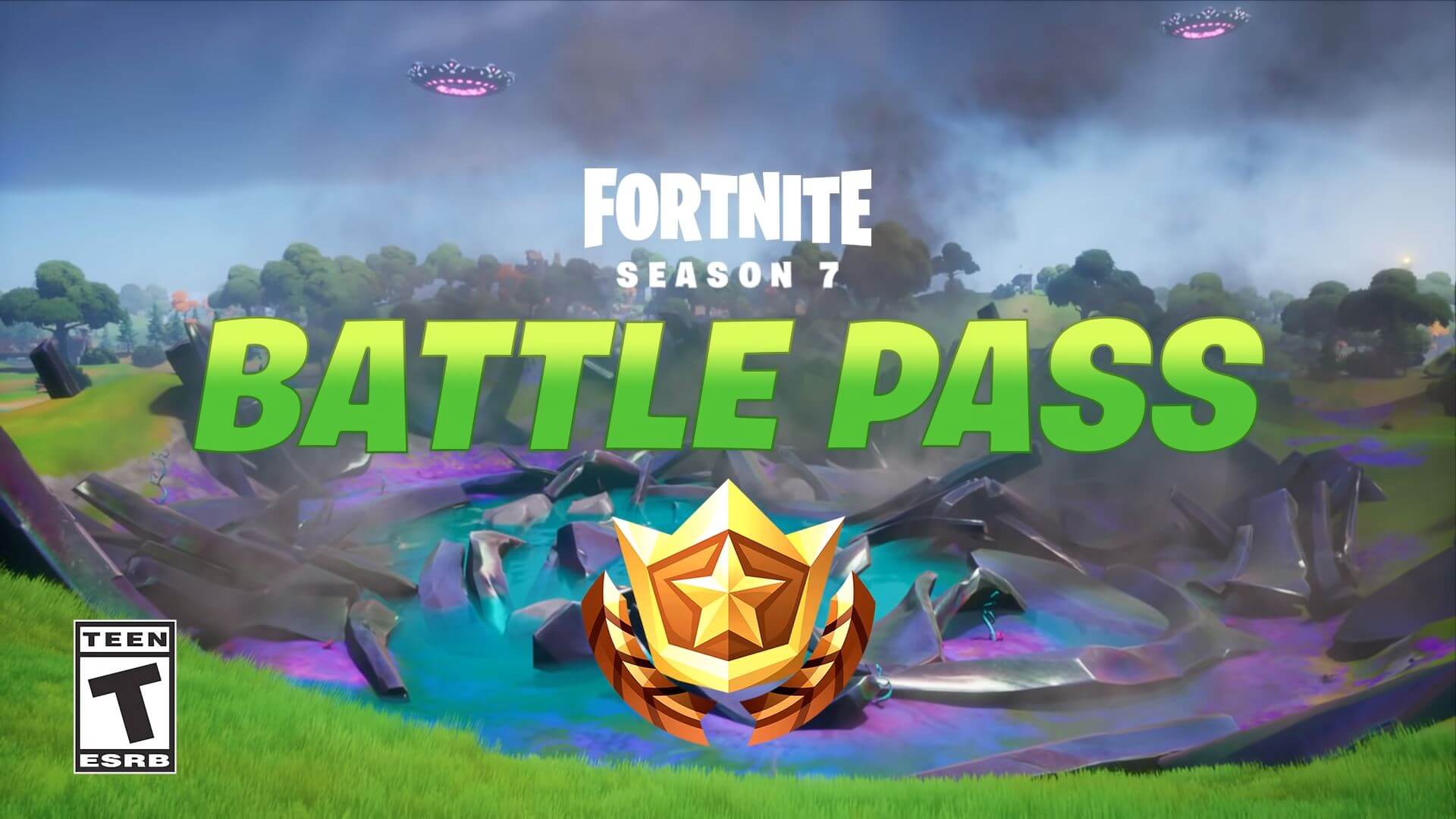 Fortnite Chapter 2 – Season 7 Battle Pass Items
In the Season 7 Battle Pass you can purchase whichever items you want from page with the Battle Stars, however you must purchase all the items on a page in order to unlock the locked reward and there are a number of items you will need to purchase from previous pages before or level up to unlock the next page. There are a total of 10 pages of rewards, all of which can be seen below.
Page 1 Rewards
Kymera Skin (Legendary) – Free with Battle Pass
Banner (Uncommon) – 3 Battle Stars
Fishstick Janky Back Bling (Epic) – 6 Battle Stars
Mercurial Spray (Uncommon) – 3 Battle Stars
Abduction! Contrail (Rare) – 4 Battle Stars
Kymera's Plasma Pak (Legendary) – 6 Battle Stars
100 V-Bucks – 5 Battle Stars
Pulse Phase Wrap (Rare) – 5 Battle Stars
Lil' Sauce Emotes (Epic) – 7 Battle Stars
Kymera Swarm Loading Screen (Uncommon) – 3 Battle Stars
Page 2 Rewards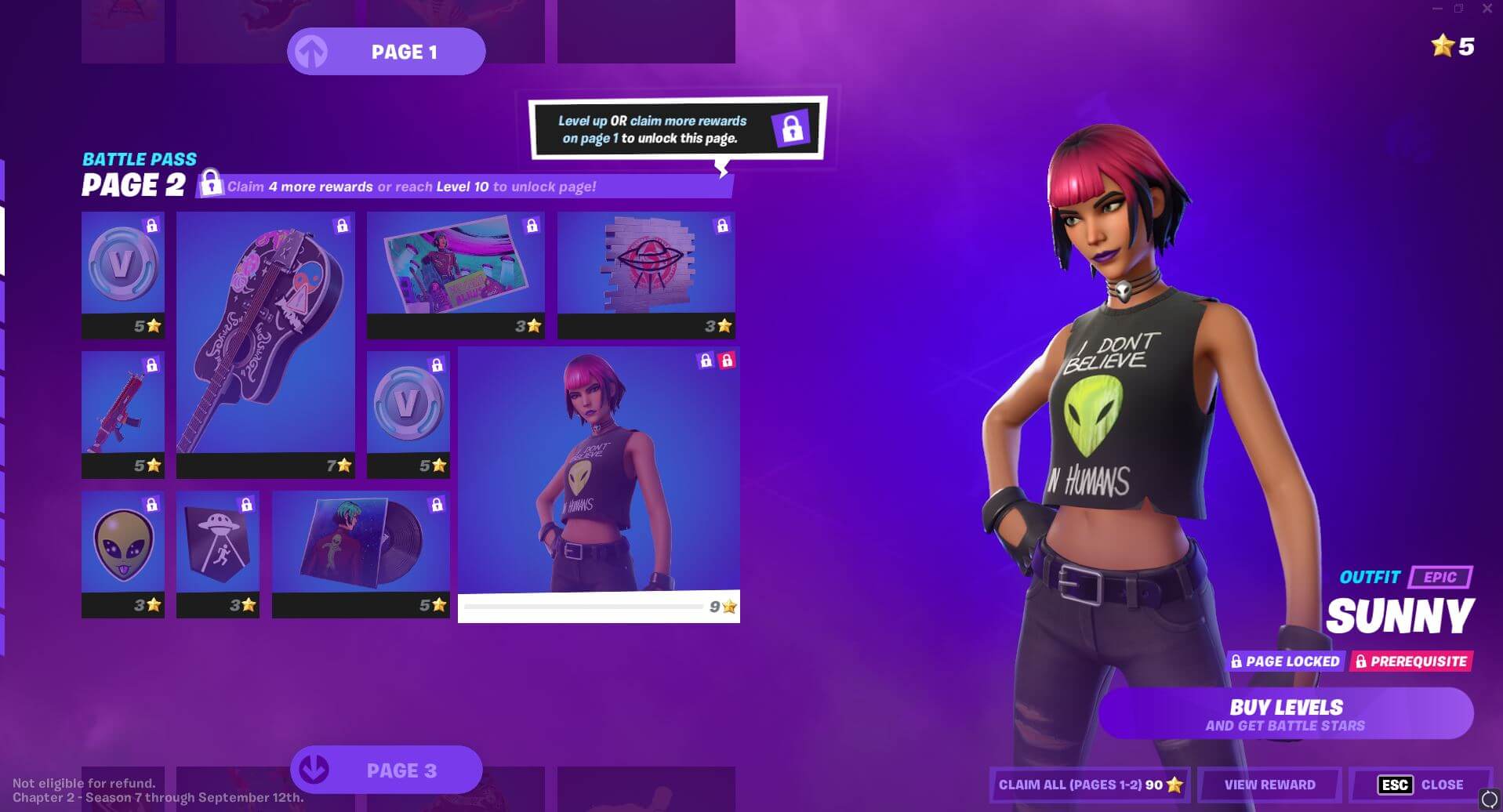 Sunny Skin (Epic) – 9 Battle Stars
100 V-Bucks – 5 Battle Stars
100 V-Bucks – 5 Battle Stars
Oozey Wrap (Rare) – 5 Battle Stars
Alie-Yum Emoticon (Uncommon) – 3 Battle Stars
Banner (Uncommon) – 3 Battle Stars
Sunny's Song Music (Rare) – 5 Battle Stars
The Fret Basher Pickaxe (Epic) – 7 Battle Stars
Get Me Out of Here Loading Screen (Uncommon) – 3 Battle Stars
Visitors Welcome Spray (Uncommon) – 3 Battle Stars
Page 3 Rewards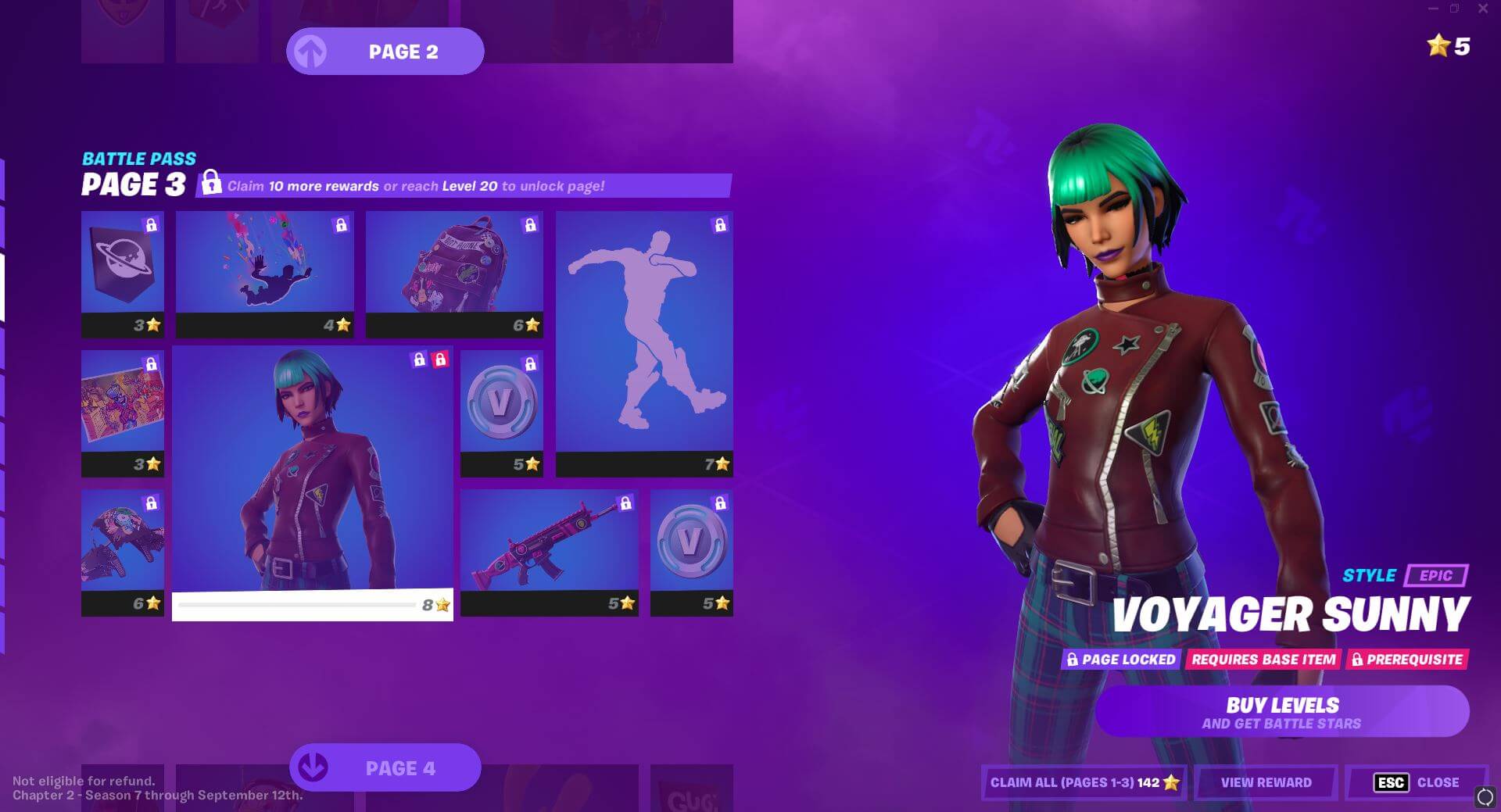 Voyager Sunny Skin (Epic) – 8 Battle Stars
Sunny's Lander Glider (Epic) – 6 Battle Stars
Grand Finale Loading Screen (Uncommon) – 3 Battle Stars
Banner Icon (Uncommon) – 3 Battle Stars
Cluttered Contrail (Rare) – 4 Battle Stars
Patch Pack Back Bling (Epic) – 6 Battle Stars
Ska-Stra-Terrestrial Emote (Rare) – 7 Battle Stars
Laser Blaze Wrap (Rare) – 5 Battle Stars
100 V-Bucks – 5 Battle Stars
100 V-Bucks – 5 Battle Stars
Page 4 Rewards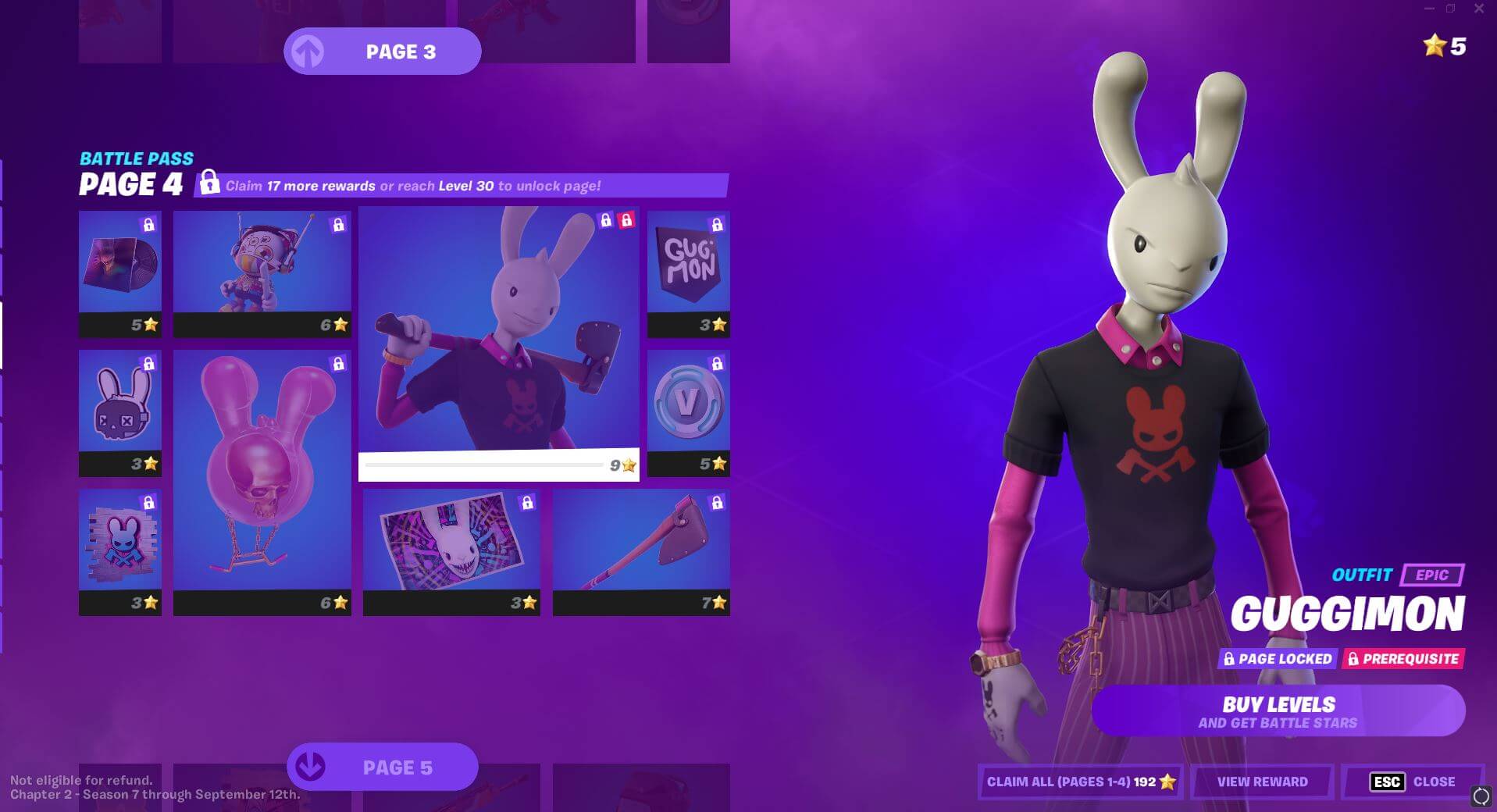 Guggimon Skin (Epic) – 9 Battle Stars
Banner Icon (Uncommon) – 3 Battle Stars
100 V-Bucks (Legendary) – 5 Battle Stars
Chop Chop Pickaxe (Rare) – 7 Battle Stars
Guggi Vision Loading Screen (Uncommon) – 3 Battle Stars
Chop Dropper Glider (Epic) – 6 Battle Stars
Guggi Was Hear Spray (Uncommon) – 3 Battle Stars
Fever Dream Emoticon (Uncommon) – 3 Battle Stars
Axe 2 Grind Music Pack (Rare) – 5 Battle Stars
Fashion Accident Janky Back Bling (Epic) – 6 Battle Stars
Page 5 Rewards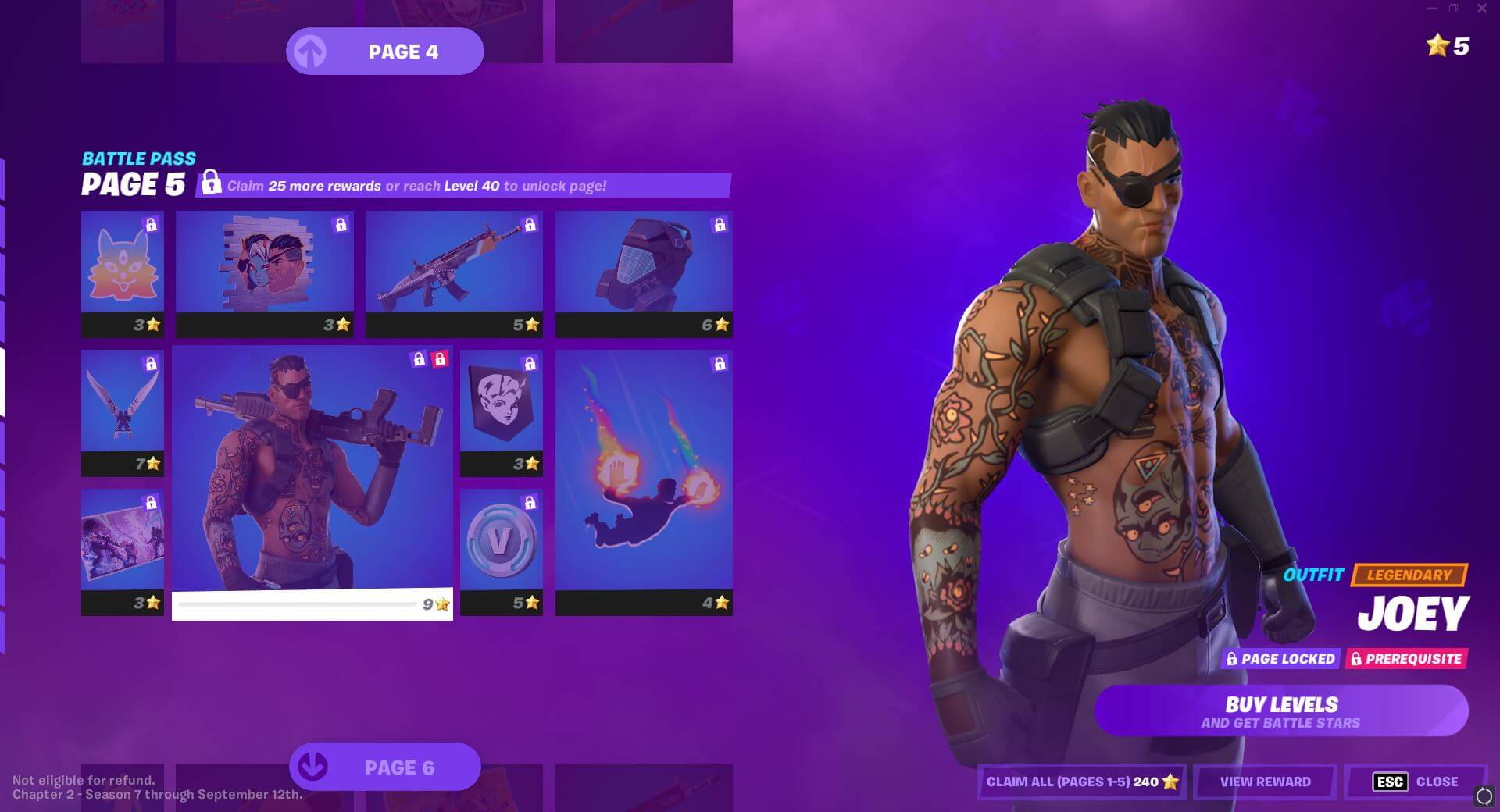 Joey Skin (Legendary) – 9 Battle Stars
Spire Strike Loading Screen (Uncommon) – 3 Battle Stars
Kittanas Pickaxes (Rare) – 7 Battle Stars
Mlem Emoticon (Uncommon) – 3 Battle Stars
Inside Out Spray (Uncommon) – 3 Battle Stars
Zip Flip Wrap (Rare) – 5 Battle Stars
Galactic Pack Back Bling (Epic) – 6 Battle Stars
Inversion Contrail (Rare) – 4 Battle Stars
Banner Icon (Uncommon) – 3 Battle Stars
100 V-Bucks (Legendary ) – 5 Battle Stars
Page 6 Rewards
Unzipped Built in Emote (Legendary) – 7 Battle Stars
Ink Wolf Spray (Uncommon) – 3 Battle Stars
Sunburnt Kittanas Pickaxe Style (Rare) – 4 Battle Stars
Vulcan Salute Emote (Uncommon) – 7 Battle Stars
Meowscles Janky Back Bling (Epic) – 6 Battle Stars
Facets Loading Screen (Uncommon) – 3 Battle Stars
Beamers Wrap (Rare) – 5 Battle Stars
Sunburnt Galactic Pack Back Bling Style (Epic) – 4 Battle Stars
100 V-Bucks – 5 Battle Stars
100 V-Bucks – 5 Battle Stars
Page 7 Rewards
Zyg Skin (Epic) – 9 Battle Stars
Banner (Uncommon) – 3 Battle Stars
Light Streak Contrail (Rare) – 4 Battle Stars
Stand Together Spray (Uncommon) – 3 Battle Stars
Zyg Ray Glider (Epic) – 6 Battle Stars
Zyggy Wrap (Rare) – 5 Battle Stars
Choppy Pet (Epic) – 6 Battle Stars
Pluxarian Gothic Loading Screen (Uncommon) – 3 Battle Stars
Zyg's Chainblade Pickaxe (Epic) – 7 Battle Stars
100 V-Bucks – 5 Battle Stars
Page 8 Rewards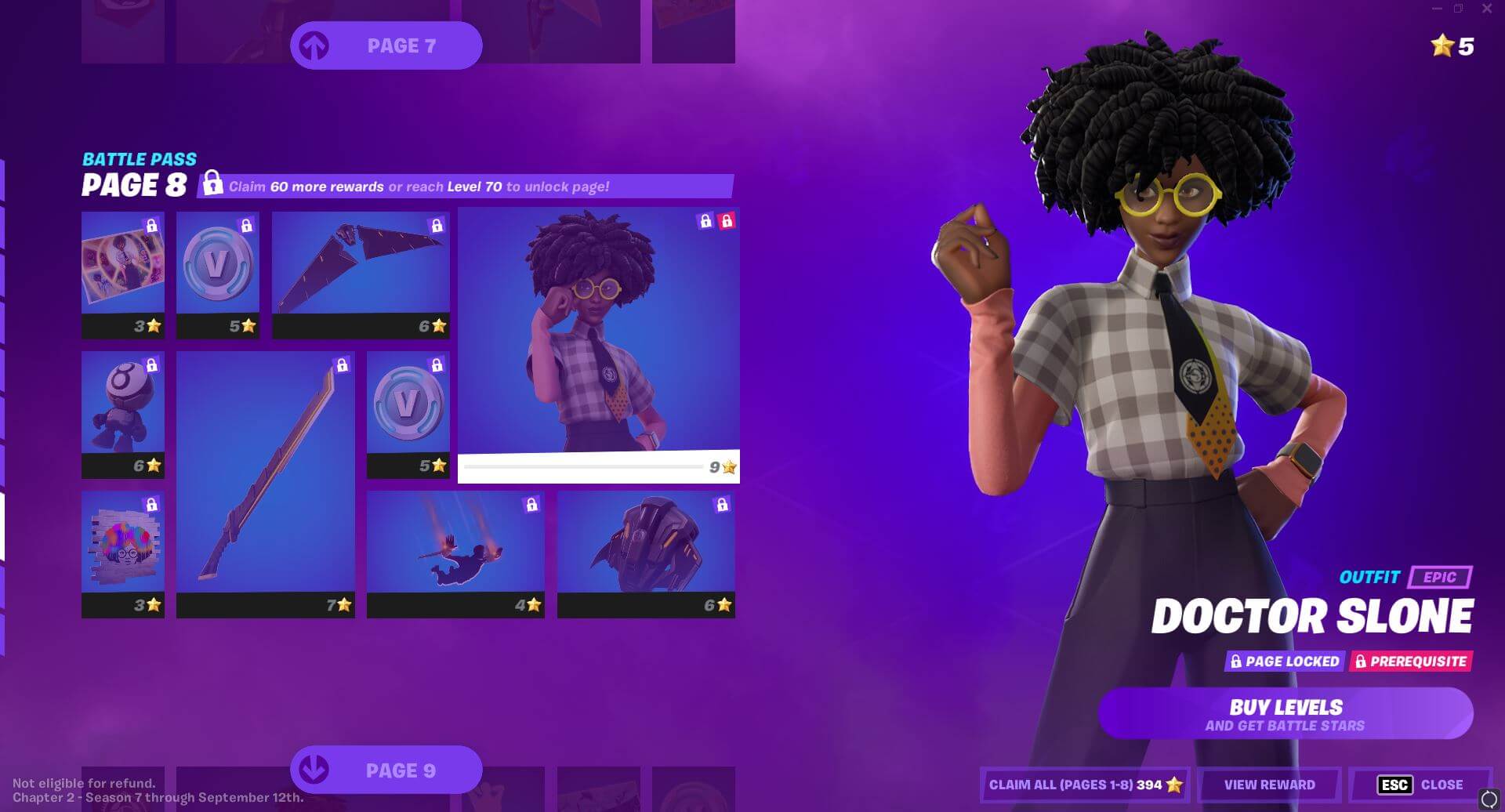 Doctor Slone Skin (Epic) – 9 Battle Stars
IO Orchestrator Back Bling (Epic) – 6 Battle Stars
Drop Jet Contrail (Rare) – 4 Battle Stars
10 Eradicator Pickaxe (Epic) – 7 Battle Stars
Slone Spray (Uncommon) – 3 Battle Stars
8-Ball Janky Back Bling (Epic) – 6 Battle Stars
Slone's Mission Loading Screen (Uncommon) – 3 Battle Stars
IO Stealth Sail Glider (Rare) – 6 Battle Stars
100 V-Bucks – 5 Battle Stars
100 V-Bucks – 5 Battle Stars
Page 9 Rewards
Molten Midnight Zyg Skin Style (Epic) – 8 Battle Stars
Battlesuit Slone Skin Style (Epic) – 8 Battle Stars
Detonation Music Pack (Rare) – 5 Battle Stars
Big Heff Emoticon (Uncommon) – 3 Battle Stars
Imagined Edge Wrap (Rare) – 5 Battle Stars
Banner (Uncommon) – 3 Battle Stars
Kick Back Emote (Rare) – 7 Battle Stars
Cattle Royale Loading Screen (Uncommon) – 3 Battle Stars
100 V-Bucks – 5 Battle Stars
100 V-Bucks – 5 Battle Stars
Page 10 Rewards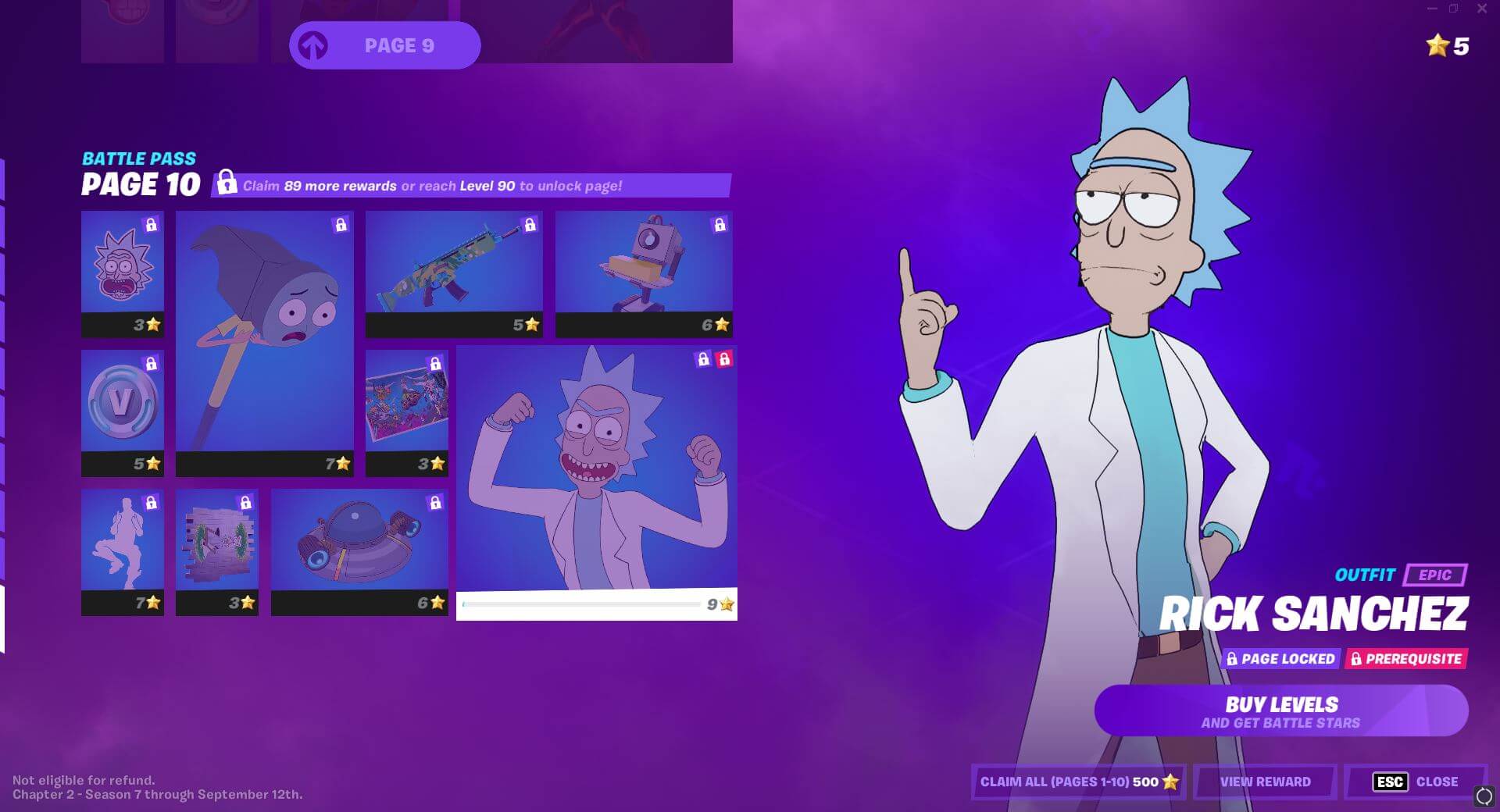 Rick Sanchez Skin (Epic) – 9 Battle Stars
Hammerhead Morty Pickaxe (Epic) – 7 Battle Stars
Butter Robot Back Bling (Epic) – 6 Battle Stars
Rick's Portal Wrap (Rare) – 5 Battle Stars
The Rickiverse Loading Screen (Uncommon) – 3 Battle Stars
Rick's UFP Cruiser Glider (Epic) – 6 Battle Stars
Interstellar Rick Spray (Uncommon) – 3 Battle Stars
The Rick Dance Emote (Epic) – 7 Battle Stars
*BUURRRPP* Emoticon (Uncommon) – 3 Battle Stars
100 V-Bucks – 5 Battle Stars