Here are all of the rewards that you can earn from the Chapter 3, Season 1 Battle Pass for Fortnite. 
A new season in Fortnite mean a brand new Battle Pass to purchase! Chapter 3 is now available to play and if you want to see if the Battle Pass is worth getting this season, read ahead for every cosmetic you can earn in the Fortnite Chapter 3, Season 1 Battle Pass. This season, you will also get The Foundation Skin, which also has two different pages where you can unlock cosmetics for the Skin, but the second page is not yet available.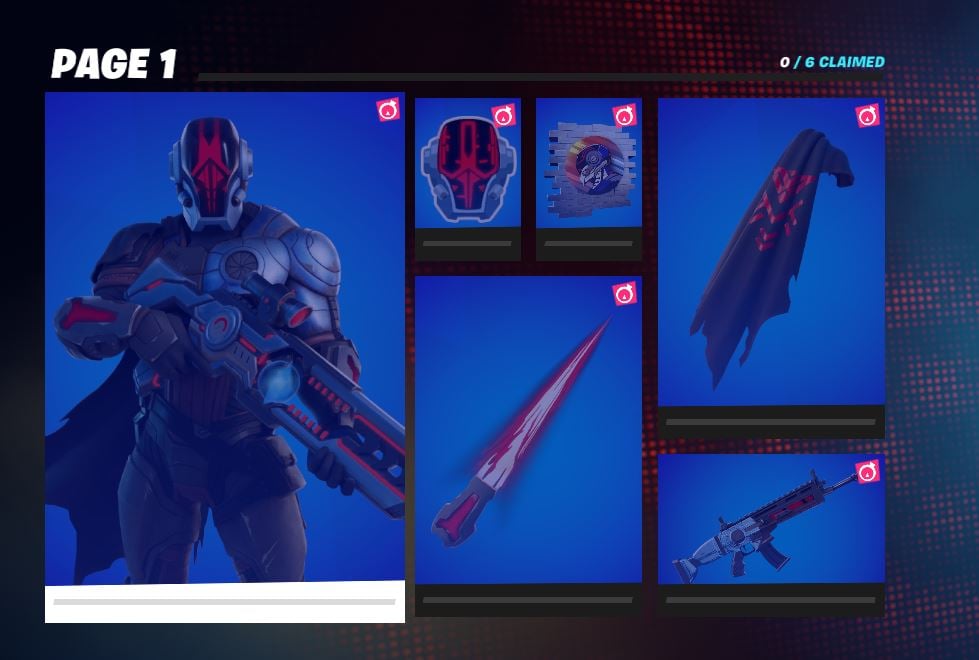 The first page has 6 different cosmetics you can unlock, which you can see listed below. It shows that these cosmetics will be available in 60 days.
The Foundation Skin (Legendary)
Foundation's Plasma Spike Pickaxe (Epic)
Foundation's Mantel Back Bling (Legendary)
Foundational Wrap (Rare)
Foundation's Fortune Emoticon (Uncommon)
True Foundation Spray (Uncommon)
The second page has not yet been revealed and there are a total of five cosmetics that will be available. This page also shows that it will be made available in 60 days. One of these will likely be the style where you can see the face of The Foundation, i.e. the face of Dwayne 'The Rock' Johnson as seen in the final event.
Fortnite Chapter 3 – Season 1 Battle Pass Items
Here are all of the main pages for the Chapter 3, Season 1 Fortnite Battle Pass.
Page 1 Rewards
Shanta Skin (Epic)
Ronin Skin (Legendary)
Mehndi Contrail (Rare)
Ancestral Bloom Back Bling (Epic)
Shanta's Lifebloom Spray (Uncommon)
Enchanted Lifebloom Glider (Epic)
Bronzed Scimitars Pickaxe (Rare)
100 V-Bucks (Legendary)
Banner (Uncommon)
Ronin's Revenge Loading Screen (Uncommon)
Page 2 Rewards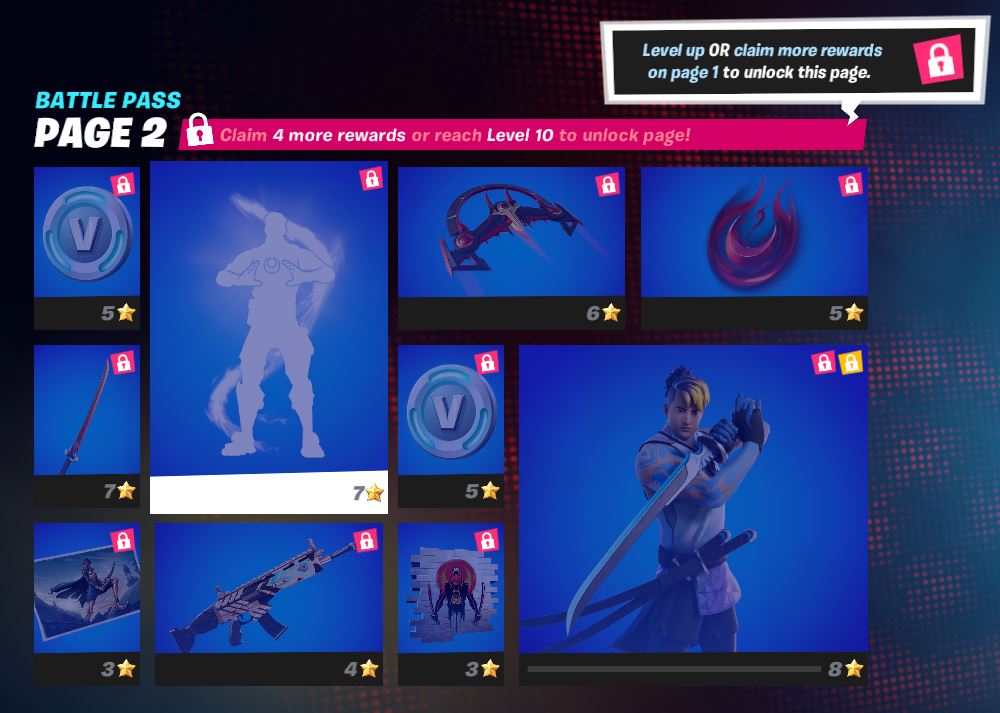 Ronin (Azure) Skin Style (Legendary)
Lunar Charge Emote (Rare)
100 V-Bucks (Legendary)
Blade of the Waning Moon Pickaxe (Epic)
Shanta's Tale Loading Screen (Uncommon)
Lotus Touch Wrap (Rare)
Ronan's Mission Spray (Uncommon)
100 V-Bucks (Legendary)
The Soaring Crescent Glider (Epic)
Crimson Crest Back Bling (Legendary)
Page 3 Rewards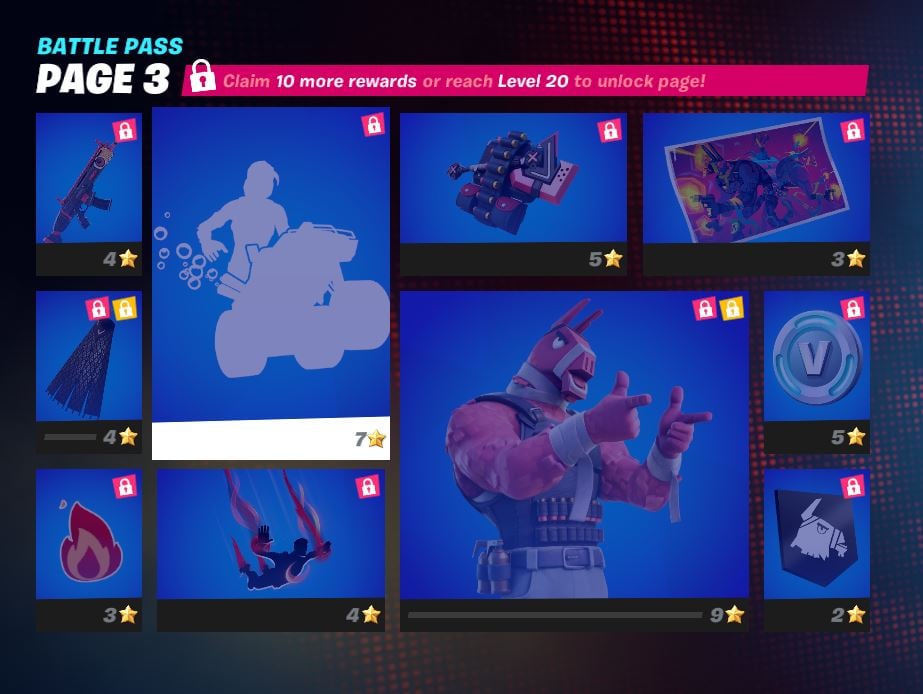 Lt. John Llama Skin (Epic)
Lil' Monster Emote (Epic)
Waning Moon Wrap (Uncommon)
Ancestral Bloom (Cape) Back Bling
Ronin Flame Emoticon (Uncommon)
Crescent's Flame Contrail (Rare)
Trot Shot Back Bling (Epic)
The Heat Loading Screen (Uncommon)
100 V-Bucks (Legendary)
Banner (Uncommon)
Page 4 Rewards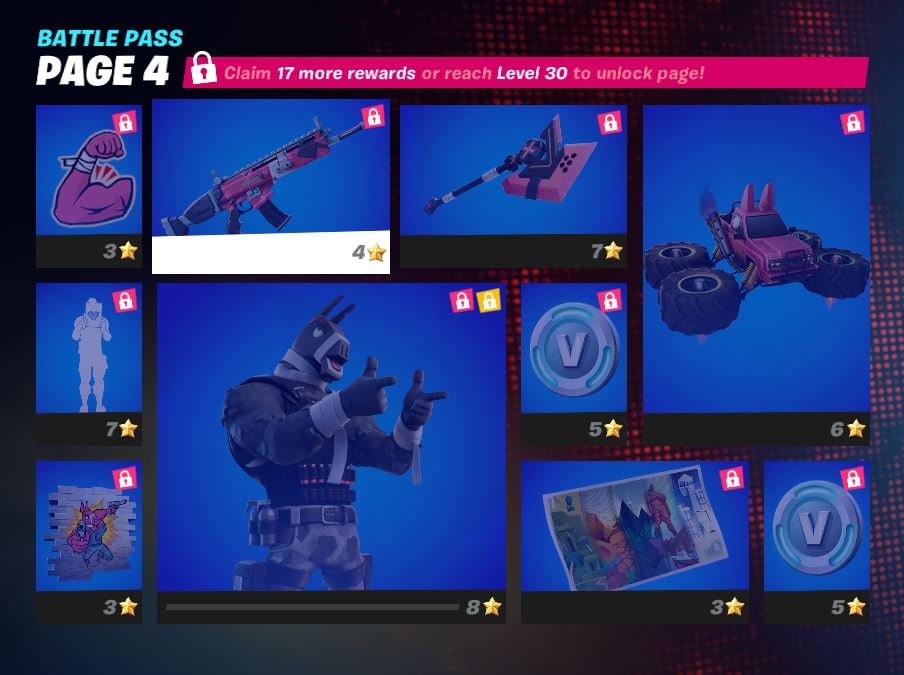 Lt. John Llama (Special Forces) Skin Style (Epic)
Wooly Mammoth Glider (Rare)
100 V-Bucks (Legendary)
Explorers Loading Screen (Uncommon)
100 V-Bucks (Legendary)
Llaminator Pickaxe Pickaxe (Rare)
Lloose Cannon Wrap (Uncommon)
Back 'N' Better Emoticon (Uncommon)
Love It! Emote (Rare)
Chomp Cud!! Spray (Uncommon)
Page 5 Rewards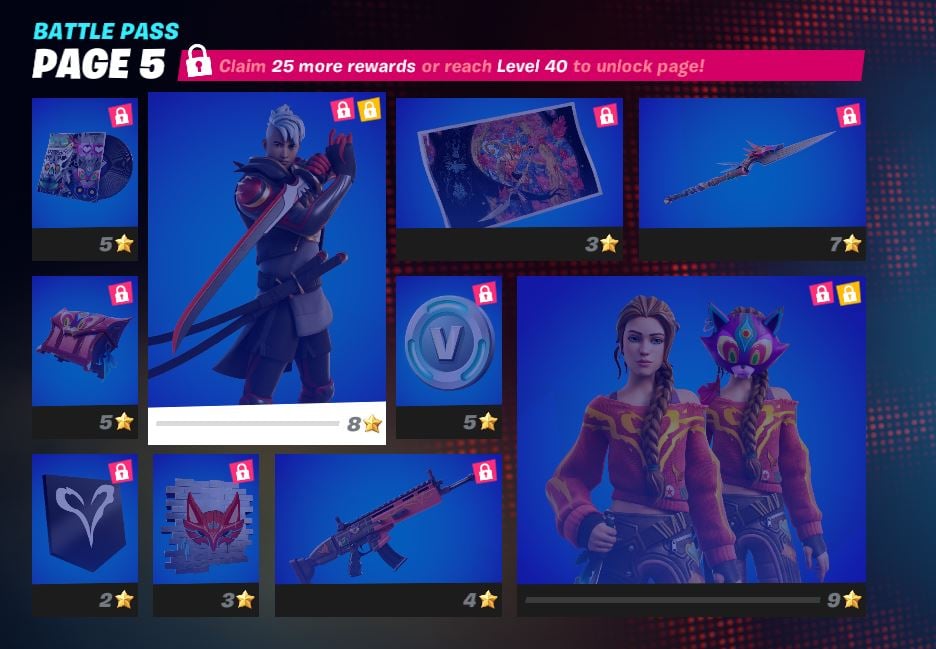 Haven Skin (Epic)
Ronin (Vest) Skin Style (Legendary)
Haven's Opus Music Pack (Rare)
The Bestiary Chest Back Bling (Epic)
Banner (Uncommon)
Hidden Haven Spray (Uncommon)
Nomad's Treasure Wrap (Uncommon)
100 V-Bucks (Legendary)
Treetop Haven Loading Screen (Uncommon)
Wilderspear Pickaxe (Rare)
Page 6 Rewards
Gumbo Skin (Epic)
All Gooped Up Contrail (Rare)
Haven (Backwards Hat) Skin Style (Epic)
100 V-Bucks (Legendary)
Gum Brawler Pickaxe (Rare)
Deep Freeze Loading Screen (Uncommon)
Gummy Sack Back Bling (Epic)
Here Comes Trubble Spray (Uncommon)
Mwahaha Emote (Uncommon)
100 V-Bucks (Legendary)
Page 7 Rewards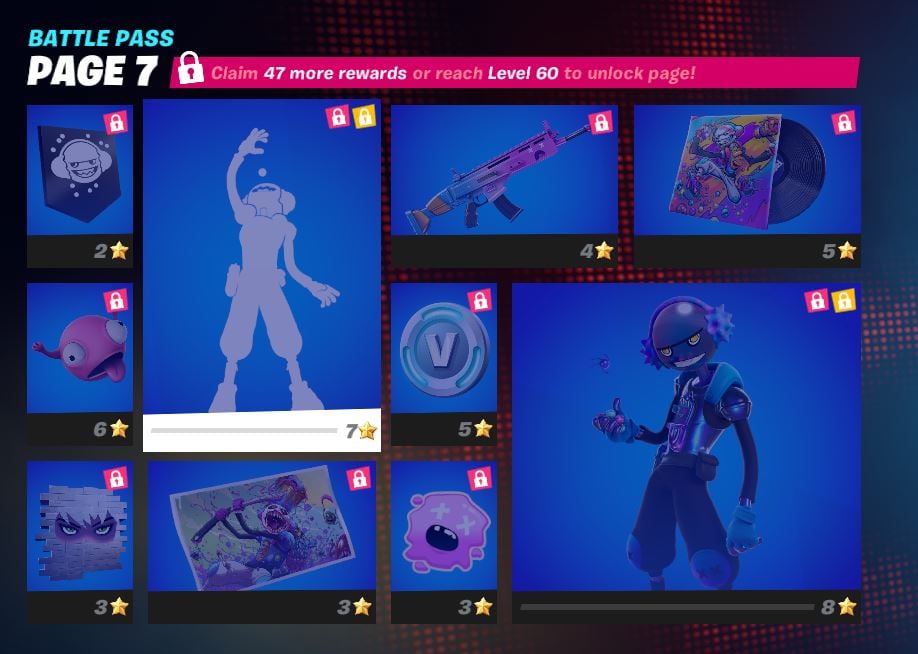 Gumbo (Bitter) Skin Style (Epic)
Brain Candy Emote (Epic)
Banner (Uncommon)
Bubbloon Glider (Epic)
In Her Sights Spray (Uncommon)
Munchy Mayhem Loading Screen (Uncommon)
Jolly Ball Emoticon (Uncommon)
100 V-Bucks (Legendary)
Troubled Gum Wrap (Rare)
Chewer's Choice Music Pack (Rare)
Page 8 Rewards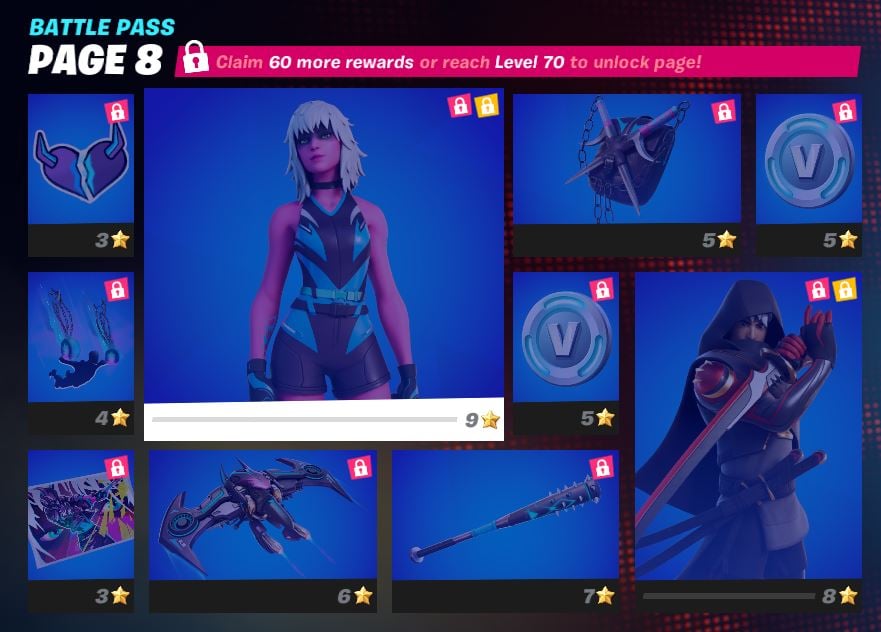 Harlowe Skin (Epic)
Ronin (Helmet) Skin Style (Legendary)
Horned Heart Emoticon (Uncommon)
Skywheeler Contrail (Rare)
Harlowe's Target Loading Screen (Uncommon)
Wyvern X77 Glider (Rare)
Spikebat Pickaxe (Rare)
100 V-Bucks (Legendary)
Bladed Travpack Back Bling (Epic)
100 V-Bucks (Legendary)
Page 9 Rewards
Spider-man Skin (Marvel)
Harlowe (Magenta) Skin Style (Rare)
Banner (Uncommon)
The View From Afar Loading Screen (Uncommon)
It's…You? Emote (Uncommon)
Thwip Thwip! Emoticon (Marvel)
100 V-Bucks (Legendary)
Web-head's Knapsack Back Bling (Marvel)
Loose Threads Contrail (Marvel)
Redline Cruise Music Pack (Rare)
Page 10 Rewards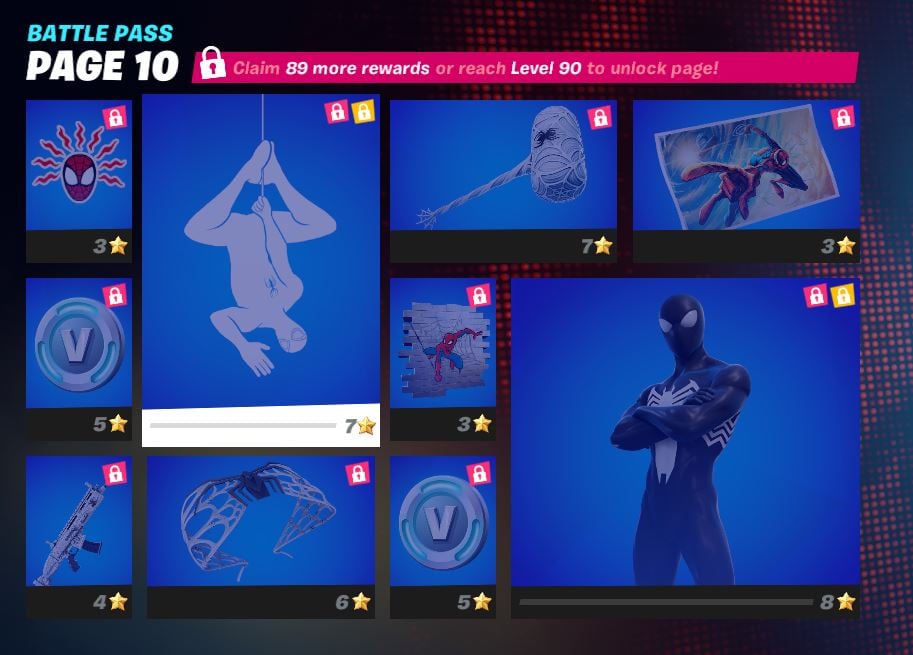 Spider-man (Symbiote Suit) Skin Style (Marvel)
Neighbourly Hang Emote (Marvel)
Spidey Senses Tingling! Emoticon (Marvel)
100 V-Bucks (Legendary)
Webslinger Wrap (Marvel)
Web-Chute Glider (Marvel)
100 V-Bucks (Legendary)
Whatever a Spider Can Spray (Marvel)
Wallopin' Web Hammer Pickaxe (Marvel)
Web-slingin' Goodness Loading Screen (Marvel)