Here's the locations of all the Holiday trees in Fortnite chapter 3 in order to complete the "search a chest under a holiday tree" Winterfest 2021 challenge.
We're on day nine of Fortnite Winterfest 2021. We've had a new present to open and a new challenge to complete each day. Players can already unlock the Krisabelle skin by opening all the presents that are in front of her.
The Snowmando Board Glider is also available once you complete seven of the Winterfest challenges. After tomorrow's challenge releases, players can unlock the black bling from the challenges.
Today's new quest requires players to search a treasure chest under a holiday tree. Here are all of the Holiday Christmas trees on the Fortnite chapter 3 map for Winterfest 2021.
All Christmas Holiday Tree Map Locations 2021
Each year for the Fortnite Christmas event, Epic Games add in a challenge around Holiday trees. Last year, players were tasked with dancing at five different Christmas trees. The year prior, players needed to visit 14 different holiday trees in Fortnite.
The challenge is much easier this year. Players simply need to search a chest under a holiday tree and you only need to do this once to complete the challenge and collect 18,000 XP in chapter 3 season 1.
It's hard to miss the trees as you're dropping down from the Battle Bus, but here are all of the locations where you can search a chest under a Christmas tree in 2021 on the chapter 3 map:
Logjam Lumberyard
Sleepy Sound
Shifty Shafts
The Daily Bugle
Coney Crossroads
Camp Cuddle
Sanctuary
The Joneses
Greasy Grove
Rocky Reels
Chonker's Speedway
Condo Canyon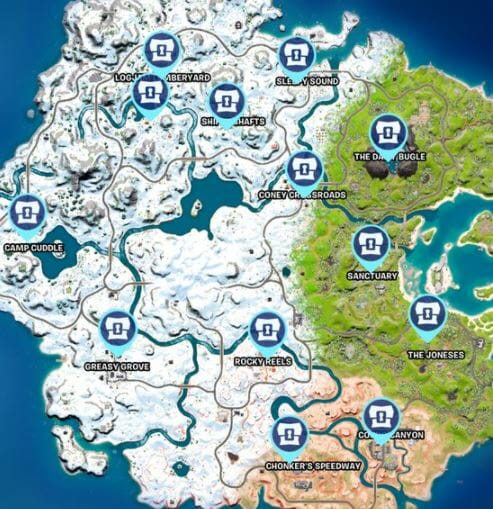 Due to sheer amount of trees you can find around the map, we'd always recommend dropping far from the Battle Bus route in order to ensure you can complete the challenge on the first go. If you drop at a hot location or a named location that's close to the bus route, you risk running into other players have might have a weapon before you even land.