The Fortnite Overtime challenges have been leaked.
Last week, Epic announced the Share the Love event in a post which also stated new challenges would be coming, Overtime challenges. These challenges have now been leaked thanks to @FortniteGameLAT which you can view below:
Deal damage to opponents with Assault Rifles or Pistols
Deal damage to opponents with Shotguns or SMGs
Outlast 75 opponents in a single match
Play matches of Driftin' with a friend (Driftboard LTM)
Collect Cois in Featured Creative Islands
Regain health from a campfire in different matches
Search chests of ammo boxes at a racetrack or a dance club
Search chests of ammo boxes at The Block
Search chests of ammo boxes at a Motel or an RV park
Sarch a Supply Drop in different matches
Place top 10 in Squads with a friend
Place Top 15 in Duos with a friend
Visit different waterfalls
Revive a friend in different matches
Visit Named Locations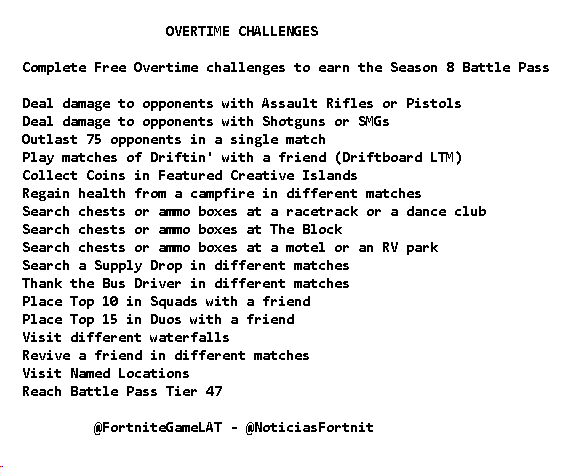 It's likely the Driftboard challenge will be one of the last challenges available to complete as it may be added in a content update, or added into the game when Epic are ready to add it into the game.