Here are all of the leaked upcoming Fortnite skin styles and other cosmetics including sprays, pickaxes, and more from today's 20.20 patch update.
We're a month into Fortnite chapter 3 season 2 and we've had three updates so far. Two of them have been content updates, whilst the other was the 20.10 patch that was released two weeks ago today.
Today sees the release of the latest update, 20.20. As usual, data miners leaked the new files that were added including a new shotgun, upcoming challenges, and the most popular of all, cosmetics.
Each major patch has a handful of skins and other cosmetics with a small number of them being encrypted, making it much harder for data miners to leak images of what they look like.
There weren't many new skins added in the 20.10 update two weeks ago, and this week, there aren't many Fortnite skins that have been leaked apart from two skin styles.
However, there are ten Fortnite skins that were added today but have been encrypted. It's likely a few of them will be part of a collaboration based on the fact that data miners leaked a new background for the item shop, something that only changes for major collaborations. Anyway, here's a look at all of today's leaked cosmetics.
Fortnite Skins Leaked from 20.20
There are only two skin styles that were added in the 20.20 patch, colorful versions of Ruby and Moniker, both of which can be seen below: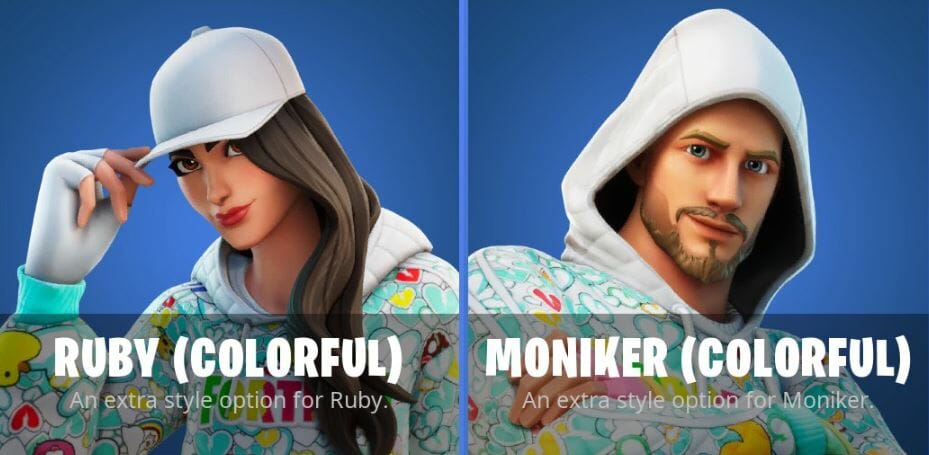 Here's a look at the rest of the cosmetics including a bunch of sprays, two wraps, one pickaxe, and a few emotes and emoticons: