There's a new Fortnite update today, v21.30. Data miners have leaked some of the upcoming skins and bundles from the latest release.
Since the release of Fortnite Battle Royale, Epic Games have been updating the game on a weekly basis. A new major patch release is available every two weeks which is followed by a content update that'll introduce a new weapon or item in the game.
The major patch update requires players to download new files that include the new content. There's also downtime that usually lasts a couple of hours before players are able to play the game.
During downtime, data miners look through the new files and will leak all the new content that's been added. Although there are some interesting leaks every two weeks, most players are more interested in the leaked Fortnite skins.
The v21.30 update includes a number of different skins along with a bundle, all of which are summer-themed for this year's summer Fortnite event. Here's a look at all the skins that'll be coming to the item shop in the next couple of weeks.
Fortnite 21.30 Leaked Upcoming Skins
There are a total of eight skins that have been leaked from today's v21.30 Fortnite update. Here's a list of named for the leaked skins along with what they look like:
Medley
Slayer Charlotte
Riptide Raz
Unstuffed Guff
Undercover Kor
Belle Berry
SYD
In all honesty, these summer 2022 Fortnite skins look fairly underwhelming. We've seen some solid summer skins in the past, but these likely won't go down too well with the community for the most part.
Epic Games always encrypt some skins to make it harder for data miners to leak them. Hopefully, we'll see some better skins in the encrypted files which will decrypt a couple of hours before entering the item shop.
Three of the skins will be available in the summer bundle. There's no official name for this bundle yet, but here are the cosmetics that'll be included: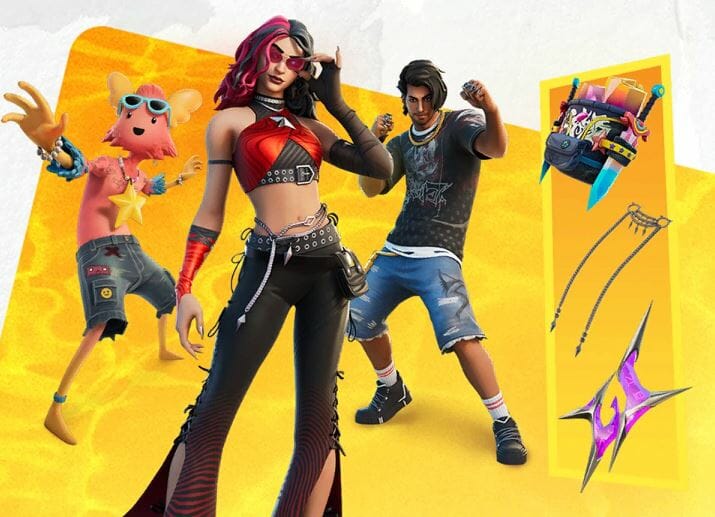 Fortnite v21.30 Leaked Cosmetics
It's not only outfits that were leaked today, we also have some other cosmetics that have been leaked including back blings, wraps, pickaxes, emotes, and more. Here's a look at each one below: