Here are all of the leaked Fortnite Skins and other cosmetics found in the v18.40 update that went live earlier today.
In major updates for Fortnite Battle Royale, there are new files that are added in the game, which can be in the form of new weapons / items, upcoming Skins and cosmetics, map changes, new Limited Time Modes (LTMs) and more. Epic Games have been collaborating with many different franchises recently and had also confirmed there was a collaboration with Naruto coming.
Fortnite v18.40 Leaked Skins
For this collaboration, Epic have also posted a video showcasing the Naruto Skins. which is called Naruto and the rest of Team 7 arrive on the Fortnite island. There are some other Skins that have been added to the files, and you can see all of these in the images below:
As with most collaborations, there are different bundles you can buy in the Fortnite Item Shop of the Naruto cosmetics and there are three bundles you can choose from. All of the bundles have five items in each and you can see the names and the cosmetics included in  each of them below:
Naruto & Kakashi Bundle – 2,100 V-Bucks
Naruto Uzumaki Skin (Epic)
Scroll Back Bling (Epic)
Kakashi Hatake Skin (Epic)
Pakkun Back Bling (Epic)
Pizza Eating Jutsu Loading Screen (Uncommon)
Sasuke & Sakura Bundle – 2,200 V-Bucks
Sasuke Uchiha Skin (Epic)
Demon Wind Shuriken Back Bling (Epic)
Snake Sword Pickaxe (Epic)
Sakura Haruno Skin (Epic)
Hidden Leaf Cloak Back Bling (Epic)
Team 7 Loading Screen (Uncommon)
Shinobi Gear Bundle – 1,500 V-Bucks
Summoning Jutsu Emote (Uncommon)
Ramen Break Emote (Uncommon)
Kunai Pickaxe (Uncommon)
Hidan's Scythe Pickaxe (Rare)
Black Ops Sword Pickaxe (Uncommon)
If you would prefer just to buy specific items, you can do so but the bundles do have discounted prices.
Fortnite v18.40 Leaked Cosmetics
Here are all of the other cosmetics that have also been added in the v18.40 Fortnite update: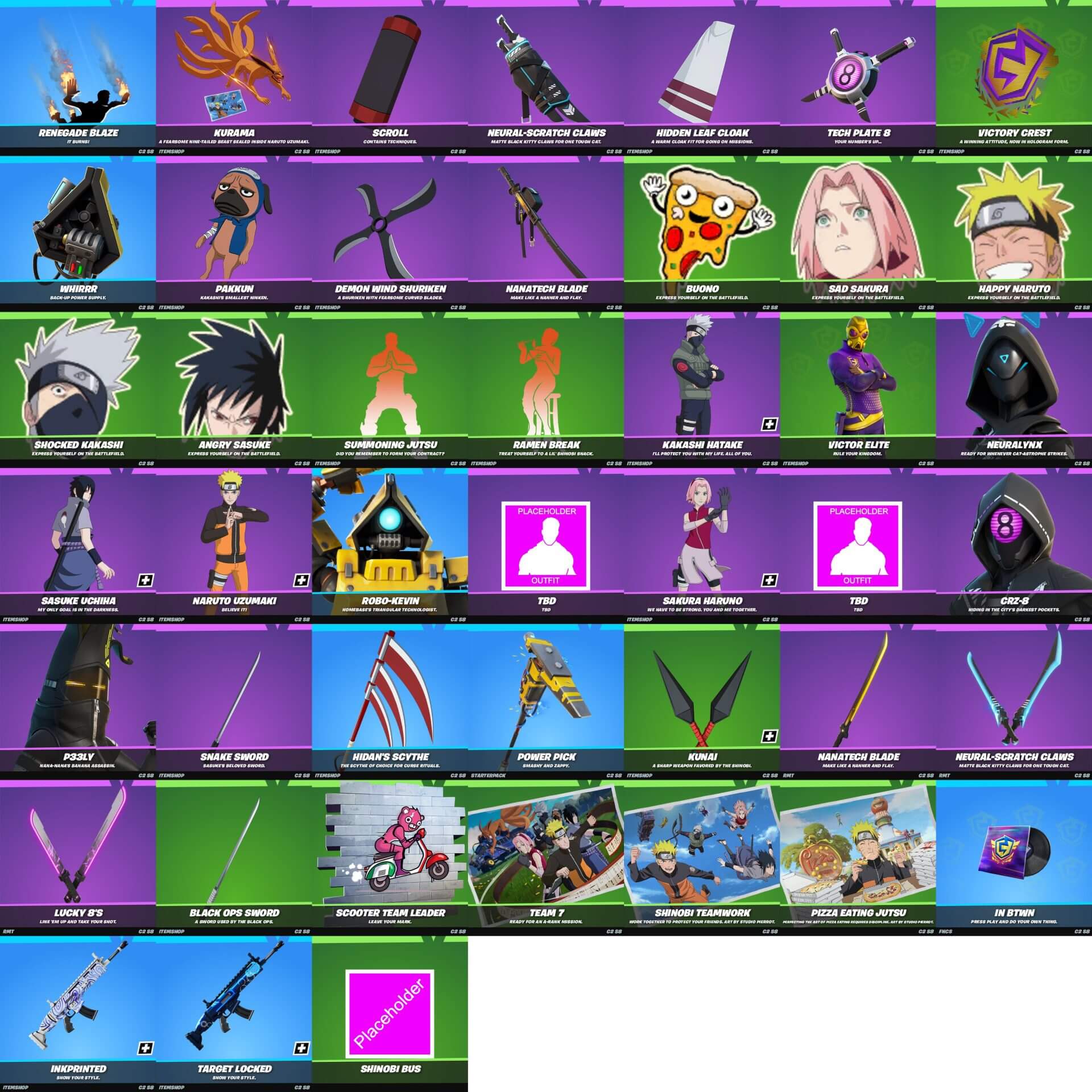 Fortnite v18.40 Leaked Bundles
As expected, the majority of the cosmetics that have been added in this update are for the Naruto collaboration, however there is one other Fortnite bundle that have been added, which you can see below: