Here is where all of the Fortnite NPC characters are located on the Chapter 3, Season 2 map.
For a while now, Epic Games have added NPCs (non-player characters) in various places on the Fortnite map for players to interact with. You will be able to complete different challenges and earn gold bars if you choose to accept and complete them as well as buying different items from them. There are specific weapons or items to different characters that you can purchase with Gold Bars.
Some of the characters change from season to season with some being removed and others being moved due to the map changes. We will be letting you know where you can find all of the NPCs on the Chapter 3, Season 2 map below. We also have all the items you can purchase from each NPC as well.
Fortnite NPCs Chapter 3 Season 2 Map Locations
There are currently 24 different NPCs you can interact with on the Fortnite Chapter 3, Season 2 map but you do need to keep in mind that some of these NPCs do spawn in different locations and there isn't a 100% spawn rate for all characters.
Here is a map where you can see all of the characters locations, thanks to Fortnite.gg: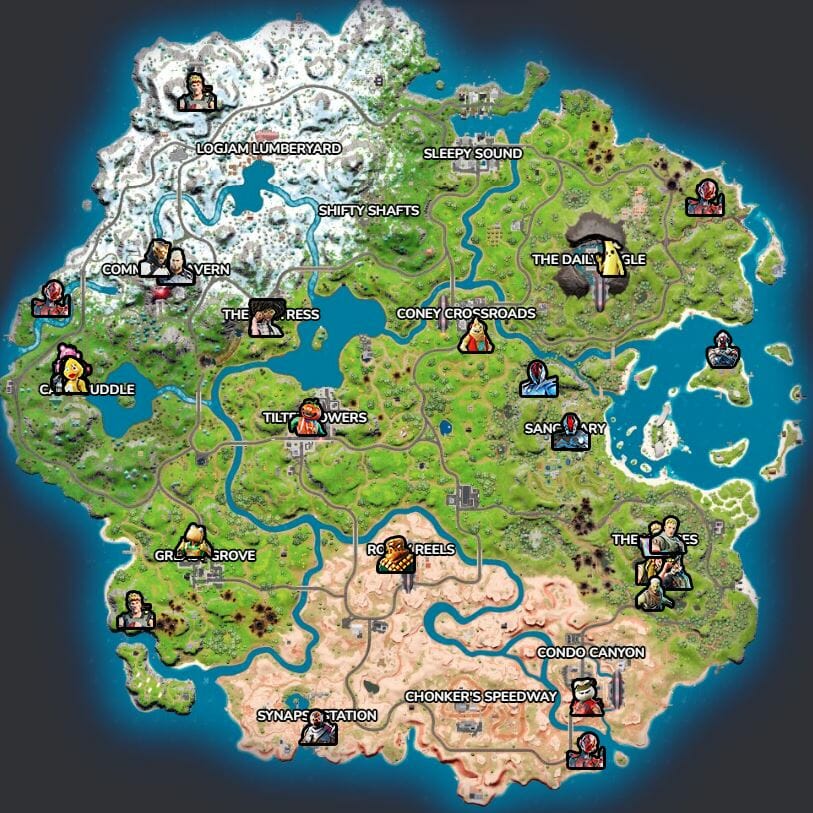 Fortnite NPC List and Items
Here is a list of all the Characters and what they have to offer for sale.
1) The Origin – Northwest of the Sanctuary
Med-Mist – 25 Gold
Night-Hawk Exotic Weapon – 400 Gold
Activate Rift – 250 Gold
2) The Imagined – Can spawn at different Seven Outposts
Shockwave Grenade – 36 Gold
Night-Hawk Exotic Weapon – 500 Gold
Hire – 100 Gold
3) The Visitor – Island northeast of the Sanctuary
Shockwave Grenade – 36 Gold
Boom Sniper Rifle Exotic Weapon – 600 Gold
Activate Rift – 250 Gold
4) The Scientist – At Synapse Station
Shockwave Grenade – 36 Gold
Storm Scout Exotic Weapon – 500 Gold Bars
Storm Forecast – 175 Gold
5) Agent Jones – Can spawn at different Seven Outposts
Hire – 100 Gold
Boom Sniper Rifle Exotic Weapon – 600 Gold
Activate Rift – 250 Gold
6) The Foundation – In the Sanctuary
Shockwave Grenade – 36 Gold
Storm Scout Exotic Weapon – 500 Gold Bars
Shield Keg – 250 Gold
7) Bunker Jonesy – Southwest of the Joneses POI
Fishing Rod – 15 Gold
The Dub Exotic Weapon – 600 Gold Bars
Slurpfish – 140 Gold
8) Ludwig – South of the Joneses POI
Meat – 15 Gold
The Dub Exotic Weapon – 600 Gold Bars
Shield Keg – 250 Gold
9) Brainiac – Can be found anywhere from the Joneses on a path to the northeast of Rocky Reels
Shockwave Grenade – 36 Gold
Night – Hawk Exotic Weapon – 400 Gold Bars
Hire – 100 Gold
10) Mullet Marauder – In the house north of the Joneses
Med-Mist – 25 Gold
The Dub Exotic Weapon – 600 Gold Bars
Shockwave Grenade – 36 Gold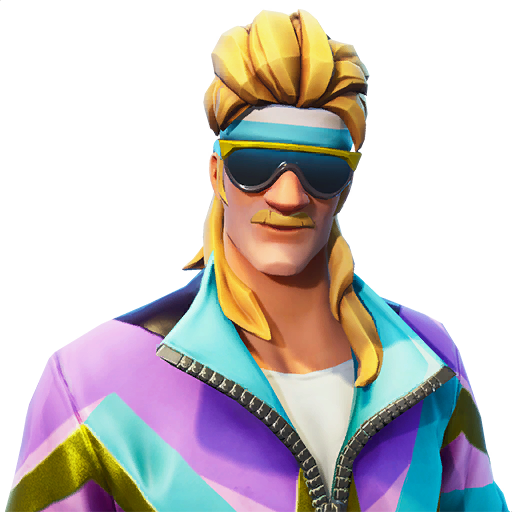 11) Jonesy the First – In the house northeast of the Joneses
Remote Explosives – 774 Gold
The Dub Exotic Weapon – 600 Gold Bars
Hire – 100 Gold
12) Cuddle Team Leader – North pink cabin of Camp Cuddle
Shockwave Grenade – 36 Gold
Marksman Six Shooter Exotic Weapon – 400 Gold Bars
Remote Explosives – 774 Gold
13) Metal Team Leader – North grey cabin of Camp Cuddle
Shockwave Grenade – 36 Gold
Shadow Tracker Exotic Weapon – 400 Gold Bars
Med-Mist – 25 Gold
14) Cuddlepool – Red cabin of Camp Cuddle
Remote Explosives – 774 Gold
Shadow Tracker Exotic Weapon – 400 Gold Bars
Hire – 100 Gold
15) Quackling – Yellow cabin of Camp Cuddle
Shockwave Grenade – 36 Gold
Marksman Six Shooter Exotic Weapon – 400 Gold Bars
Med-Mist – 25 Gold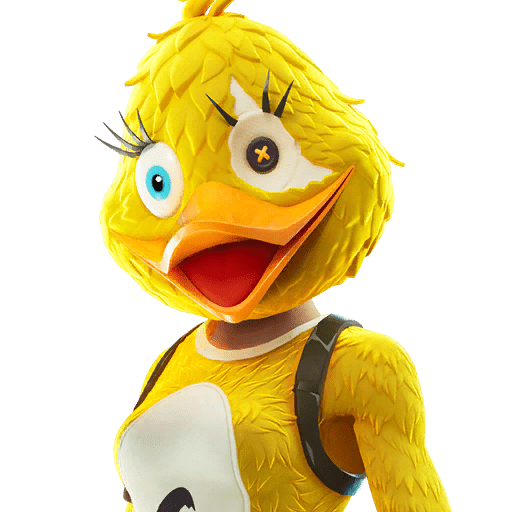 16) Guaco – North of Greasy Grove
Shield Keg – 250 Gold
Sidearm Pistol Weapon (Rare) – 25 Gold
Storm Forecast – 175 Gold
17) Lil Whip – At Coney Crossroads
Shield Keg – 250 Gold
Sidearm Pistol Weapon (Epic) – 50 Gold
Prop Disguise – 75 Gold
18) Bao Bros – South house in Condo Canyon
Slurpfish – 140 Gold
Striker Pump Shotgun Weapon (Legendary) – 250 Gold Bars
Hunter Bolt-Action Sniper Weapon (Epic) – 250 Gold Bars
19) Tomato Head – In Tilted Towers building
Shield Keg – 250 Gold
Hunter Bolt-Action Sniper Weapon (Epic) – 250 Gold Bars
Activate Rift – 250 Gold
20) Mancake – Northwest of Rocky Reels
Shockwave Grenade – 36 Gold
Stinger SMG Weapon (Legendary) – 175 Gold Bars
21) Peely – Daily Bugle
Med-Mist – 25 Gold
Boom Sniper Rifle Exotic Weapon – 600 Gold
Remote Explosives – 774 Gold
22) Gunnar – Command Cavern
Have to kill him to get a Mythic SMG
23) Huntmaster Sabre – Ship at Command Cabin
Have to kill them to get the Mythic Huntmaster Sabre's Thermal Rifle
24) Slone – The Fortress
Have to kill her to get the Mythic Slone's Striker Burst Rifle